Nine people were shot dead as rival motorcycle gangs clashed in a car park in Waco, Texas.
Police said at least two gangs were involved in the shootout which began after an argument inside the nearby Twin Peaks restaurant spilled outside, the local ABC News station reported. It added that several other people were injured. Some customers hid inside a freezer when the violence began.
Police found a number of guns along with chains, knives, bats and clubs at the scene.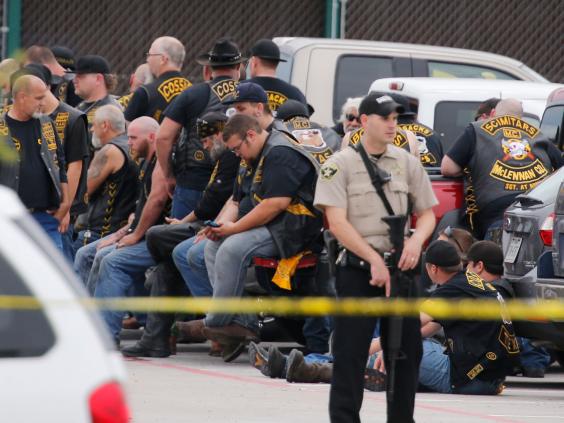 Waco police sergeant Patrick Swanton told the Waco Tribune: "A lot of innocent people could have been injured today. These are very dangerous, hostile criminal biker gangs."
The shooting began despite the presence of 12 police officers – including a Swat team – and Texas state troopers, either at Twin Peaks or in the area, in order to monitor a meeting between two biker gangs. A third gang may also have been present.
The officers fired shots and "saved lives by keeping this from spilling into a busy Sunday morning," Sgt Swanton said. He added that managers at the Twin Peaks restaurant knew about "issues" relating to the biker gangs but "continued to let those groups of people into their business". "The management wanted them here," he said.
The newspaper said that numerous people had been arrested.
Michelle Logan, 37, who was in the Twin Peaks at the time and knows some of the people involved in the shooting, told the Tribune: "There were maybe 30 guns being fired in the parking lot, maybe 100 rounds. They just opened fire."
"There's a lot of people in the hospital, a lot of people shot."
She described the shooting as a "set up".
Waco police reported on their Facebook page: "Multiple injuries to include multiple fatalities at Twin Peak Shooting. Officers were on scene when shooting started. No officers have been injured."
The police Twitter feed had previously warned people to avoid the Central Texas Market Place, where officers were working at a shooting at a Twin Peaks restaurant.
Please avoid the Central Texas Market Place. Officers are working a shooting at Twin Peaks and the area is not safe.

— WacoPolice (@WacoPolice) May 17, 2015
Reuse content