Human rights group Amnesty International has voted to support the decriminalisation of prostitution at their biennial International Council Meeting.
Delegates from around the world gathered in Dublin for the meeting, and voted to adopt a resolution that will allow the organisation to develop and adopt a pro-decriminalisation policy.
The resolution recommends that the full decriminalisation of all aspects of consensual sex work is supported by the organisation.
Salil Shetty, Amnesty's Secretary General, said about the resolution: "We recognise that this critical human rights issue is hugely complex and that is why we have addressed this issue from the perspective of international human rights standards."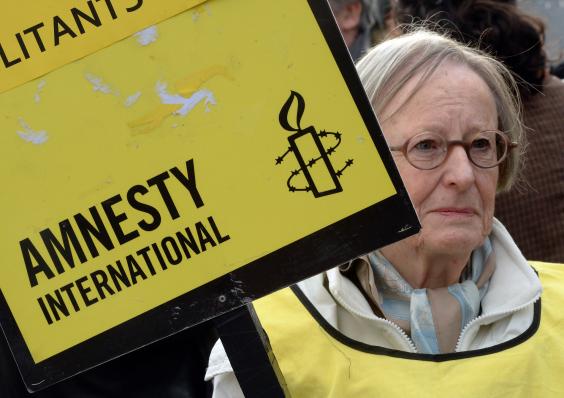 "We also consulted with our global movement to take on board different views from around the world."
Amnesty International now joins a host of other groups in their support for decriminalisation, including the World Health Organisation, the United Nations AIDS programme UNAIDS, and leading medical journal The Lancet.
These groups see the stigma and criminalisation that surrounds prostitution as roadblocks to stopping abuse, trafficking and the spread of diseases like HIV and AIDS.
Some proponents also see the decriminalisation of prostitution as simply an extension of the idea that two consenting adults should be able to have sex without the interference of the government.
LGBT rights across the globe
LGBT rights across the globe
1/7 Russia

Russia's antipathy towards homosexuality has been well established following the efforts of human rights campaigners. However, while it is legal to be homosexual, LGBT couples are offered no protections from discrimination. They are also actively discriminated against by a 2013 law criminalising LGBT "propaganda" allowing the arrest of numerous Russian LGBT activists. (Picture: Riot police hold an LGBT activist during a Moscow rall.)

AFP/Getty

2/7 Mauritania

Men who are found having sex with other men face stoning, while lesbians can be imprisoned, under Sharia law. However, the state has not reportedly executed anyone for this 'crime' since 1987. (Picture: Chinguetti Mosque, Mauritania.)

ALAMY

3/7 Saudi Arabia

Homosexuality and transgender is illegal and punishable by the death penalty, imprisonment, corporal punishment, whipping and chemical castration. (Picture: The emblem of Saudi Arabia above the embassy in London.)

Bruno Vincent/Getty Images

4/7 Yemen

The official position within the country is that there are no gays. LGBT inviduals, if discovered by the government, are likely to face intense pressure. Punishments range from flogging to the death penalty. (Picture: Yemen's southern port of Aden.)

Getty

5/7 Nigeria

Both male and female same-sex sexual activity is illegal and in some northern states punishable with death by stoning. This is not a policy enacted across the entire country, although there is a prevalent anti-LGBT agenda pushed by the government. In 2007 a Pew survey established that 97 per cent of the population felt that homosexuality should not be accepted. It is publishable by 14 years in prison. (Picture: The northern Nigerian town of Damasak.)

Reuters

6/7 Somalia

Homosexuality was established as a crime in 1888 and under new Somali Penal Code established in 1973 homosexual sex can be punishable by three years in prison. (Picture: Families use a boat to cross a flooded Shebelle River, in Jowhar.)

Reuters

7/7 Iraq

Although same-sex relationships have been decriminalised, much of the population still suffer from intense discrimination. Additionally, in some of the country over-run by the extremist organisation Isis, LGBT individuals can face death by stoning. (Picture: Purported Isis fighters in Iraq.)

Getty Images
However, there is opposition to the idea, most prominently from actors like Lena Dunham, Meryl Streep, Kate Winslet and many others.
They were included in a list of signatories on a letter to Amnesty International written by the Coalition Against Trafficking in Women.
While there are clearly sex workers by choice, the majority globally are there because of poverty, homelessness etc. Aka lack of choice.

— Lena Dunham (@lenadunham) August 8, 2015
It said that the decriminalisation policy "flies in the face of [Amnesty International's] historical reputation."
It also said the organisation's proposal was "incomprehensible", and said the decriminalisation of prostitution would increase the rates of trafficking and abuse.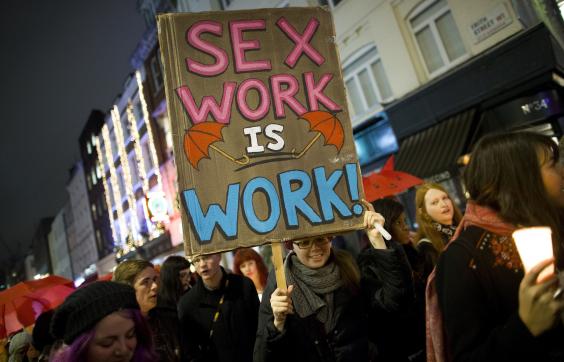 In its statement, Amnesty makes it clear that it remains opposed to human trafficking, which it says should be criminalised "as a matter of international law."
It also calls prostitution "a form of violence against women and an affront to human dignity".
Much has been made of the 'Swedish model' of prostitution legislation - in which selling sex is legal, but buying it is punishable by hefty fines or prison sentences up to six months.
If Lena Dunham wants to bend over backwards to be to sex work policy what Jenny McCarthy is to vaccines, then let her.

— Dr Brooke Magnanti (@belledejour_uk) August 7, 2015
It is argued that legalising the selling of sex has the advantage of removing the stigma and criminalisation of prostitutes, most of whom are in a less powerful position than their clients, while curbing the demand for the industry.
However, its opponents argue that increasing the penalties against buyers of sex pushes prostitution underground, due to the fear of being caught.
Prostitutes in Sweden still face stigma - some struggle with eviction by landlords, who can be liable to pimping charges if prostitution takes place in their properties.
Amnesty says its policy will call on countries "to ensure that sex workers enjoy full and equal legal protection from explotation, trafficking and violence."
Strong arguments exist on both sides, but can hinge on whether their proponents believe that prostitution should be treated as a job like any other, or whether it should be discouraged.
Britain's prostitution laws are complicated - the acts of buying or selling sex are legal, but pimping, brothel-keeping and kerb-crawling are against the law.