Pakistan's top model Ayyan Ali, whose pale gray eyes have stared out of innumerable ads in this Muslim country, now only appears before the cameras coming to and from court.
The 21 year old, once the face of companies ranging from Calvin Klein clothing to Magnum ice cream, has become the topic of seemingly endless gossip and news reports since being caught in March with over half a million dollars in cash trying to fly to Dubai.
Since her arrest, rumours abound attempting to tie the model to powerful Pakistani businessmen and politicians, some apparently offering a new look into money laundering in this country of 180 million people where corruption remains rampant. And her appearances in court, surrounded by journalists and sometimes wearing designer clothes, have many alleging she still receives preferential treatment while awaiting trial.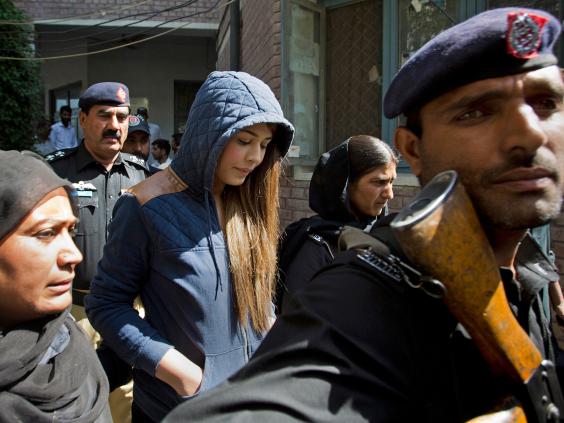 "This is one story we could all have done without," a March editorial in the daily Dawn newspaper moaned.
Police say they received a tip to search Ali the night of March 14 as she waited in a VIP airport lounge in Islamabad before her Dubai flight. While Pakistani law bars any passenger from carrying over $10,000, investigators say they found $506,800 tucked into her luggage.
Ali has maintained the money was solely hers since her arrest. She's been held without bail since, attending a number of court appearances in expensive clothes, though foregoing them on Monday for a hoodie and a pair of jeans - though she did apparently wear blue contact lens. Judge Rana Aftab set Ali's next appearance for June 15.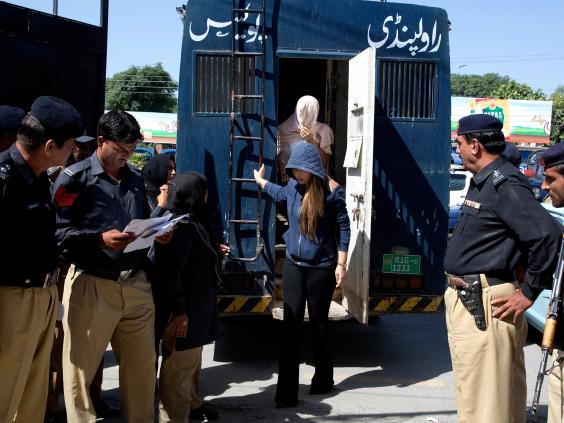 But the absence of hard evidence hasn't stopped Pakistani television from reporting the story nonstop, with one broadcaster even using computer graphics to make it appear Ali stood in a courtroom dock in its studio. Media of all kinds have sought to tie Ali into a larger scheme purportedly involving other Pakistani A-list celebrities using their fame as a cover to travel abroad and dump illicit cash into offshore bank accounts.
Property tycoon Malik Riaz Hussain even went on satellite channel Geo TV to deny allegations Ali previously flew on his private jet.
"I have got nothing to do with her," Hussain said. "My plane was never used for her."
Hussain has close ties to former Pakistani President Asif Ali Zardari. A former confidant of the leader, Zulfikar Mirza, has given a series of interviews alleging the model was linked to members of Zadari's party and visited the presidency several times.
Zardari's spokesman, Farhatullah Babar, denied the claims, saying that he wouldn't like to "give any credence to this man's utterances."
Meanwhile, other reports allege Ali has received special treatment while being held in Rawalpindi's central prison outside of the capital, Islamabad, including ordering meals from special menus. Ali also has been seen without handcuffs while in custody, as opposed to the shackled CEO of software company Axact, who the New York Times and investigators have accused of making millions of dollars selling fraudulent high school diplomas and university degrees.
"These are all lies," jail official Wajid Ali said, saying Ali lived with other prisoners in the women's section of the lockup. He also defended authorities allowing Ali to dress as she pleases, as only convicts must wear prison stripes.
But despite Ali's legal troubles, her fans firmly remain on her side, often discussing her plight online under (hashtag)FreeAyaan.
As one Facebook comment on her profile reads: "If being sexy is a crime, arrest me."
Associated Press