As the clanking metal tanker turns into the gravel road, women carrying large plastic barrels vie to be first in line for the delivery. Within minutes, residents of this corner of Sangam Vihar, a sprawling unofficial settlement on the edge of Delhi, have attached a plastic pipe to the container, taking turns to drain its precious cargo: clean water.
Suddenly, a motorbike shoots into the alley, runs over the tube and punctures it. A jet spurts into the air, throwing the women into hysterical panic. "This tanker only comes once every 15 days. It's not enough for us!" says Mamta Devi.
Like a quarter of Delhi households, Ms Devi and her neighbours get no piped water into their homes, forcing them to rely on ground water from bore wells, or on tankers bringing supplies from outside.
This tanker's treated water is government-supplied and free, part of an attempt by authorities to break the stranglehold of what locals call the "water mafia" – those profiting from Delhi's acute water shortage.
The Indian capital's inability to satisfy its burgeoning population's need for water mirrors the situation across the country where 76 million people, the highest number in the world, lack access to safe water, according to a report released today by WaterAid. A 2013 audit of Delhi's water system found it provided 200 million gallons less per day than its 17 million residents require.
In Sangam Vihar, opportunist businessmen cashed in on the discrepancy, digging their own illegal wells or seizing official supplies to resell at a higher price, often, some claim, in cahoots with the authorities.
In pictures: Severe flooding hits India 2015
In pictures: Severe flooding hits India 2015
1/20

Indian army soldiers rescue a man from flood waters in Chennai

AP

2/20

People use a water tank for flotation as they wade through flood waters in Chennai

AP

3/20

People travel on a boat as they move to safer places through a flooded road in Chennai

Reuters

4/20

A car is seen in the flood waters at a neighbourhood in Chennai

Reuters

5/20

A woman stands at a fenced gate of a partially submerged temple in Chennai

Reuters

6/20

People walk in flood waters in Chennai

EPA

7/20

People stranded on a temple wait to be rescued from flood waters in Chennai

EPA

8/20

Indian policemen rescue people from flood waters in Chennai

EPA

9/20

The heaviest rainfall in more than 100 years has devastated swathes of the southern Indian state of Tamil Nadu, with thousands forced to leave their submerged homes, schools and offices

AP

10/20

Displaced residents wade through a flooded street besides a flooded railway track in the flood-affected areas Chennai

Reuters

11/20

A man sits in an auto-rickshaw

Reuters

12/20

Displaced residents cook their meal on a flooded roadside

Reuters

13/20

National Disaster Response Force personnel rescue flood victims

AP

14/20

An aerial view of a partially submerged airplane is pictured in a flood affected area in Chennai

Reuters

15/20

An aerial view shows a flood affected area in Chennai

Reuters

16/20

Flood affected people queue up for food

AP

17/20

Indian army soldiers rescue flood affected people in Chennai

AP

18/20

Volunteers rescue flood affected people on a country boat from a residential area in Chennai

AP

19/20

People carry children on their shoulders and wade through flood waters in Chennai

AP

20/20

Houses are submerged in flood waters in Chennai

AP
The populist Aam Aadmi Party, elected to run Delhi last year, has promised free water for all, with pipes into all unplanned residential areas and a crackdown on private suppliers.
"It is totally immoral," says Dinesh Mohaniya, Sangam Vihar's representative in the Delhi assembly, of the water mafia. "Even in India's capital, more than 65 years after independence, we can't provide drinking water to our citizens – it's shameful." 
He says more Delhi water board tankers are now plying his constituency, tube wells have been recaptured and put under community control, and a newly extended pipeline is within reach of 70 per cent of the area's people. But many are still forced to supplement supplies from private sources, and some appear untouched.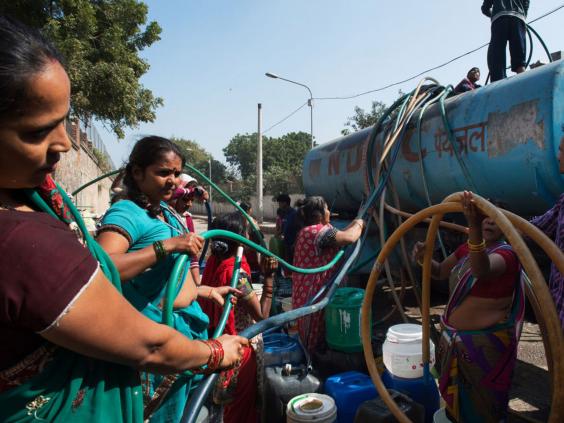 In Lalita Yadav's neighbourhood, visits by official tankers are rare. She says her household, with a monthly income equivalent to £90, has to pay £20 a month for water from a private well. "I could put my children into a better school with that money," she says angrily. "If we complain, they will cut off our water. For them, it's just a business."
One local supplier, Om Prakash, says he charges between 50 pence and £1 per month to the 100 families who draw water from the well outside his home, but denies he is profiteering and says he sells water at a nominal price. "I consider it a public service," he said. But many bore wells are themselves running dry and much of the water pumped from underground is contaminated, so unsuitable for drinking.
The capital depends on the Yamuna, Ganges and Sutlej rivers of northern India for most of its supply, but years of mismanagement and the city's booming population puts the resources under constant strain. Even those connected to the piped network only receive water a few hours each day. 
The city's vulnerability was exposed last month when rioters in neighbouring Haryana sabotaged a crucial canal, leaving millions without water for days. Dinesh Mohaniya says Delhi's water board is focusing on water conservation. But that is not enough. "We can provide pipelines, we can create networks, but we can't create water," he said.