Two Britons have been killed after a train chartered by 37 tourists derailed in northern India.
Two British women were killed and at least five other passengers injured when the train – known as the Toy Train - derailed in Haryana state, on Saturday afternoon.
Three coaches of the train went off the tracks on the Kalka to Shimla line – a single gauge railway known for its stunning views of the Indian Himalayas.
The train, which was hired by York-based company Great Rail Journeys, was rounding a curve when the coaches derailed, Neeraj Sharma, a railway official told the Associated Press.
He said the two Britons died instantly in the accident, which happened at about 1.30pm.
Officials of the Northern Railway company said that the derailment happened close to Taksal station, which is just over one mile away from the northern hill town of Kalka.
The British High Commission and Great Rail Journeys are sending staff to offer support.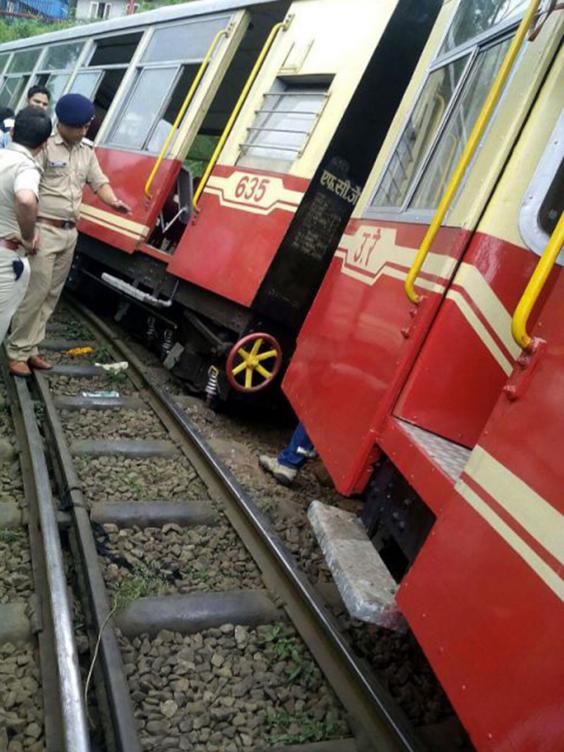 A spokeswoman for Great Rail Journeys said: "Great Rail Journeys confirms that there has been a train incident in India involving one of its escorted groups, travelling from Kalka to Shimla. 
"A total of 37 people were on board, including Great Rail Journeys' tour manager.
"Great Rail Journeys' local representatives are at the scene of the accident and a number of people in the group have been hospitalised. 
"Detailed information is awaited and will need to be verified carefully before it can be confirmed by the company. 
"Great Rail Journeys is sending three senior members of its team to the scene on the first available flight departing today, together with two qualified counsellors.
"The Foreign and Commonwealth Office is liaising with Great Rail Journeys to assist with speedy issue of visas.
"The company was established over 30 years ago and this is the first serious train accident in which it has been involved."
Hugo Swire, Minister for Asia, said: "I am deeply saddened that two British nationals have been killed and many other injured in a train accident in Northern India.
"My thoughts are with their family and friends at this difficult time.
"Teams from the British High Commission in New Delhi and Deputy High Commission in Chandigarh are on their way to the area to help all those affected."
Shimla, the capital of Himachal Pradesh state, has been popular with the British since the time of the Raj, when it was designated as the summer capital of British India.
Reuse content