As Aung San Suu Kyi herself has remarked, it's a pretty long gap. On Sunday 8 November 2015 Burma went to the polls, and in an unprecedented carnival of democratic excitement handed a landslide victory to Suu Kyi's party, the National League for Democracy (NLD). Surpassing even its own expectations, the party gained blanket support across most of the country. Its majority ensures that it will dominate parliament, which in turn guarantees the election of the NLD's chosen candidate as president, who in the Burmese system is all powerful. 
I reported the election for The Independent, and nowhere in the world have I encountered such enthusiasm before a vote, or such euphoria after it. The Burmese knew exactly the result they wanted. And made sure that they got it. 
And then? A big fat nothing. 
In their infinite wisdom, the authors of the nation's constitution prescribed that the nation should vote in early November, but that the new president – elected by the upper and lower houses of Parliament, sitting in the new capital, Naypyidaw – should not take office until the end of March. "There is no country in the world which takes so long to transfer power," Suu Kyi told her new MPs earlier this month. "We are at the top of the list for lengthy handovers. No other country takes five months."
The Burmese are good at waiting. In the past four years, new cars have poured into the country in unprecedented numbers, but because little has happened to the road system in that time, the traffic-jams in Rangoon, the old capital and much the biggest city, have to be seen to be believed. It can take hours to cover a couple of miles. Foreigners tend to blow a gasket as they sit motionless, inhaling the fumes. The Burmese, by contrast, seem serenely resigned: they just sit there. And they have waited far longer for anything good to happen in the nation's politics. 
The NLD was formed by Suu Kyi and friends in 1988, during the hectic months of the popular uprising. She and her husband Michael Aris were not alone in believing that the rotten structure of military rule would collapse before the end of that year, yielding a democratic revolution. Instead the military redoubled its grip. Elections were finally held in 1990, when Suu Kyi was under house arrest and most of her colleagues in jail. Her party won by a landslide; the regime pretended nothing had happened, locked up all the MPs-elect who were not prudent enough to leave the country, and remained in power. 
Fast forward 20 years, to 2010, and another general election, under the new, pseudo-democratic constitution – but the NLD, with Suu Kyi still locked up, did not take part in it. So by November 2015, the nation had waited a full 25 years for a free vote. What is a further five months, after that?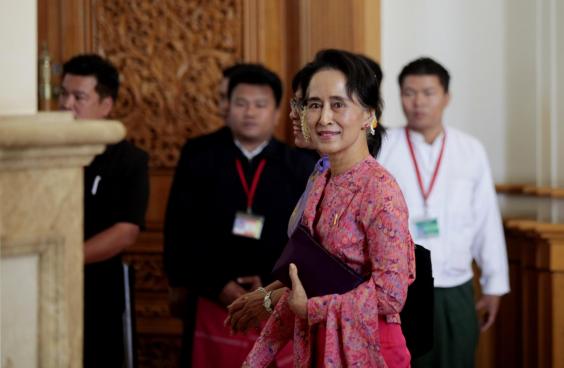 This Thursday – 10 March – sees the nation's idling engine finally move into first gear when the contending parties nominate their candidates for president, then vote for them. The results are expected to be published the same day. No one doubts, given the parliamentary arithmetic, that the NLD's candidate will prevail. But who will that person be? At present only one person in the country knows for sure, and that is Suu Kyi herself. 
Given her vast popularity, it is certain that in a free vote on the matter the Burmese people would put Suu Kyi herself in the presidential office. And for the past three years, she herself has made no bones about that being her ambition. But the same fiendish constitution that mandated five months of post-election limbo also bars anyone with a spouse or children possessing foreign passports – and that means Suu Kyi, with her grown-up sons, one of whom has British and one American citizenship – from standing for that office. 
During the election campaign, Suu Kyi not only made her own presidential ambitions very clear, but also confirmed she would do all she could to change the relevant clause of the constitution, 59(f), to make sure that she would end up where she believed she belonged. But now, it appears, that is not going to happen. 
Another of the peculiarities of Burma's constitution is that it is extremely difficult to change – and has been deliberately fashioned that way, to ensure that the military men who wrote it continue to have a lock on power, no matter who the nation might vote for in elections. To initiate an amendment, more than three-quarters of MPs must vote in favour of it – but one-quarter of them are serving soldiers, who attend parliamentary sessions in uniform and vote as a bloc. Their presence is enough to kill stone dead any amendment aimed at limiting the military's power. And supposing that  "one brave soldier", to quote Suu Kyi, were persuaded to cross the floor, the amendment would still need to be put to a nationwide popular referendum. The constitution was written with the express purpose of stymying any attempt at radical change.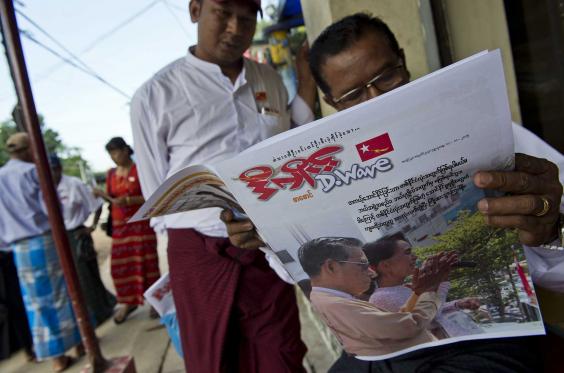 As a result, much of these limbo months has been taken up with efforts by Suu Kyi to find other, simpler, ways of bringing about that constitutional change. These have involved three meetings with the head of the army, General Min Aung Hlaing, who is effectively the most powerful figure in the country – as head of a shadowy but very powerful security council which has the right to declare martial law and take over – in which she tried to bring him round to the idea of short-circuiting the tortuous amendment process. No detail has emerged about these meetings except that the third one, held last week, was the longest and most tense, and ended inconclusively. The upshot: Suu Kyi will not be allowed to become President Suu – at least not now. She will be president "sooner or later", one of her oldest colleagues said. But not this time around.
So who will it be? It must be someone she trusts implicitly, and who is prepared to accept the anomalous position of being notionally of great power and prestige, but actually under the thumb of "the Lady" – because, as she said at a press conference before the election, if she can't be president, she will be "above the president". It is believed that Suu Kyi settled on her choice of proxy some time ago, but the party has been remarkably successful in keeping the person's identity under wraps.
The short list includes her oldest colleague U Tin Oo, co-founder of the party; her personal doctor, U Tin Myo Win; and her personal assistant, also a medical doctor, Daw Tin Mar Aung, the only woman on the list. All three are unquestioningly loyal to her, but the first two have drawbacks. U Tin Oo is remarkably spry for his age, but he is 89, which is rather old for starting a new, high-profile career. U Tin Myo Win is said to have good relations with the military, but that in itself might limit his appeal to Suu Kyi, given the inevitable tension between democratic and military camps. Daw Tin Mar Aung, Suu Kyi's constant companion, would be a stunning choice. 
Asked this week about the candidate's identity, an NLD spokesman would only say, "You're going to get a big surprise." The choice of her assistant would certainly be that. But, given the fact that they have been inseparable for the past three years, she might be the only person Suu Kyi would fully trust. Because having power split between a paper president and the party leader will be an awkward start for Burma's brave new democratic era, whoever is selected; and recent Asian experiments with proxy rulers have ended badly.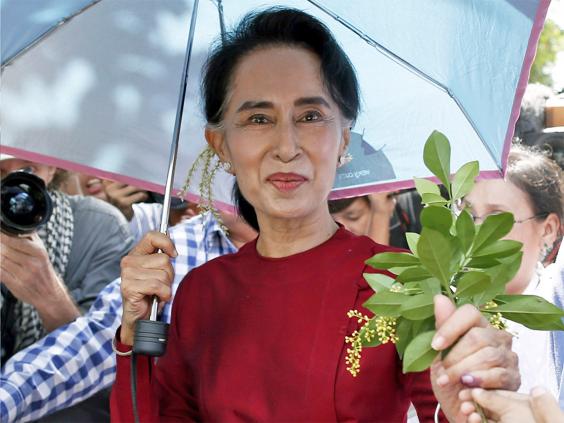 The best-known case is that of India, where from 2004 to 2014 Dr Manmohan Singh, as prime minister, and Sonia Gandhi, as head of the Congress party, ruled in tandem. The experiment ended in humiliation, with a landslide electoral victory for the Hindu nationalists. "The history of those years shows the difficulty, perhaps even the danger, of operating with two centres of power," Teresita Schaffer, a fellow at the Brookings Institute, said recently in an interview. "Even with Manmohan Singh's character and desire to make things work, the two centres of power wound up being competitive. Others were constantly calculating which of the two leaders was more sympathetic to them, how to get to Gandhi and get around Singh, and so on."
In Thailand, proxy rule was aborted within three years. Following the departure into exile of her vastly popular but controversial brother Thaksin, Yingluck Shinawatra became prime minister in 2011 – but was suspected of acting under her brother's orders. Her term in office came to a sudden close when she was impeached for alleged abuse of office and forced out. 
But whoever Suu Kyi selects – and we will learn the person's identity on 10 March – she, as the nation's de facto ruler, will have a mountain to climb to fulfil her people's expectations.
The most pressing issue is peace. Burma has been at war ever since independence, with large ethnic minorities on eastern, northern and western borders resisting by force of arms attempts by the Burmans, constituting some 70 per cent of the population, to dominate them. Only last year a fierce war broke out in Shan state between the Burmese army and the ethnically Chinese Kokang. In Kachin state in the north, fighting continues intermittently between the national army and the Kachin minority's forces. Even where the guns have fallen silent, there is deep resentment and mistrust; the federal arrangements promised at independence, designed to accommodate different traditions and identities within the national frame, were never implemented. If Suu Kyi fails to quell rooted army hostility to federalism in the early months, her support in the border areas could quickly crumble. 
As urgent as peace is prosperity. Burma's economy has been growing at seven per cent per year since currency reform four years ago – with the abolition of a crazy dual exchange rate system – and its opening to the outside world. But as Suu Kyi herself noted before the election, the mass of people have seen little or no improvement, while a tiny minority of "cronies" (the word has entered the Burmese language) flaunt their great wealth. And the long interregnum since the election has made that even worse, with the military-dominated administration rushing through "fire-sale" privatisations of state-owned land and factories which are suspected of benefiting their families or friends. The new NLD MPs, sitting in parliament since the beginning of February, have tried to get the retiring government of President Thein Sein to take action about this, but without success. Thein Sein also took advantage of his last months of power to pass a new immunity law, placing himself and his colleagues beyond the reach of justice. 
Then there is the question in Arakan state that has dogged Suu Kyi for much of the past five years: the rights of the Rohingya, the Muslim community barred from voting in the last election. Suu Kyi's waning popularity in the west is largely ascribed to her failure to speak up with any clarity about the rights and wrongs of this long-festering issue, which pits Muslims against Buddhists in the second poorest state in the Union. But her government is unlikely to bring any dramatic improvement to the lot of the Rohingya, tens of thousands of whom are confined to squalid camps following their expulsion from their homes after communal violence in 2012. Arakan was one of the few corners of the country where the NLD did poorly in the election – beaten by Arakanese nationalists who are the voice of Buddhist chauvinism in the state, and will do all they can to keep the Rohingya in their lowly place. And if Suu Kyi does indeed name her assistant as the NLD's presidential candidate, there is even less likelihood that the Rohingya's lot will improve: Daw Tin Mar Aung is herself an Arakanese Buddhist.
Beyond these specific issues, the over-riding question is: how well will Suu Kyi and her colleagues succeed in governing? Many of the new MPs have spent long years in jail for their political positions, but few have any direct experience of running anything. After half a century of military tyranny, capacity-building is as big a challenge in government as in every other sphere of life. 
Suu Kyi is likely to take as much of the load of responsibility on her own shoulders as she can, but has already come under attack for trying to do too much. "[Suu Kyi's] activities in recent months," said U Soe Myint Aung, a political commentator in Rangoon, "show that she is someone who likes to micro-manage things, ranging from garbage collection and inspection of the living quarters of her MPs to being the authoritative party spokesperson. So I suspect she would not want to let go of any institutional decision-making."
Asked at her pre-election press conference whether the NLD would govern well, Suu Kyi quipped that they "couldn't be any worse" than the current government. And, given that the army will retain control of three crucial ministries – home, defence and border affairs – it may be a while before people notice any difference at all. But that is her challenge: to make things better, and fast. Her millions of Burmese admirers are banking on it. 
The Lady and the Generals: Aung San Suu Kyi and Burma's struggle for freedom by Peter Popham is published by Rider on 10 March, price £20 hardback
Reuse content