Chinese police opened fire on Tibetans as they protested against the death of a prominent monk while he was being held captive in prison.
Tenzin Delek Rinpoche was serving a 20-year prison sentence after being found guilty by Chinese courts of separatism and terrorism and convicted for playing a part in a bomb attack in Chengdu in 2002.
More than 1,000 Tibetans took to the streets of Nyagchuka County in Sichuan, a province in the southwest of China, to mark the death of Tenzin Delek, before police opened fire in an attempt "to control the crowd."
Officials in China confirmed this week that Tenzin Delek, who was 65, died whilst being held in a Chinese prison.
According to sources in Tibet, "the Chinese fired into the air, beat protestors and used tear gas." Reports state that six or seven "older people" were taken to hospital yesterday afternoon, and a further 17 people, including nuns, were taken to hospital in the evening.
The Tibetans gathered outside a local government office, demanding the lama's body, so they can carry out funeral rituals. Chinese officials currently say they will return the remains to the family, after a cremation takes place in the prison.
Tenzin Delek's cousin, Geshe Nyima, who lives in India, has told Reuters that the cause of his death still remains unclear.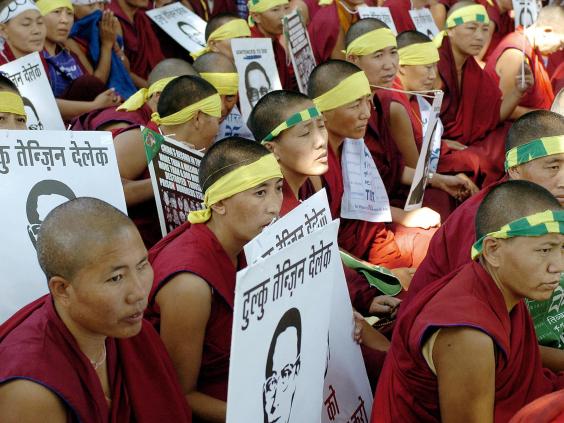 Governments in the European Union called for Tenzin Delek's release at the time of his sentencing, as did the US and human rights organisations around the world. His initial sentencing was for a suspended death sentence, which was later reduced to 20, and then 12 years in prison.
His alleged co-conspirator, Lobsang Dondrub, was executed in January 2003 after appeals to both men's convictions were rejected. Both had maintained their innocence throughout.
Speaking to The Independent, Alistair Currie, Campaigns and Media Manager for Free Tibet, said: "Authorities' refusal to hand over bodies of those who have died in custody or following self-immolation protests is a consistent and recurring source of grief and anger for Tibetans, denied the opportunity to conduct proper funeral services."
"In this case, the prison is also denying the outside world the opportunity to determine Tenzin Delek Rinpoche's cause of death – an even more sensitive issue than normal because he was denied medical parole despite serious illnesses. It's little surprise that there has been a significant protest in his area and nor is it a surprise that authorities have responded with force."
The US State Department has released a statement urging Chinese authorities to return the body.
Reuse content