The climbers who each year attempt to follow in Tenzing and Hillary's footsteps to  the summit of Mount Everest are threatening to bring environmental disaster to the  roof of the world – by their toilet habits.
The head of Nepal's mountaineering association has warned that human waste left when climbers use holes in the snow as lavatories is contaminating the world's highest peak. Some 700 climbers spend almost two months every year on Everest's slopes during the season when conditions allow climbers to reach the peak – from this week until May – and are leaving large amounts of faeces and urine buried in the snow.
Ang Tshering told reporters that Nepal's government needs to get the climbers to dispose of the waste properly, so the mountain remains pristine.
Climbers have returned to Everest base camps for the first time since last year's expeditions were cancelled after an avalanche killed 16 local guides.
They will spend weeks acclimatising around the four camps set up between the base camp at 17,380ft and the 29,035ft summit. The camps have tents and some essential equipment and supplies, but not toilets.
Mr Tshering said: "Climbers usually dig holes in the snow for their toilet use and leave the human waste there". He added that waste has been "piling up" for years around the camps.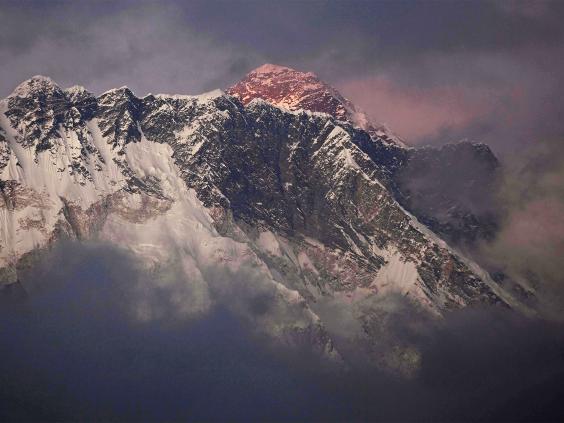 At the lowest base camp, where there are more porters, cooks and support staff, there are toilet tents with drums to store the waste. Once filled, these are carried to a lower area, where the waste is properly disposed of.
Dawa Steven Sherpa, who has been leading Everest clean-up expeditions since 2008, said some climbers carry disposable travel toilet bags to use at higher levels. "It is a health hazard and the issue needs to be addressed," he said.
Nepal's government has not yet come up with a plan to tackle the matter but officials stationed at the base camp will strictly monitor the condition of the mountain from now on, said Puspa Raj Katuwal, the head of the government's mountaineering department.
The government imposed new rules last year which required each climber to bring back 8kg (18lb) of rubbish to base camp – the amount it estimates a climber discards along the route.
More than 4,000 climbers have scaled Mount Everest since 1953, when it was first conquered by the New Zealander climber Edmund Hillary and his Sherpa guide, Tenzing Norgay. Hundreds of others have died in the attempt, while many have succeeded only with help from oxygen tanks, porters and guides.
Reuse content