The sheriffs outside Imelda Marcos's apartment were kept waiting for about an hour. When they entered the property belonging to the wife of the late Philippines dictator, Ferdinand Marcos, she was crying. The walls of the condominium were bare except for the hooks that once held her paintings.
The raid was part of the Philippines government's efforts to recover 156 artworks – including pieces by Van Gogh, Monet and Michelangelo – that were part of the former dictator's alleged ill-gotten wealth.
Earlier in the week, the authorities seized 15 paintings from Ferdinand Marcos's old residence in San Juan city in Manila, said the head of the agency trying to recover wealth amassed by Marcos during his 20-year rule.
Andres Bautista, chairman of the Presidential Commission on Good Government, said court sheriffs also tried, and failed, to seize paintings from the property belonging to Marcos's widow, Imelda.
The sheriffs also raided Mrs Marcos's congressional office and the Marcos family's ancestral home in Ilocos Norte province.
The commission obtained an anti-corruption court order this week imposing a "writ of attachment" on the paintings in connection with a civil suit seeking to recover the Marcos wealth – estimated to be in the billions of pounds.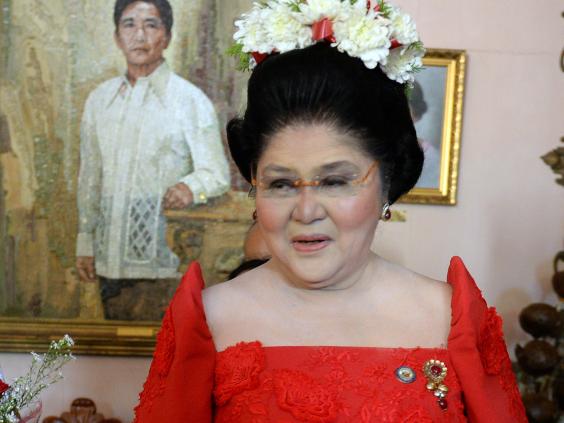 The legacy of Mrs Marcos and her husband remains deeply controversial in the Philippines.
After two decades of dictatorial rule marked by human rights abuses and corruption, a popular uprising forced the couple into exile in Hawaii in 1986, where the former president died three years later.
It was after they were forced out that Mrs Marcos's taste for  high fashion, particularly footwear, became clear – she had almost 3,000 pairs of shoes.
In 1990, a New York court cleared her and Saudi arms dealer, Adnan Khashoggi, of racketeering.
The following year she and her children returned to the Philippines, determined to re-enter public life. In 1995 she was elected to the country's parliament for the constituency of Leyte, of which Tacloban is the capital.
Mrs Marcos's lawyer, Robert Sison, said she had felt "violated" by the raids. "She was really in shock," he told Agence France-Presse. 
Other agents went to a Marcos mansion in suburban Manila and removed artworks, including three identical paintings of Michelangelo's Madonna and Child.
The raid came a day after a court ruled that eight paintings owned by Mrs Marcos had been acquired with embezzled state funds and must be turned over to the government.
Mr Bautista said: "This is part of their ill-gotten wealth and should be returned." 
In January, Mrs Marcos's former secretary, Vilma Bautista, was sentenced to six years for selling Mrs Marcos's art, including Claude Monet's Le Bassin aux Nymphéas, for $32m (£20m).
AP
Reuse content