Barely a day after militants laid siege to Karachi airport in an attack that left more than 35 people dead, gunmen launched a new assault on the facility in an assault that raised fresh questions about the country's ability to confront the Taliban
The Taliban claimed responsibility for an attack on a base operated by Pakistan's Airport Security Force (ASF) located close to Jinnah International Airport around lunchtime on Tuesday morning. A group of gunmen on motorbikes opened fire on the academy and sped off when security forces retaliated. No-one was hurt.
The attack came just 24 hours after security forces announced an all-clear at the airport, Pakistan's largest, following an assault by 10 militants armed with grenades and automatic weapons The attack, launched around midnight on Sunday, left a total of 36 people dead, including all the militants.
"We accept responsibility for another successful attack against the government," Pakistan Taliban spokesman Shahidullah Shahid told the Reuters news agency. "We are successfully achieving all our targets and we will go on carrying on many more such attacks."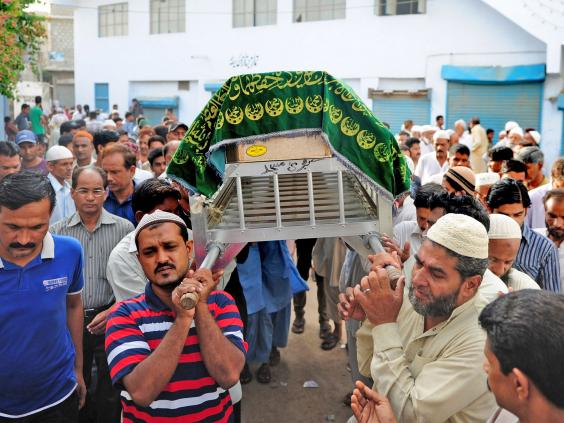 Reports said the militants who attacked on Sunday night were well equipped and well trained and apparently planning for a long operation. Some of the fighters may have been foreigners, officials said.
A spokesperson for the Taliban later said the attack had been carried out in revenge for a US drone attack last year that killed the Taliban's then-leader, Hakimullah Mehsud. He said they had wanted to hijack a plane.
The two attacks raise major problems for Prime Minister Nawaz Sharif, whose government has been involved in faltering efforts to broker a ceasefire as part of a broader regional settlement. Last month, there was a split in the ranks of the Taliban and there has been speculation that the attacks were intended to show the enduring ability of the main faction to still strike high-value targets at will.
On Tuesday morning it was reported that seven bodies have been recovered from a burned building at the airport, bringing the death toll from Monday's attack to 36. Reports said the bodies, burned beyond recognition, had been found in a cold storage unit. It is unclear how they ended up there.
The attack forced the suspension of all flights to and from the airport but by Tuesday afternoon it was running as usual.

Meanwhile, on Tuesday morning it was also reported that Pakistan's air force launched air strikes in tribal areas on the Afghan border, killing at least 15 suspected militants.
"Nine terrorist hideouts were destroyed by early morning military air strikes near the Pakistan-Afghan border," the army said in a statement.
The latest attack targeting Karachi airport came as Pakistan's interior minister, Chaudhry Nisar Ali Khan, was briefing the parliament on Monday's assault. "Terrorists wanted to kidnap people and damage planes," he said.