After nearly five months in prison Heather Cho, the former Korean Air Lines executive whose outburst over macadamia nuts achieved global notoriety, has walked free.
Ms Cho, who is the daughter of the airline's chairman, had her sentence suspended by an Appeals court on Friday over the incident on 5 December at JFK Airport in New York.
She was widely mocked in her own country when news of the incident was made public.
Lawyers representing Ms Cho said that after the sentencing, she had felt remorse for the suffering that she had caused, when her "nut rage" forced a plane to return to its gate in order to expel the flight's crew chief.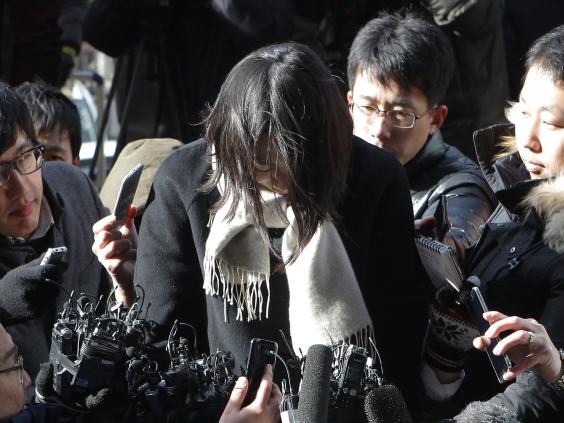 The incident occurred when a flight attendant served Ms Cho macadamia nuts she had not asked for in a bag, not a bowl.
The court noted that Ms Cho was a first-time offender and mother of twins, although it upheld her previous conviction of breaking South Korean aviation law. Her sentence was reduced to 10 months and suspended for two years.
Ms Cho, who looked gaunt after her spell in prison, did not speak to reporters as she left the court, having changed into black from her prison uniform.
Remarking upon the decision, Judge Kim Sang-hwan said: "The defendant would have had a chance to reflect sincerely on the mental anguish she caused in the victims during the five months she spent in the darkest place in society while in detention and away from family."
Ms Cho now faces a civil suit in New York, filed by a flight attendant involved in the incident. The suit claims, Ms Cho caused damage to her career , reputation and emotional health.
Additional Reporting: Reuters
Reuse content