A suspected rapist has been beaten to death by a lynch mob who stormed a jail in India.
The man was stripped naked, beaten, stoned and dragged for four miles through the streets of Dimapur tied to a motorbike.
Local media reported that the mob intended to publicly hang him but the man succumbed to his injuries on the way on Thursday evening.
Warning: This article contains distressing images
Instead, his body was strung up on fencing around the city's Clock Tower landmark on display as men crowded around taking pictures on their phones.
At least one protester died and 20 were injured in the ensuing riots as officers fired tear gas and blanks and the mob retaliated with missiles and set police cars on fire.
Police said they were powerless to save the man, named locally as 35-year-old Syed Farid Khan, as the crowds numbered in their thousands and included young students in their school uniforms.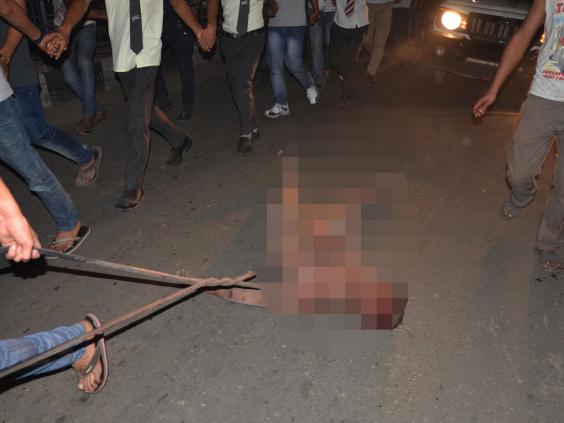 L.L. Doungal, a police official in the remote Nagaland state, told CNN Khan was believed to be an illegal immigrant from Bangladesh.
"There were students in uniform. So, we had to use minimum force," Doungal added.
"We retrieved his body before it could be hung," Doungal said. "The situation is still volatile."
Khan was accused of raping a girl from a local women's college multiple times on 24 February.
Tensions had been growing in Dimapur between native Naga people and Bangladeshis when organisations including the Naga Students' Federation and Naga Women Hoho started protesting on Wednesday for his harsh punishment.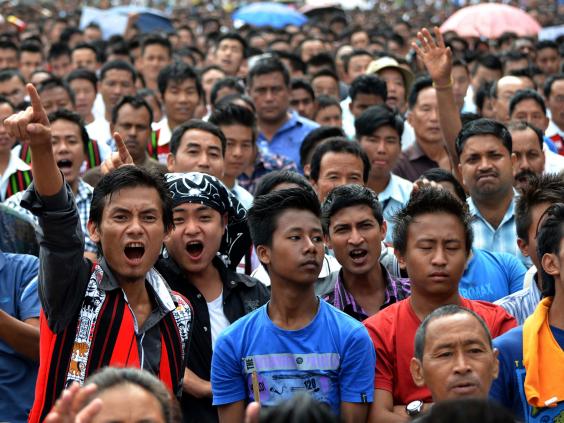 The Hindustan Times reported that the demonstration turned into rioting that saw dozens of Bangladeshi shops vandalised and authorities impose India's Section 144 to ban the assembly of large groups.
But thousands of people defied the order on Thursday, marching to Dimapur Municipal Council demanding cancellation of work permits for Bengali-speaking Muslims, and then on to Dimapur Central Prison, where Khan was being held.
As anger mounted, footage showed people filming on their smartphones as men at broke open the jail gates and flooded inside.
The crowd then reportedly forced their way into Khan's cell, dragged him out into the streets, stripped him naked and beat him.
He was tied to the motorbike and pulled for the four miles to the Clock Tower for the planned hanging as people pelted him with stones and beat him, said police Constable Sunep Aier.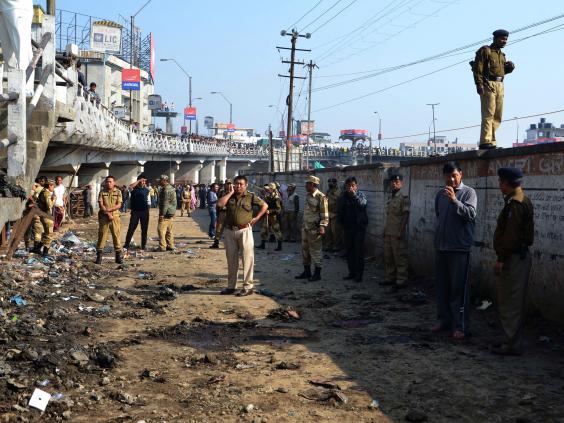 Police used tear gas and batons but could not disperse the crowd until Khan, reported to be a used car trader from Assam, was long dead.
Initial reports said police fired blanks at the mob but a 25-year-old protester died of two bullet wounds to the chest, the Hindustan Times reported.
In recent years, India has seen an outpouring of anger against sexual violence that is pervasive across the country.
Tensions are high following the government's decision to ban India's Daughter, a film about the 2012 gang rape of a student.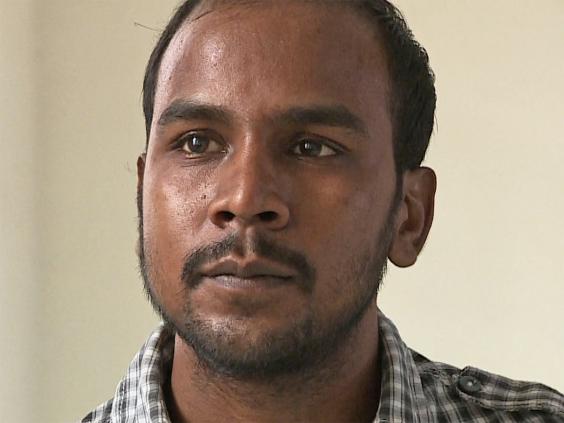 But yesterday's killing was also likely linked to tensions in Nagaland over an influx of migrants from Bangladesh.
Several local groups blame the migrants for taking away their land and jobs and have been protesting in recent weeks.
Dimapur was believed to be under curfew today and Indian army reservists have been deployed amid continuing tensions.
Reuse content