One possible cause of the disappearance of flight MH370 was that the plane was hijacked by terrorists - that is the view of the French deputy public prosecutor, Serge Mackowiak, who told a press conference in Paris that terrorism was being actively investigated.
The Malaysia Airlines Boeing 777 disappeared on 8 March last year on a routine flight from Kuala Lumpur to Beijing. Despite a massive international effort, for 16 months no trace of the plane had turned up. Then a fragment of a wing was discovered on a beach on the Indian Ocean island of Reunion. It is currently being analysed by experts in France.
The prosecutor's revelation has drawn attention to the range of terrorist groups thought to be active in Malaysia.
Shortly after the disappearance of MH370, a number of suspects were questioned by Malaysia's counter-terrorist force about their possible involvement in a hi-jack plot, but no action followed. Since May this year, the Malaysian authorities have arrested more than 100 alleged supporters of Islamic State.
Last month, the US embassy in Kuala Lumpur issued a warning to American citizens in Malaysia about a heightened risk of terrorist attacks. It said the Jemaah Islamiyah group had been linked to Al Qaeda, and also warned of the risk of attacks by the Abu Sayyaf group.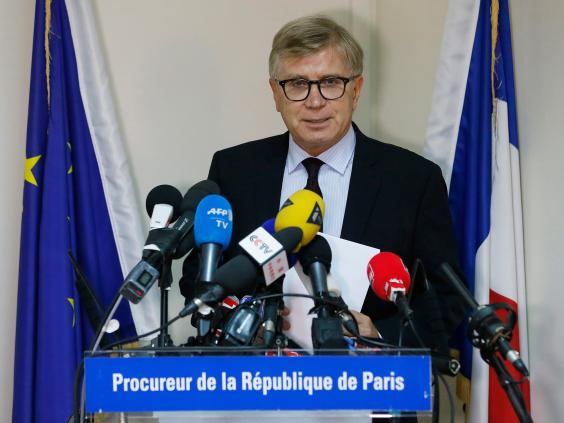 The Foreign Office warns of "a general threat from terrorism," facing British travellers to Malaysia, adding: "Attacks could be indiscriminate, including in places frequented by expatriates and foreign travellers."
On occasions when planes have been hi-jacked by members of terrorist groups, the organisations have generally been quick to claim responsibility for attacks.
Of the six attempted hi-jackings worldwide since 2011, only one - in China in 2012 - was related to a recognised terrorist group. In that case, six Uyghur separatists were overpowered and the plane landed safely.
Of the remaining five hi-jacks, three involved "lone wolf" individuals, while two were carried out by co-pilots who locked the captain out of the flight deck. Last year, an Ethiopian Airlines 767 from Addis Ababa was diverted from Rome to Geneva by a first officer seeking asylum in Switzerland. And in March this year, the Germanwings pilot, Andreas Lubitz, killed all 150 people aboard his Airbus A320 by downing his plane in the Alps.
Close attention has been paid to the possibility that one of the two MH370 pilots was involved in diverting the jet thousands of miles from its intended course. There has been speculation that Captain Zaharie Shah or First Officer Fariq Hamid was responsible for taking the plane on a murder/suicide mission similar to that perpetrated by Lubitz.
MH370 debris - in pictures
MH370 debris - in pictures
1/7 MH370 debris

French police officers carry a piece of debris from a plane in Saint-Andre, Reunion Island.

AP

2/7 MH370 debris

Police carry a piece of debris from an unidentified aircraft found in the coastal area of Saint-Andre de la Reunion, in the east of the French Indian Ocean island of La Reunion

AFP PHOTO / YANNICK PITOUYANNICK PITOU/AFP/Getty Images

3/7 MH370 debris

The plane part is being taken to France for further investigation

Reuters

4/7 MH370 debris

French gendarmes and police inspect a large piece of plane debris which was found on the beach in Saint-Andre, on the French Indian Ocean island of La Reunion

Reuters

5/7 MH370 debris

French gendarmes and police inspect a large piece of plane debris which was found on the beach in Saint-Andre, on the French Indian Ocean island of La Reunion

Reuters

6/7 MH370 debris

Johnny Begue, a member of a local shore cleaning association, in Saint-Andre, French Indian Ocean island of La Reunion, holds the remain of a suitcase found the day before on the same site

Getty Images

7/7 MH370 debris

Searches continued on Friday for other possible MH370 debris along beaches on the island of Réunion

AP
But while investigations into the German pilot's background revealed multiple symptoms of suicidal tendencies, the interim report into the MH370 disappearance detected nothing in the behaviour of the captain or first officer that gave any cause for concern.
Investigators looked at everything from the pilots' financial standing to their demeanour at Kuala Lumpur airport on the night of the disappearance, and concluded that they were behaving entirely normally.
Of Captain Shah, the report says: "On all the CCTV recordings the appearance was similar, i.e. well groomed and attired. The gait, posture, facial expressions and mannerism were his normal characteristics." And "no significant behavioural changes" were observed in the First Officer.
An American science writer, Jeff Wise, speculated that the single Russian and two Ukrainian passengers hi-jacked the jet on the orders of the Kremlin and flew it to Kazakhstan. But even before the discovery of the plane, the theory had been widely ridiculed. It remains to be seen if the French authorities have any more substantial leads.
Reuse content