The race against time to find the black boxes that hold vital clues to the disappearance of Malaysia Airlines Flight MH370 continues five weeks after it went missing.
Signals from their locator beacons are fading and the aircraft data and voice recordings from the cockpit they contain could be lost forever if their batteries die before they can be recovered.
Ships and aeroplanes are still hunting for any wreckage from the airliner, which disappeared on 8 March during its journey from from Kuala Lumpur to Beijing with 239 passengers and crew on board.
Australia's Prime Minister, Tony Abbott, said he was "very confident" that signals detected by an Australian ship were coming from the black boxes but no more have been heard.
Speaking in China, Mr Abbott said signals were "rapidly fading" and crews were battling to get as much information as possible before they stop completely.
"No one should underestimate the difficulties of the task still ahead of us," he added.
"We have very considerably narrowed down the search area, but trying to locate anything 4.5 kilometers beneath the surface of the ocean about 1,000 kilometers from land is a massive, massive task and it is likely to continue for a long time to come."
The batteries powering the boxes' locator beacons were expected to last a month and the chances of finding them are looking increasingly slim.
Read more: What is a black box and how do you find one? Searching for the last remains of MH370
A ship called Ocean Shield towing a US navy detection device first picked up two underwater sounds last Saturday, which were later determined to be consistent with the pings emitted from the flight recorders.
The ship's equipment detected two more sounds in the same area on Tuesday.
An Australian air force P-3 Orion, which has been dropping sonar buoys into the water near where four sounds were heard earlier, picked up another "possible signal" on Thursday, but Angus Houston, who is co-ordinating the search for Flight 370 off Australia's west coast, said an initial assessment of the signal had determined it was not related to an aircraft black box.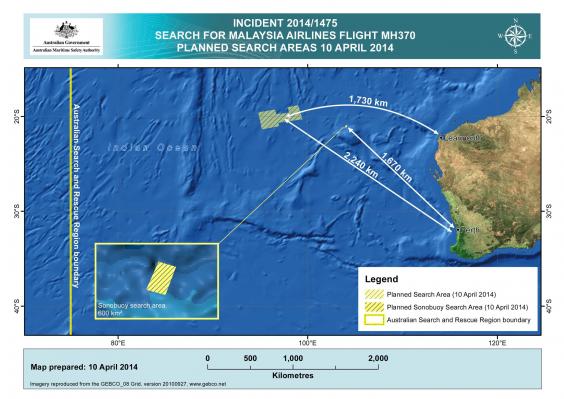 Read more: Australian PM 'very confident' black box position narrowed down
He said the Ocean Shield was continuing to use its towed locator to trace additional signals over a 500-square-mile patch of the ocean floor.
"It is vital to glean as much information as possible while the batteries on the underwater locator beacons may still be active," he said. "The AP-3C Orions continue their acoustic search, working in conjunction with Ocean Shield."
Searchers want to pinpoint the exact location of the source of the sounds - or as close as they can get - and then send down a robotic submersible to look for wreckage.
The submarine will not be deployed until officials are confident there are no other electronic signals.
The Bluefin 21 submersible takes six times longer to cover the area as the ping locator and would need six weeks to two months to canvass the current underwater zone.
The signals are coming from 15,000ft below the surface, which is the deepest the Bluefin can dive. The search co-ordination centre was considering options in case a deeper-diving sub is needed.
Up to 10 planes and 14 ships are still scouring 16,000 square miles of the ocean surface extending from about 1,400 miles north west of Perth for floating debris.
Additional reporting by PA
Read more:
Missing Malaysia Airlines Flight MH370: 'Everyone on board remains under suspicion'
Missing Malaysia Airlines Flight MH370: Opposition leader Anwar Ibrahim says government is concealing information
Reuse content