Experts have expressed scepticism over North Korea's claims to have successfully conducted the country's first H-bomb test.
The country said that it completed its first test today, prompting panic in Japan and South Korea amid security concerns.
However, experts have cast doubt on the credibility of the claims. Yan Uk, senior research fellow at the Korea Defence and Security Forum, said: "Given the scale, it is hard to believe this is a real hydrogen bomb.
"They could have tested some middle stage kind [of device] between an A-bomb and a H-bomb, but unless they come up with any clear evidence, it is difficult to trust their claim."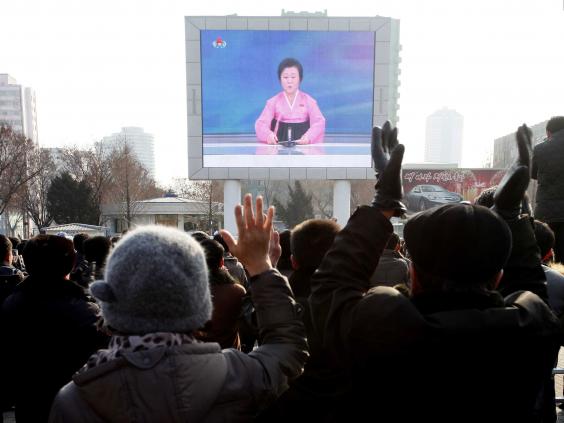 Analyst Joe Cirincione, a nuclear expert at global security organisation Ploughshares Fund, expressed similar doubts and said that the dictatorship may have mixed a hydrogen isotope in a normal atomic fission bomb.
"Because it is, in fact, hydrogen, they could claim it is a hydrogen bomb. But it is not a true fusion bomb capable of the massive multi-megaton yields these bombs produce."
In pictures: North Korea hydrogen bomb test
In pictures: North Korea hydrogen bomb test
1/15

Officers from the Korea Meteorological Administration point at the epicenter of seismic waves in North Korea, at the National Earthquake and Volcano Center of the Korea Meteorological Administration in Seoul

2/15

Officers of the Korea Meteorological Administration check seismic waves that were measured in South Korean cities, at the Korea Meteorological Administration center in Seoul

3/15

A lab employee from the Korea Institute of Nuclear Safety's regional office in Gangneung, east of Seoul, checks for radioactive traces in the air, in Gangneung, soon after North Korea announced it successfully conducted a hydrogen bomb test. The office in Gangneung is the closest one to the site of the North's claimed test. Officials said it will take three to four days to analyze air samples in detail for any traces of radioactivity, the Yonhap news agency reported

EPA

4/15

5/15

South Korean President Park Geun-Hye (C) speaking as Foreign MInister Yun Byung-Se (2nd R) listens during an emergency meeting of the National Security Council at the presidential Blue House in Seoul, South Korea

6/15

North Korean leader Kim Jong-Un signing a document of a hydrogen bomb test in Pyongyang

7/15

People watch a TV news program showing North Korea's special announcement at the Seoul Railway Station in Seoul, South Korea

AP

8/15

Getty Images

9/15

Getty Images

10/15

South Korean Foreign Minister Yun Byung-Se (R) talks with US Ambassador to South Korea Mark Lippert (C) and US General Curtis Scaparrotti (L), Commander of the US Forces Korea, during their meeting following North Korea's hydrogen bomb test at the Foreign Ministry in Seoul. North Korea said it had carried out a "successful" miniaturised hydrogen bomb test - a shock announcement that, if confirmed, would massively raise the stakes in the hermit state's bid to strengthen its nuclear arsena

11/15

Hua Chunying, spokeswoman of China's foreign ministry, speaks at a regular press conference at the Ministry of Foreign Affairs in Beijing. China's foreign ministry spokeswoman Hua Chunying told reporters that China 'firmly opposes' the first hydrogen bomb test claimed by North Korea while maintaining that they did not have prior knowledge of the test

12/15

South Korean people watch TV news at Seoul station

EPA

13/15

Japan's meteorological agency officer Yohei Hasegawa displays a chart showing seismic activity, after a North Korean nuclear test, at the agency in Tokyo

Getty Images

14/15

Ko Yun-Hwa, administrator of Korea Meteorological Administration, briefs reporters showing seismic waves from the site of North Korea's hydrogen bomb test, at his office in Seoul

Getty Images

15/15

North Korea's border county of Kaepoong is seen from a South Korean observation post in Paju near the Demilitarized zone dividing the two Koreas as North Korea announced it had successfully carried out its first hydrogen bomb test

Getty Images
South Korean intelligence officials have also questioned the veracity of the country's claims. One South Korean lawmaker told Yonhap news agency that they had been informed in a private meeting by the country's spy agency that North Korea may not have conducted the test due to the relatively small size of the seismic wave reported.
If true, the news would mean that North Korea has successfully tested a hydrogen bomb and could launch long-range nuclear missiles.
The head of the UN Comprehensive Test Ban Treaty Organisation, which monitors worldwide for nuclear testing, says that if their claims are true North Korea would be in breach of the treaty and represent a grave threat to international peace and security.
With additional reporting by Reuters
Reuse content