North Korea has sentenced an American student to 15 years' hard labour for trying to steal a propaganda banner from his hotel.
Otto Warmbier was convicted on charges of subversion, in a move which has showcased the secretive and unforgiving North Korean regime and futher deteriorated relations with Washington.
The student, from Ohio, admitted trying to steal a North Korean banner with a political slogan on that had been hanging from the walls of his Pyongyang hotel, according to CNN.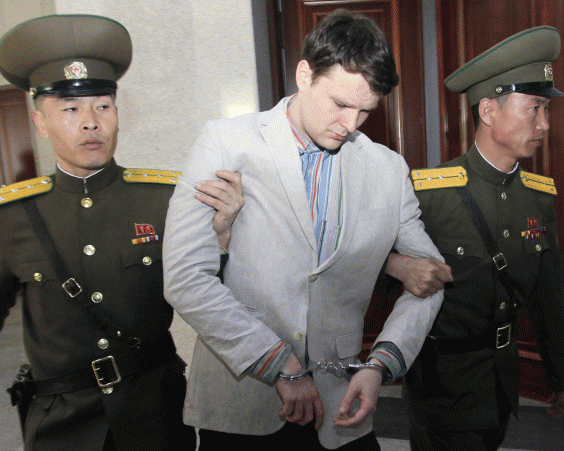 In a statement to a press conference in February, Mr Warmbier said: "I committed the crime of taking down a political slogan from the staff holding area of the Yanggakdo International Hotel.
"I apologise to each and every one of the millions of the Korean people, and I beg that you see how I was used and manipulated."
Crying in a broadcast video, he said he had been "lured by the United States administration to commit a crime in this country."
North Korea's worst human rights abuses
North Korea's worst human rights abuses
1/11 Starvation

A UN report said that policies leading to mass starvation in North Korea amounted to crimes against humanity. Deaths peaked during the 1990s North Korean famine.

Al Jazeera

2/11 Executions

Defence minister Hyon Yong Chol is believed to be the latest official executed after falling foul of Kim Jong-un. As well as gruesome public executions, thousands of people have been killed in state 'purges' and for alleged anti-state crimes

Getty

3/11 Torture

Torture is prevalent in prison camps, as well as in police and security service custody.

AP

4/11 Freedom of religion

American missionary Kenneth Bae was one of the many people detained after trying to practice their religion. The DPRK Constitution claims to protect freedom of religion but not if it as alleged of being used a a pretext for 'drawing in foreign forces or for harming the state and social order'. Christianity is frequently considered a political crime

5/11 Freedom of expression

All media is tightly-state controlled and expressing facts of opinions critical of the government or Juche ideology can lead to arrest and imprisonment. As well as being under extensive surveillance, people are encouraged to 'inform' on friends and neighbours

Getty

6/11 Freedom of thought

A UN report found that the 'DPRK operates an all-encompassing indoctrination machine which takes root from childhood to propagate an official personality cult and to manufacture absolute obedience to the Supreme Leader, effectively to the exclusion of any independent thought from the official ideology and state propaganda'

Reuters

7/11 Forced labour

Prisoners are subjected to forced labour in camps, including children as young as five. Some workers are also reportedly being sent abroad to fund the government's projects

AFP

8/11 Sexual discrimination

Although women are permitted to serve in the military, their role is restrained by the Juche ideology and the UN reports that 'discrimination against women remains pervasive in all aspects of society'

AP

9/11 Freedom of movement

Freedom of movement is severely restricted within North Korea and very few citizens are allowed to leave the country. Immigrants found in China can be forcible repatriated and punished on their return. The right for foreigners to enter is also severely restricted.

Reuters

10/11 Prison camps

Many of the worst abuses reported take place at prison camps, some specifically for political crimes. The camps officially do not exist but have been photographed using satellite. Inmates are 'forcibly disappeared' and usually imprisoned until death

REUTERS

11/11 Reproductive rights

Forced abortions have been reported for imprisoned women, often after being raped by guards. Mothers and babies frequently die in childbirth because of a lack of adequate care, often delivering babies unaided at home.

AP
It is not known whether he was coerced into giving the statement. He said he had wanted a banner from the totalitarian regime in east Asia "as a trophy" for a member of a church group he attends.
According to an official who spoke to CNN, the church member allegedly encouraged Warmbier to take the poster so as to "weaken the ideological unity and motivation of the North Koreans", promising him a car in return for his efforts.
But no evidence of such a church group or member has emerged.
The issue has raised questions around the risk to American tourists travelling in the country of being used as political pawns by the regime.
Tensions with Washington further escalated this week after leader Kim Jong Un warned his country had a long-range missile capable of obliterating Manhattan in New York City.
"If this H-bomb were to be mounted on an intercontinental ballistic missile and fall on Manhattan in New York City, all the people there would be killed immediately and the city would burn down to ashes," reported state-run outlet DPRK Today.
The UN Security Council voted unanimously in early March to implement harsher sanctions against North Korea to starve it of money for its nuclear weapons programme.
Reuse content