North Korea has reportedly publicly executed up at least 50 people this year, including several party officials for watching soap operas.
According to South Korea's National Intelligence Service (NIS), Pyongyang has purged about 10 officials from Kim Jong-un's Workers' Party for watching South Korean soaps.
The officials, who also faced charges of bribery and womanising, were thought to be close to Kim's executed uncle, Jang Song-thaek, Yonhap news agency reported.
All television and media is under strict state control and access to the internet is limited but despite a harsh crackdown, banned foreign shows and films have been gaining popularity in recent years.
Some are believed to be secretly streamed over the internet, while others are smuggled into the country on DVDs, video cassettes of memory sticks sold on the black market.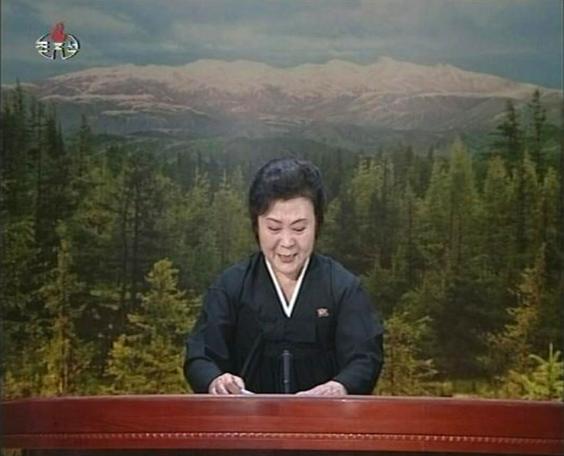 A North Korean defector calling himself "Mr Chung" revealed North Korea's preferences in a Channel 4 documentary last year.
He smuggles radios, USB sticks and DVDs of soap operas and entertainment shows into the North, posing as a mushroom importer.
"The men prefer watching action films," he said. "Men love their action films! I sent them Skyfall recently. The women enjoy watching soap operas and dramas.
"The more people are exposed to such media the more likely they are to become disillusioned with the regime and start wanting to live differently."
A group of activists in South Korea led by another defector from the North send satchels containing anti-regime flyers, noodles, $1 bills and USB sticks containing South Korean soap operas over the border attached to balloons.
North Korea forbids its 24 million people from watching foreign broadcasts and videos out of fear outside influence could undermine the dictatorship's ideology.
Anyone caught smuggling them in or distributing illicit material can be executed for crimes against the state and viewers have reportedly been sentenced to years in prison camps or hard labour.
A similar purge was reported last year, when around 80 people were said to be executed for watching South Korean television shows in November.
In pictures: Life in North Korea
In pictures: Life in North Korea
1/10 North Korea

Boys play soccer in the town of Hyesan in North Korea's Ryanggang province.

AP

2/10 North Korea

Young North Korean schoolchildren help to fix pot holes in a rural road in North Korea's North Hamgyong province

AP

3/10 North Korea

A group of young North Koreans enjoys a picnic on the beach in Wonsan, North Korea

AP

4/10 North Korea

Portraits of the late North Korean leaders Kim Il Sung and Kim Jong Il are illuminated on a building side as the sun rises over Pyongyang.

AP

5/10 North Korea

North Korean men share a picnic lunch and North Korean-brewed and bottled Taedonggang beer along the road in North Korea's North Hwanghae province.

AP

6/10 North Korea

North Korean people rest next to the railroad tracks in a town in North Korea's North Hamgyong province

AP

7/10 North Korea

A North Korean man pushes his bicycle to a village in North Korea's North Hamgyong province.

AP

8/10 North Korea

North Korean residents walk on a road along a river in the town of Kimchaek, in North Korea's North Hamgyong province.

AP

9/10 North Korea

The remains of lunch sits on a restaurant table in the city of Wonsan, North Korea

AP

10/10 North Korea

Farmers walk in a rainstorm with their cattle near the town of Hyesan, North Korea in Ryanggang province.

AP
In the eastern port of Wonsan, the authorities gathered 10,000 people in a sports stadium to watch the execution of eight people by firing squad, JoongAng Ilbo reported.
It is not known whether the most recent group of officials executed include the six reported missing earlier this month.
Kim recently sparked global speculation over power struggles and even a coup by disappearing from public view for 40 days.
South Korean spies have since claimed the leader is recovering following an operation to remove a cyst from his right ankle, although there is a chance the condition could recur because of his weight.
Reuse content