Malala Yousafzai has condemned Taliban's attack on a school in Pakistan as a "senseless and cold-blooded act of terror".
The 17-year-old, who now lives in Birmingham, survived being shot in the head by Islamist militants from the group in 2012 for her campaigning for girls' education.
She said the Taliban's attempt to intimidate their enemies around the world were futile, saying "we will never be defeated".
At least 141 children, teachers and soldiers have been confirmed dead in today's attack at the Army Public School in the city of Peshawar.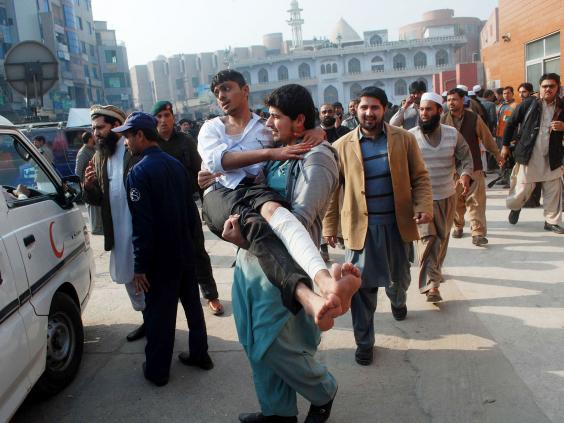 A teacher was reportedly burned alive in front of pupils as the Taliban sought bloody revenge on the Pakistani army for operations against them.
Malala said: "I am heartbroken by this senseless and cold-blooded act of terror in Peshawar that is unfolding before us.
"Innocent children in their school have no place in horror such as this."
The 17-year-old has been awarded the Nobel peace prize for her work and continues her campaigns from the UK.
"I condemn these atrocious and cowardly acts and stand united with the government and armed forces of Pakistan whose efforts so far to address this horrific event are commendable." she added.
"I, along with millions of others around the world, mourn these children, my brothers and sisters - but we will never be defeated."
In pictures: Taliban attack on army school in Pakistan
In pictures: Taliban attack on army school in Pakistan
1/30 Pakistan

Women mourn the death of a relative who was killed during the attack on the Army Public School, in Peshawar

Reuters

2/30 Pakistan

Sirajul Haq (3-R) head of the Islamic political party Jamat-e-Islami leads the funeral prayers of two school boys who were killed by Taliban militants at a school run by the Army, in Peshawar

3/30 Pakistan

Schoolchildren take part in a prayer for victims of the Taliban attack on the Army Public School in Peshawar, in the northern Indian city of Mathura

4/30 Pakistan

Indian schoolchildren prepare lighted candles ahead of a vigil in the northern city of Jalandhar, as they pay tribute to slain Pakistani schoolchildren and staff after an attack on an army school in the restive city of Peshawar

5/30 Pakistan

Pakistani journalists in Islamabad attend a vigil for the victims of the attack

EPA

6/30 Pakistan

Chairs are upturned and blood stains the floor at the Army Public School auditorium the day after Taliban gunmen stormed the school in Peshawar, Pakistan

AP

7/30 Pakistan

The uncle and cousin of injured student comfort him as he mourns the death of his mother who was a teacher at the school which was attacked by Taliban

AP

8/30 Pakistan

Pakistani schoolgirls pray for victims, who were killed in an attack at the Army-run school in Peshawar, during a memorial ceremony in their school in Hyderabad, Pakistan,

EPA

9/30 Pakistan

A Pakistani girl, who was injured in a Taliban attack in a school, is rushed to a hospital in Peshawar

AP Photo/Mohammad Sajjad

10/30 Pakistan

A man carries a student, who was injured during an attack by Taliban gunmen on the Army Public School, after he received treatment at a hospital in Peshawar

11/30 Pakistan

Rescue workers and family members carry the coffin of a student, who killed during an attack by Taliban gunmen on the Army Public School, in Peshawar

12/30 Pakistan

Relatives of a student, who was injured during an attack by Taliban gunmen on the Army Public School, comfort each other outside Lady Reading Hospital in Peshawar

13/30 Pakistan

People carry the casket of a victim of Taliban attack in a school, after receiving it from a local hospital in Peshawar

14/30 Pakistan

A Pakistani woman reacts as she arrives near the site of an attack by Taliban gunmen on a school in Peshawar

15/30 Pakistan

A plainclothes security officer escorts students rescued from nearby school during a Taliban attack in Peshawar

16/30 Pakistan

Pakistani volunteers carry a student injured in the shootout at a school under attack by Taliban gunmen, at a local hospital in Peshawar

17/30 Pakistan

A school boy who was injured in a Taliban attack receives medical treatment at a hospital in Peshawar

18/30 Pakistan

Hospital staff transport a student injured in the shootout at a school under attack by Taliban gunmen in Peshawar

19/30 Pakistan

A Pakistani woman weeps as she waits at a hospital, where victims of a Taliban attack are being treated in Peshawar

20/30 Pakistan

A hospital security guard helps a student injured in the shootout at a school under attack by Taliban gunmen in Peshawar

21/30 Pakistan

A soldier escorts schoolchildren from the Army Public School that is under attack by Taliban gunmen in Peshawar

22/30 Pakistan

Schoolchildren stand outside after being rescued from the Army Public School that in under attack by Taliban gunmen in Peshawar

23/30 Pakistan

A Pakistani army soldier takes position on a bunker close to a school under attack by Taliban gunmen in Peshawar

24/30 Pakistan

A rescue worker waves to make way for an ambulance as it speeded away form a school that was attacked by Taliban gunmen in Peshawar

25/30 Pakistan

A school boy who was injured in a Taliban attack receives medical treatment at a hospital in Peshawar

26/30 Pakistan

A school boy who was injured in a Taliban attack receives medical treatment at a hospital in Peshawar

27/30 Pakistan

A man talks on a phone, with his arm around a student, outside a military run school that is under attack by Taliban gunmen in Peshawar

28/30 Pakistan

Schoolchildren cross a road as they move away from a military run school that is under attack by Taliban gunmen in Peshawar

29/30 Pakistan

Pakistani army troops cordon off a road leading to a school under attack by Taliban gunmen in Peshawar

30/30 Pakistan

A school boy who was injured in a Taliban attack receives medical treatment at a hospital in Peshawar
Additional reporting by Press Association