A Chinese woman has paid over $1,000 to save 100 dogs from being eaten at the Yulin dog meat festival.
65-year-old Yang Xiaoyun, who is retired, travelled 1,500 miles from her home in Tianjin to Yulin city where the festival is being held.
Arriving at the market on Saturday, the animal lover paid 7,000 yuan, or $1,000, to save one hundred dogs before they could be slaughtered and sold as meat.
It is estimated that around 10,000 cats and dogs will be slaughtered during the festival which takes place annually to mark the summer solstice.
There has been international outcry about the festival which has been condemned as animal cruelty. Both Ricky Gervais and Leona Lewis have led calls for the event to be banned.
In pictures: Inside the Yulin cat and dog meat trade
In pictures: Inside the Yulin cat and dog meat trade
1/13 China

A cat climbs up the cage at the slaughterhouse, trying to escape. This cat was later rescued by Peter Li

2/13 China

A slaughterhouse butcher transfers a cat to a cage, to be handed off to Peter Li. Shortly after, Li rescued the cat from the slaughterhouse

AP/Humane Society International

3/13 China

Two kitchen knives are shown stuck in an iron cage, which are used to butcher dozens of dogs and cats every day. These knives have to be sharpened daily due to the number of animals they're used to slaughter

4/13 China

Caged dogs sit on the side of Renminzhong Road, waiting to be transferred to a slaughterhouse in a narrow alley

AP/Humane Society International

5/13 China

Workers are shown getting the day's dog and cat meat prepared for sale in the morning

6/13 China

Dog meat is displayed in the marketplace

7/13 China

Residents pick their dog meat from a stand on Riverside Road

8/13 China

A woman on her moped transports more than 10 dogs, which had just been slaughtered, to her market shop for sale

AP/Humane Society International

9/13 China

Hundreds of pet dogs await their own death in a slaughterhouse, while they watch as their companions are slaughtered in front of them

AP/Humane Society International

10/13 China

A group of cats from Sichuan Province arrive at Renmin Middle Road on a truck, and wait to be transported on carts to a slaughterhouse in a narrow alley

11/13 China

A truck arrives in Yulin with nearly 1,000 dogs of various breeds crammed into narrow wire cages with no space to extend their limbs. According to the driver, the truck came from Sichuan, 800 miles west of Yulin. The traumatized dogs waited in silence for the next stop on their journey

12/13 China

Dogs are hung up for sale for meat in Dong Kou market, as a dog looks on

13/13 China

Peter Li holds a puppy's collar found at a slaughterhouse

AP/Humane Society International
Yang owns an animal sanctuary called 'Common Home for All' and first began rescuing animals in 1995 when she pulled an abandoned kitten from a river. She intends to take the 1,000 dogs from Yulin back to the sanctuary.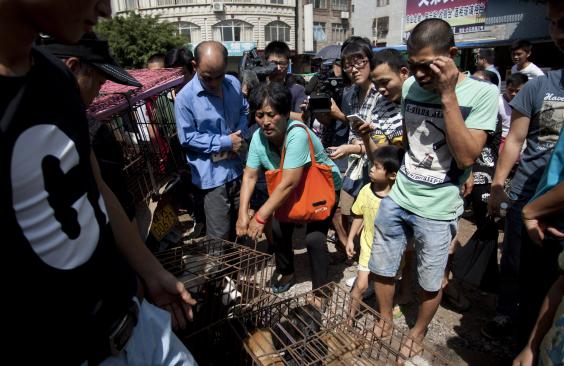 It has been reported that she is considering opening an animal sanctuary in the Yulin area to save more dogs from the animal meat festival in the future.
Reuse content