The Australian prime minister has rejected calls for a referendum on same-sex marriage, in the wake of Ireland's historic vote to approve the measure.
Tony Abbott said the federal parliament would deal with any changes to the law that were brought before it and stressed referendums were reserved for constitutional changes in Australia.
"I don't think anyone is suggesting the constitution needs to be changed in this respect," he said.
Mr Abbott is a long-standing opponent of gay marriage, but his latest intervention has provoked criticism in some quarters and, predictably, on social media.
#tonyabbott Says no to Gay Marriage -after all, look at that terrible joy and happiness it brought the Irish #MarRef pic.twitter.com/fyc84JuseK

— Dr. Jon Corns (@drjrcorns) May 24, 2015
Conservative, backward, catholic #Ireland? Er, NO. We can teach #tonyabbott a lesson or two in compassion and decency.

— Terry Hughes (@ProfTerryHughes) May 23, 2015
"Tony Abbott & Bill Shorten both express their opposition to holding an Australian referendum on gay marriage" They both need to tossed out

— Good Sir Knight (@BrigadierSlog) May 24, 2015
Ireland 21st country to legalize #GayMarriage; along with 37 U.S. states. Other news: sky has not fallen; Earth continues to rotate on axis.

— Mike Sington (@MikeSington) May 23, 2015
Bill Shorten, the opposition leader who supports gay marriage, also ruled out a referendum but called for parliament to legislate on the matter, calling the prime minister an obstacle to equality.
"If the Irish people can vote in favour of marriage equality, the question has to be asked, what is Tony Abbott's problem with it?" he told ABC News.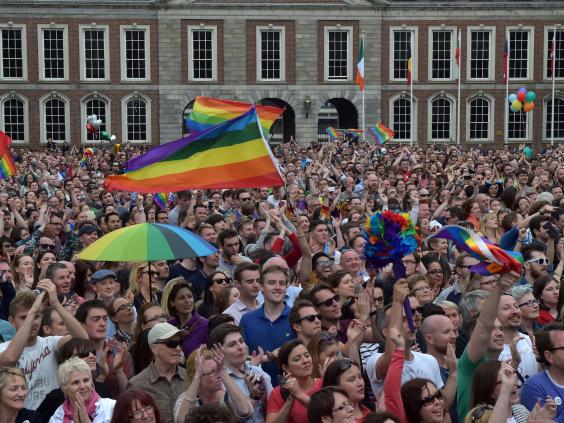 "Most places in the world are dealing with marriage equality, why is Tony Abbott stopping Australia becoming a more modern nation?"
Australia is now the only major developed, English-speaking country in the world that bans same-sex couples from marrying anywhere within its borders.
Irish gay marriage vote results: In pictures
Irish gay marriage vote results: In pictures
1/11 Drag queen Panti Bless and crowd celebrate a Yes victory

Drag artist and Yes activist Panti Bliss joins supporters to celebrate in front of Dublin Castle

Getty Images

2/11 The celebrations started last night in Dublin and continued all day

A couple celebrating in Dublin

EPA

3/11 A woman heading to the polling station yesterday

Woman walks past a mural of two rainbow coloured hearts on polling day. Polling stations in the 43 constituencies across country opened their doors yesterday to vote on legalising same sex marriage

EPA

4/11 A 'Yes to Equality' badge

A pro-gay marriage badge on a voter's lapel in gaelic meaning "Yes to Equality" seen in Dublin on polling day.

EPA

5/11 A cafe in Dublin lending its support to the cause

Many businesses in Ireland have got involved in the campaign, declaring their support for both the Yes and No campaigns

EPA

6/11 Two campaign posters side by side posters on a Dublin street

Both sides have campaigned fiercely saying they are fighting for social freedom

EPA

7/11 Newly married couple share their support for a Yes vote

Newly married Anna and Vincent Fox share a kiss as they mark their support for a Yes vote in Dublin on polling day

Getty Images

8/11 50 foot mural on the wall of Caherkinmonwee Castle in Galway to celebrate gay marriage

A 50 foot referendum mural created by artist Joe Caslin to promote a Yes vote

Getty Images

9/11 Supporters celebrate an expected Yes vote

Supporters in favour of same-sex marriage pose for a photograph as thousands gather in Dublin Castle

Getty

10/11 Couple waiting for the result in Dublin Castle

Erin Reddy (left) and Dee Campell awaiting the result at Central Count Centre in Dublin Castle

PA

11/11 A gay marriage activist kisses her rosary beads in celebration

A gay marriage supporter kisses her rosary beads at the Central Count Centre at Dublin Castle

PA
On Friday Ireland became the first country in the world to legalise gay marriage by a referendum, in which 62.1 per cent of voters backed the change.
All bar one of Ireland's 43 constituencies voted "yes" to amending the constitution, a result activists in the Catholic country called a "social revolution".
Enda Kenny, Ireland's prime minister, said after the result was declared: "With today's vote, we have disclosed who we are: a generous, compassionate, bold and joyful people."
Reuse content