New Zealand's centre-right National Party has won a third term in Government in the country's general election.
It secured an outright majority on election night on Saturday, winning 48 per cent of the vote and 61 of 121 parliamentary seats – an improvement on the 2011 results.
Prime Minister John Key, who will stay in his post, spoke ahead of his victory rally to say his party was "rewarded" by the public for their economic policies.
"I think people saw the country was on the right direction and they rewarded us," he said.
"What you saw was people saying they were going to vote for the future of the country and the issues that mattered, and not be distracted."
David Cameron called him after the result to congratulate him on his re-election, a Downing Street spokesperson said.
Winning an outright majority is a significant achievement under New Zealand's system of proportional representation (mixed-member), which replaced first past the post in 1996.
The National Party would make history by being able to govern on its own but Mr Key said he intended to renew support agreements with three minor parties from the previous coalition.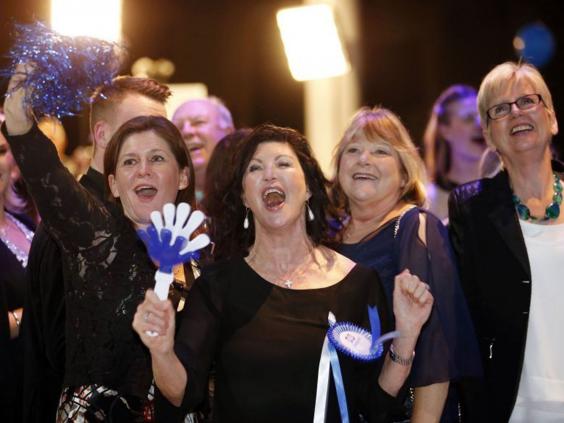 The small free-market Act Party, centrist United Future and indigenous Maori Party, who together have four seats, may re-join the Government.
Mr Key, a 53-year-old former foreign exchange dealer, survived allegations of dirty political tactics involving ministers and claims a Government spy agency had planned mass secret domestic surveillance.
He is known for his relaxed political style, and is seen as epitomising "middle New Zealand", with personal support unrivalled by his opponents.
"This is a victory for those who kept the faith...New Zealanders didn't want people interfering with their election," he said, saying he was hopeful for a fourth term in three years' time.
In its manifesto, the National Party had committed to more tax cuts in the next couple of years, and tight government spending.
The opposition Labour Party slumped to its lowest share of the vote in more than 80 years on 25 per cent, with the leader David Cunliffe conceding they had lost to a "formidable political machine".
The New Zealand Parliament's one member from the Internet-Mana Party, funded by Megavideo founder and online entrepreneur Kim Dotcom, was defeated at the election.
Additional reporting by Reuters
Reuse content