Business pragmatism is not usually associated with tackling homelessness.
However, an Australian entrepreneur is applying his business skills in a bid to end rough sleeping.
Simone Rowe, 43, of Melbourne, is, in his own words, a "fix-it guy."  
He wants to create a solution to the problem of homelessness in Australia by creating 'Sleepbuses' which will shelter rough sleepers overnight. 
"In my work, I fix problems and my style is to simplify things," Mr Rowe told The Independent.
He is applying the same approach to homelessness.
The Sleepbus won't feed or clothe people, it will just focus on getting them a good night's rest.
The project, the trial period of which is scheduled to begin at the end of May, will see buses converted into mobile shelters for the homeless.
Each will house 22 individual 'sleep pods' with facilities like lockers and USB chargers, in addition to two toilets on the vehicle.
"Businesses don't like bricks and mortar homeless shelters," Mr Rowe said.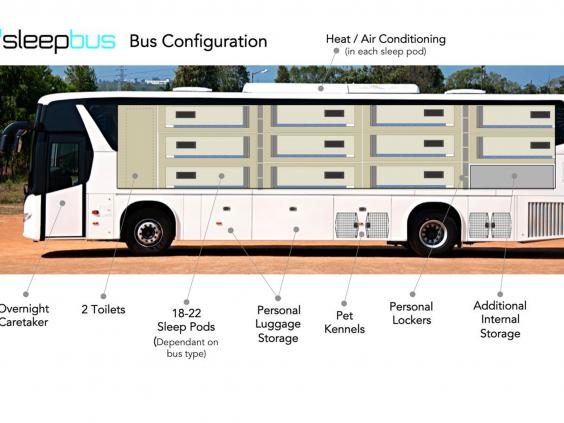 "They don't want these people wandering around the streets near their businesses."  
"I don't agree with that but it is the mentality."
Sleepbus is in part a "mobile marketing strategy," helping to get businesses and corporations on board with the project.
The buses are also cheaper and faster to build than a permanent building, at an estimated cost of 50,000 AUD per bus, which will take about one week to fit.
The problem of homelessness in Australia is on the increase, Mr Rowe believes. While the 2011 census estimated 6,314 people were sleeping rough in the country, many people are expecting that number will increase with this year's census. 
Critics have argued that leading people to buses, which will be gone by the morning, may lead society to sweep the issue of homelessness under the rug. 
However, Mr Rowe responds that this is already the case, and providing a night's sleep in monitored accommodation (a 'caretaker' will be on each bus) is a safer option than on the streets.
But what if a troubled guest was to overdose and die on board?
"It's going to happen, but I don't think we should be afraid of it," he said. 
"If something happens in a Sleepbus, there's a better chance that they can get help than if they're under a bridge."
World news in pictures
World news in pictures
1/30 28 September 2016

Rescuers evacuate residents through floodwaters brought by typhoon Megi in Ningde, eastern China's Fujian province. Typhoon Megi smashed into the Chinese mainland, killing one person, after leaving a trail of destruction and four people dead in Taiwan

AFP/Getty Images

2/30 28 September 2016

A CalFire firefighter surveys a hot spot in the Santa Cruz Mountains near Loma Prieta, California. The Loma Fire has charred more than 2000 acres and burned multiple structures in the area

AFP/Getty Images

3/30 28 September 2016

A civil police officer carries a girl to a safe place during the demolition of over 300 settlements of the Bukit Duri neighbourhood located on the Ciliwung river banks, in order to improve the riverside infrastructure planned by the government in Jakarta. Authorities ordered the slum residents to vacate their settlements built on riverbanks and for the residents to relocate to new flats, as the government is trying to clear the flood-prone area, where more than 900 homes were demolished a year earlier

AFP/Getty Images

4/30 27 September 2016

A woman eats and struggles with her umbrella against powerful gusts of wind generated by typhoon Megi across the the island in Taipei, Taiwan. Schools and offices have been closed on Taiwan and people in dangerous areas have been evacuated as a large typhoon with 162 kilometers- (100 miles-) per-hour winds approaches the island

AP

5/30 27 September 2016

Alstom employees stage a protest in front of its headquarters in St Ouen, north of Paris, asking not to close a plant in Belfort, eastern France, which employs 400 people. Alstom's situation is considered by many French politicians as symbolic of France's difficulty of keeping a strong industry at home

AP

6/30 26 September 2016

A man poses as he gathers with others at Bogota's Bolivar main square, to celebrate the historic peace agreement between the Colombian government and the Revolutionary Armed Forces of Colombia (FARC). Colombia will turn the page on a half-century conflict that has stained its modern history with blood when the FARC rebels and the government sign a peace deal. President Juan Manuel Santos and the leader of the FARC, Rodrigo Londono, better known by his nom de guerre, Timoleon "Timochenko" Jimenez, are set to sign the accord at 2200 GMT in a ceremony in the colorful colonial city of Cartagena on the Caribbean coast

AFP/Getty Images

7/30 26 September 2016

Tourists pose in front of the illuminated Eiffel Tower during an event to mark the Breast Cancer Awareness month in October in Paris

AFP/Getty Images

8/30 26 September 2016

A nail house is seen in the middle of an area covered by a dust screen in Hangzhou, Zhejiang province, China

REUTERS

9/30 26 September 2016

Students at the Durban University of Technology march as countrywide protests demanding free tertiary education continue, in Durban, South Africa

REUTERS

10/30 26 September 2016

Palestinian women throw sweets at the militants from the al-Nasser Brigades, an armed wing of the Popular Resistance Committees (PRC), while marching on their vehicles during a rally to commemorate the 16th anniversary of their group in Gaza

AP

11/30 26 September 2016

A supporter of Awami Ittihad Party (AIP), a pro-India party, is detained by Indian police during a protest demanding to hold a plebiscite, in Srinagar

REUTERS

12/30 25 September 2016

A dog wipes out during the Surf City Surf Dog competition in Huntington Beach, California

REUTERS

13/30 25 September 2016

Indian folk dancers from the Panghat Group of Performing Arts perform during a dress rehearsal for an event to mark the forthcoming Hindu festival 'Navaratri', or the Festival of Nine Nights, in Ahmedabad

AFP/Getty Images

14/30 25 September 2016

An artisan hangs decorative pieces at a pandal, or a temporary platform, for the upcoming Hindu festival of Durga Puja, in Kolkata, India

REUTERS

15/30 25 September 2016

Runners take the start of the 43rd Berlin Marathon in Berlin

AFP/Getty Images

16/30 25 September 2016

The Five-hundred-metre Aperture Spherical Radio Telescope (FAST) is seen on its first day of operation in Pingtang, in southwestern China's Guizhou province. The world's largest radio telescope began operating in southwestern China, a project which Beijing says will help humanity search for alien life

AFP/Getty Images

17/30 25 September 2016

Australian knight Philip Leitch (R) has a floral basket on his helmet smashed by an opponent at the St Ives Medieval Fair in Sydney, one of the largest of its kind in Australia

REUTERS

18/30 25 September 2016

A security guard working at the Cascade Mall places flowers at a makeshift memorial in Burlington, to the five victims killed in a shooting at the mall. The 20-year-old man suspected of killing the five people with a rifle at a Macy's makeup counter had a string of run-ins with the law in recent years, including charges he assaulted his stepfather

AP

19/30 25 September 2016

A man works in a rice field where rice crop is planted in a shape which looks like a map of China, ahead of China's National Day, in Shanghai, China

REUTERS

20/30 25 September 2016

Law enforcement officials inspect a boat overturned on a jetty, off Miami Beach. Authorities said that Miami Marlins starting pitcher Jose Fernandez was one of three people killed in the boat crash the day before. Fernandez was 24

AP

21/30 24 September 2016

Syrians await to receive treatment at a make-shift hospital following air strikes on rebel-held eastern areas of Aleppo. Heavy Syrian and Russian air strikes on rebel-held eastern areas of Aleppo city killed at least 25 civilians, the Britain-based Syrian Observatory for Human Rights said, overwhelming doctors and rescue workers

AFP/Getty Images

22/30 24 September 2016

A fire broke out on a tanker belonging to the Mexican state oil company PEMEX, causing no injuries, according to a company official, in the Gulf of Mexico off the coast of Boca del Rio in Veracruz state, Mexico

AFP/Getty Images

23/30 24 September 2016

Participants attend a competition of the 2016 XTRAIL Expedition at Kanas National Geological Park in Altay, China's Xinjiang Uygur Autonomous Region

REUTERS

24/30 23 September 2016

Protesters march in the streets during another night of protests over the police shooting of Keith Scott in Charlotte, North Carolina

REUTERS

25/30 23 September 2016

Campaigners pose on a 'United To Stop Trump' cardboard wall in front of the Brandenburg Gate to urge Americans living abroad to register and vote in Berlin, Germany

REUTERS

26/30 23 September 2016

A man rests on his cart after unloading plastic jugs near a shop at a main market in Colombo, Sri Lanka

REUTERS

27/30 23 September 2016

Staff inspect the presentation before the Swiss Cheese Awards competition in Le Sentier, Switzerland. One hundred and fourty-two experts have to choose the best out of 777 cheeses from 353 producers competing in 28 categories

REUTERS

28/30 23 September 2016

Israeli settler bride Yael Levi (C) is surrounded by friends and relatives during her wedding ceremony at the plaza outside the Cave of the Patriarchs also known as the Ibrahimi Mosque, which is a holy shrine for Jews and Muslims, in the heart of the divided city of Hebron in the southern West Bank

AFP/Getty Images

29/30 22 September 2016

A South Korean army special forces soldier breaks bottles with his hand during the Naktong River Battle re-enactment in Waegwan, South Korea. South Korean Defense Ministry reenacted one of the important battles as part of commemoration events for the 66th anniversary of the Korean War

AP

30/30 22 September 2016

Women wait on a street in Pyongyang, North Korea

AFP/Getty Images
The Sleepbus will not provide healthcare or other services, as the main focus will be on providing a good night's rest, enabling rough sleepers to think more clearly and be healthier.
"Just being able to sleep through the night, warm and safe can give a person a whole new outlook on life," Mr Rowe said. 
There has already been interest from sleep specialists at a Sydney hospital on what outcomes the project will have.
The project itself was inspired by a chance meeting Mr Rowe had with a rough sleeper in St Kilda East, Melbourne last year. After speaking with the man, he was struck by his exhaustion.
He was also reminded of a period of homelessness in his own life, when he was forced to sleep in his car for four months before being able to rent a new apartment.  
The campaign has been strongly driven by social media, crowd funding and volunteers, and is attracting interest from around the world.
Mr Rowe estimates that over 300 buses would be needed to provide 'safe sleeps' every night of the year, an ambition he hopes to achieve in six years. 
Once up and running locally, Sleepbus is to be expanded nationwide.
Reuse content