Business pragmatism is not usually associated with tackling homelessness.
However, an Australian entrepreneur is applying his business skills in a bid to end rough sleeping.
Simone Rowe, 43, of Melbourne, is, in his own words, a "fix-it guy."  
He wants to create a solution to the problem of homelessness in Australia by creating 'Sleepbuses' which will shelter rough sleepers overnight. 
"In my work, I fix problems and my style is to simplify things," Mr Rowe told The Independent.
He is applying the same approach to homelessness.
The Sleepbus won't feed or clothe people, it will just focus on getting them a good night's rest.
The project, the trial period of which is scheduled to begin at the end of May, will see buses converted into mobile shelters for the homeless.
Each will house 22 individual 'sleep pods' with facilities like lockers and USB chargers, in addition to two toilets on the vehicle.
"Businesses don't like bricks and mortar homeless shelters," Mr Rowe said.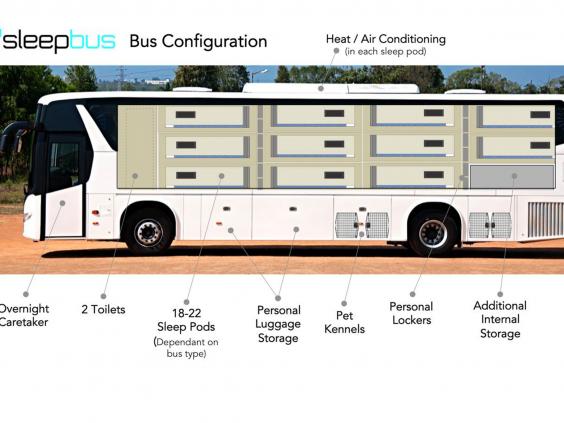 "They don't want these people wandering around the streets near their businesses."  
"I don't agree with that but it is the mentality."
Sleepbus is in part a "mobile marketing strategy," helping to get businesses and corporations on board with the project.
The buses are also cheaper and faster to build than a permanent building, at an estimated cost of 50,000 AUD per bus, which will take about one week to fit.
The problem of homelessness in Australia is on the increase, Mr Rowe believes. While the 2011 census estimated 6,314 people were sleeping rough in the country, many people are expecting that number will increase with this year's census. 
Critics have argued that leading people to buses, which will be gone by the morning, may lead society to sweep the issue of homelessness under the rug. 
However, Mr Rowe responds that this is already the case, and providing a night's sleep in monitored accommodation (a 'caretaker' will be on each bus) is a safer option than on the streets.
But what if a troubled guest was to overdose and die on board?
"It's going to happen, but I don't think we should be afraid of it," he said. 
"If something happens in a Sleepbus, there's a better chance that they can get help than if they're under a bridge."
World news in pictures
World news in pictures
1/30 28 June 2016

French anti-riot police officer detain a man during a demonstration against controversial labour reforms in Paris

AFP/Getty Images

2/30 27 June 2016

Fishermen use a fire to attract fish on a traditional fishing boat in New Taipei City, Taiwan

REUTERS

3/30 27 June 2016

Members of Iraqi police forces celebrate on a street in western Fallujah, 50 kilometres (30 miles) from the Iraqi capital Baghdad, after Iraqi forces retook the embattled city from the Islamic State group

AFP/Getty Images

4/30 27 June 2016

A man pushes a tub carrying children as he gets them back home after school at a flooded area in Duchang, Jiangxi Province, China

REUTERS

5/30 26 June 2016

A LGBT member waves a rainbow flag during a rally staged by the LGBT community on Istiklal avenue in Istanbul. Riot police fired tear gas and rubber bullets to disperse protesters defying a ban on the city's Gay Pride parade. Authorities in Turkey's biggest city had banned the annual parade earlier this month citing security reasons, sparking anger from gay rights activists

AFP/Getty Images

6/30 26 June 2016

A burned out truck rests on a roadside after the Erskine Fire burned through Weldon, California

REUTERS

7/30 26 June 2016

Men flagellate during the Shiite Youm Ali procession in Islamabad, Pakistan

REUTERS

8/30 25 June 2016

A man raises his hands as he runs from the scene of a suicide bomb attack outside Nasahablood hotel in Somalia's capital Mogadishu

REUTERS

9/30 25 June 2016

A Ukrainian Forces soldier fires a heavy machine gun during a battle with pro-Russian separatists at Avdeyevka, in Ukraine's Donetsk region

AFP/Getty Images

10/30 25 June 2016

A man practices his contact juggling skills in Manila, Philippines

AFP/Getty Images

11/30 24 June 2016

A rider rears up on his horse while surrounded by a cheering crowd during the traditional Fiesta of Sant Joan (Saint John) in downtown Ciutadella, on the island of Menorca, Spain

REUTERS

12/30 24 June 2016

A man throws a bucket of water at a motorcyclist as residents join in a water-splashing frenzy to honor their patron St. John the Baptist's Feast Day in San Juan, Metro Manila, Philippines

REUTERS

13/30 23 June 2016

Migrant workers supporting Myanmar Foreign Minister and State Counselor Aung San Suu Kyi wave to her during a meeting at the coastal fishery centre of Samut Sakhon, Thailand

REUTERS

14/30 23 June 2016

A general view shows the financial district of Lujiazui in Shanghai

AFP/Getty Images

15/30 23 June 2016

A cat walks past Muslim women offering afternoon prayers at a mosque at the shrine of Sufi Saint Khawaja Naqashband during the holy month of Ramadan in Srinagar

REUTERS

16/30 23 June 2016

A test launch of ground-to-ground medium long-range ballistic rocket Hwasong-10 in North Korea

REUTERS

17/30 22 June 2016

Family members cry near coffins containing the bodies of Nepali nationals, who were killed when a suicide bomber struck a minibus in Kabul, lined up after being flown from Afghanistan at Tribhuvan International Airport in Kathmandu, Nepal

REUTERS

18/30 22 June 2016

Villagers carry banners which read "Plead the central government to help Wukan" (in red) and "Wukan villagers don't believe Lin Zuluan took bribes" during a protest in Wukan, China's Guangdong province

REUTERS

19/30 21 June 2016

A plane drops retardant on a wildfire as it attacks the flames on a hillside in the San Gabriel mountains near Monrovia, California

REUTERS

20/30 21 June 2016

Aymara indigenous hold up their hands to receive the first rays of sunlight in a New Year's ritual in the ruins of the ancient city Tiwanaku, Bolivia. Bolivia's Aymara Indians are celebrating the year 5,524 as well as the Southern Hemisphere's winter solstice, which marks the start of a new agricultural cycle

AP

21/30 21 June 2016

A resident making his way through a flooded area in a village in Poyang county, in southeast China's Jiangxi province

AFP/Getty Images

22/30 20 June 2016

Seagulls fly as the full moon rises behind the ancient marble Temple of Poseidon at Cape Sounion, southeast of Athens, on the eve of the summer solstice

AP

23/30 20 June 2016

An aerial view shows people practising yoga on a glass sightseeing platform ahead of the International Day of Yoga, on the outskirts of Beijing, China

REUTERS

24/30 20 June 2016

Dessana indigenous shaman Raimundo Dessana holds the Olympic Torch during a ritual at the Tupe Reservation in the outskirts of Manaus, Amazonas, Brazi

AFP/Getty Images

25/30 20 June 2016

An emu runs to escape an approaching wildfire as it burns near Potrero, California

REUTERS

26/30 20 June 2016

Wales' supporters cheer downtown Toulouse, before the Euro 2016 football match of Russia vs Wales

AFP/Getty Images

27/30 19 June 2016

A rescuer grabs a rope to prevent a raft carrying residents from being flushed away as residents are evacuated from a flooded area in Jiujiang, China

REUTERS

28/30 19 June 2016

Palestinians scuffle with an Israeli border policeman as Israeli troops demolish sheds belonging to Palestinians near the West Bank village of Yatta, south of Hebron

REUTERS

29/30 19 June 2016

People hold placards reading "A kiss against hate", "Rome loves Europe" as they gathered in front of the Colosseum to send a message of affection, sealed with a kiss to Britain, before next week's referendum, in Rome, Italy

REUTERS

30/30 19 June 2016

People perform dragon dance and present it in a shape of the Chinese character "father" to celebrate Father's Day in Yueyang, China

REUTERS
The Sleepbus will not provide healthcare or other services, as the main focus will be on providing a good night's rest, enabling rough sleepers to think more clearly and be healthier.
"Just being able to sleep through the night, warm and safe can give a person a whole new outlook on life," Mr Rowe said. 
There has already been interest from sleep specialists at a Sydney hospital on what outcomes the project will have.
The project itself was inspired by a chance meeting Mr Rowe had with a rough sleeper in St Kilda East, Melbourne last year. After speaking with the man, he was struck by his exhaustion.
He was also reminded of a period of homelessness in his own life, when he was forced to sleep in his car for four months before being able to rent a new apartment.  
The campaign has been strongly driven by social media, crowd funding and volunteers, and is attracting interest from around the world.
Mr Rowe estimates that over 300 buses would be needed to provide 'safe sleeps' every night of the year, an ambition he hopes to achieve in six years. 
Once up and running locally, Sleepbus is to be expanded nationwide.