The former Australian Foreign Minister has dismissed claims of mistreatment of asylum seekers on their return to Sri Lanka, claiming the country was "not doing badly".
Bob Carr was speaking before news came through that some of the 41 people who had tried to cross to Australia by boat and were turned back by authorities had been released by a Sri Lankan court.
Five alleged traffickers, including a Sri Lankan policeman, who were on the boat are among those still being held.
The 27 others were accused of illegally leaving the country and released on bail. Nine children were also freed.
The vessel was intercepted by Australia's border patrol off the Cocos Islands in the Indian Ocean in late June and the decision on Sunday to reject their asylum claims and hand them over to the Sri Lankan Government provoked international outrage.
Systemic mistreatment of those returned to Sri Lanka was "extraordinary urban mythology", Mr Carr claimed in an interview with ABC Radio.
"It's in the interest of Sri Lanka to send a message to the world…that in cases like this it adheres to its own law," he said.
"Things I've been hearing from the refugee lobby are simply unsustainable.
"The idea that there is entrenched apartheid in the country like old South Africa or the West Bank just cannot be sustained."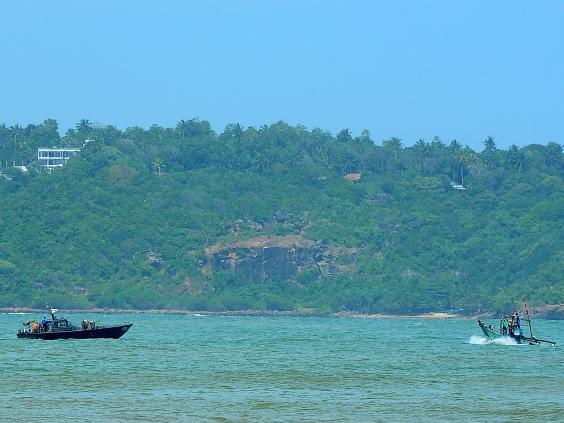 Mr Carr said that while he was in office, as the Labour government's foreign minister between March 2012 and October 2013, the high commission in Sri Lanka had not found evidence of mistreatment.
He did not believe the treatment of returning asylum seekers had changed, saying "they are treated in accordance with law, interviewed and released".
Human rights groups have recorded evidence of returned asylum seekers being tortured and subjected to sexual violence by Sri Lankan authorities.
One of the asylum seekers taken back to the country claimed he was beaten by an Australian officer and forced to kneel after he protested the alleged mistreatment of the migrants.
Damith Kaldera, 48, said the group of 41 set out from Batticaloa, on Sri Lanka's east coast, with the intention of going to New Zealand.
Each asylum seeker paid 150,000 rupees (£670) to smugglers, with the promise of paying another 450,000 rupees (£2,018) after finding a job in New Zealand, he said.
Mr Kaldera claimed that Australian officials took the boat further out to sea after intercepting it and kept the passengers there for a week without enough food and other essentials.
The United Nations refugee agency, UNHCR, expressed "profound concern" over Australia was processing asylum seekers at sea rather than bringing them ashore.
"UNHCR considers that individuals who seek asylum must be properly and individually screened for protection needs," a statement said.
"International law prescribes that no individual can be returned involuntarily to a country in which he or she has a well-founded fear of persecution."
The Australian Government has insisted it followed due process assessing the asylum claims on board and has upheld international human rights obligations.
On Tuesday it announced a second group of asylum seekers would not be sent back Sri Lanka without three days' notice following a court challenge and uproar from human rights groups.
Refugee advocates and human rights agencies argued that the asylum seekers could face persecution in their home country.
Lawyers representing some of the 153 people on the latest intercepted boat went to the High Court to stop the from being returned. They are currently being held on an Australian customs vessel.
The hearing was the first time the Australian Government acknowledged the second boat's existence, despite rumours.
Sri Lanka has arrested at least 4,300 people trying to migrate to Australia since 2009, according to the country's navy.
Additional reporting by AP
Reuse content