The "monster" cyclone that hammered a tiny South Pacific archipelago over the weekend was caused by climate change, it was claimed today.
As aid began trickling into the devastated island community, Vanuatu's president Baldwin Lonsdale told gathered reporters that his country – among the poorest in the world – would have to "start over" as previous development had been "wiped out" by Cyclone Pam. Mr Lonsdale laid blame for the disaster, which has claimed at least six lives and injured more than 30, on "climate change."
"We see the level of sea rise … the cyclone seasons, the warm, the rain, all this is affected … This year we have more than in any year … yes, climate change is contributing to this," he told reporters.
He was backed by the president of fellow South Pacific nation Kiribati, Anote Tong, who claimed: "For leaders of low-lying island atolls, the hazards of global warming affect our people in different ways, and it is a catastrophe that impinges on our rights … and our survival into the future. There will be a time when the waters will not recede."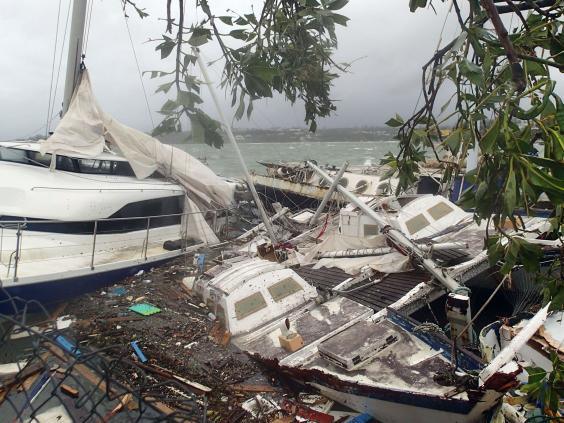 Although the storm has passed over the islands, travelling in the direction of New Zealand, officials are struggling to access the full extent of the damage after winds of up to 168mph tore over the land, home to 267,000 people, on Saturday.
"This is a very devastating cyclone in Vanuatu. I term it as a monster, a monster," Mr Lonsdale said from Sendai, Japan, where he had been attending a UN disaster conference when the cyclone struck. He will return to his country today.
"It's a setback for the government and for the people of Vanuatu. After all the development that has taken place, all this development has been wiped out."
Cyclone Pam hits Vanuatu island
Cyclone Pam hits Vanuatu island
1/6 Cyclone Pam

People walking along a seaside with waves splashing on land on Vanuatu island, South Pacific region

EPA

2/6 Cyclone Pam

Cyclone Pam hits Vanuatu

EPA

3/6 Cyclone Pam

People on a dock view yachts damaged in Port Vila, Vanuatu, Saturday, March 14, in the aftermath of Pam

AP

4/6 Cyclone Pam

People walk along the shore where debris is scattered in Port Vila, Vanuatu on Saturday

AP

5/6 Cyclone Pam

People scour through debris damaged and flung around in Port Vila, Vanuatu on Saturday

AP

6/6 Cyclone Pam

A satellite image of the cyclone

NOAA
Officials have been unable to contact outlying islands as communications have fallen making a proper assessment of Vanuata's 65 islands impossible.
"We do not know if our families are safe or not. As the leader of the nation, my whole heart is for the people, the nation," the president said, adding he had been unable to discover if his own family was safe.
There have been reports of entire villages disappearing. An Australian Red Cross official claimed: "Virtually every building that is not concrete has been flattened."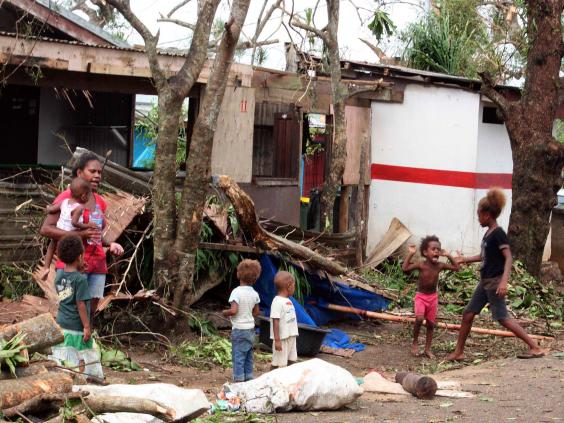 Today, the coordinator of Vanuatu's National Disaster Management Office Paolo Malatu said he plans to send what little light aircraft possessed by the government to fly over the outer islands.
"The damage to homes and infrastructure is severe," Mr Malatu said. "The priority at the moment is to get people water, food and shelter." 
The UK and France, previous rulers of the tiny nation until 1980, have pledged aid. Australia has promised A$5 million and also sent medical experts, emergency supplies and a search and rescue team.
Additional reporting by Associated Press
Reuse content