The early morning British Airways flight to Brussels carried the two most powerful Chief Executives in UK aviation: Carolyn McCall of easyJet and Willie Walsh of IAG, which owns British Airways.
She was in row nine of economy, he was at the front of business class. But they shared a mission: to join the bosses of the other three big European airlines in attacking the European Commission's treatment of aviation.
Upon arrival in the Belgian capital, they teamed up with Alexandre de Juniac of Air France, Carsten Spohr of Lufthansa and Michael O'Leary of Ryanair. Combined, their airlines fly more than half the 420m passengers annually in Europe.
"It's a historic event," said Ms McCall. "The five of us have never, ever had a press conference together."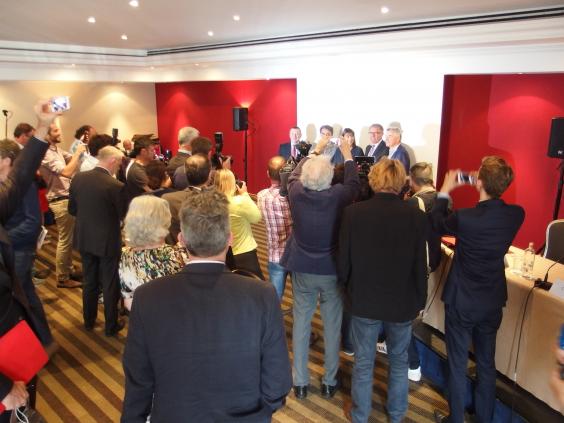 The airlines exist in a perpetual state of war against one another, locked in ferocious competition for passengers. There is especial enmity between the "legacy" carriers - British Airways, Air France and Lufthansa - and the no-frills airlines. But hostilities were put on hold for an hour in a hotel on the outskirts of Brussels, while they joined forces to condemn policies that penalise passengers and jeopardise airlines' earnings.
Their target was Europe's new Transport Commissioner,  Violeta Bulc. The former Deputy Prime Minister of Slovenia, she describes herself as "expert on balanced sustainable development strategies, organic growth and innovation ecosystems".
In a recent video to promote her agenda, Ms Bulc said: "I support the move towards the least-polluting and most-efficient transport solutions, those that are friendly to the environment and have a sustainable nature." This was taken as pro-rail, anti-air.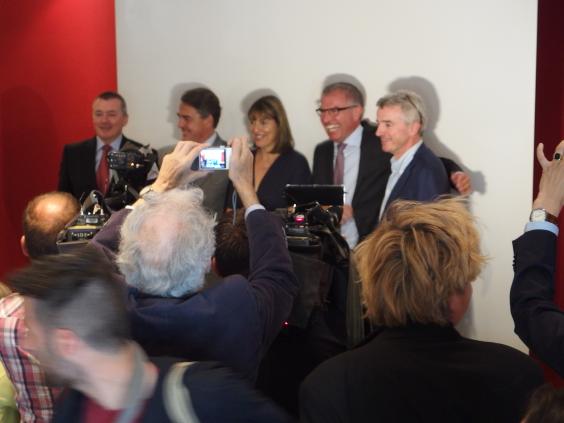 Michael O'Leary insisted "We are the least polluting form of transport in Europe," accounting for 2 per cent of emissions, and said investment in new technology was making the airline sector "greener and cleaner".
Carsten Spohr said that the indirect routes that airlines are forced to fly along long-established airways generate 8.1 billion tons of CO2 each year.
"Anyone with a Cessna and an iPhone can fly in a straight line, but we are restricted to routes that were established before any of us were born," he told The Independent.
Michael O'Leary hit out at air-traffic control strikes, which he said were averaging 10 a year. During the last stoppage in France, more than 3,000 flights were cancelled.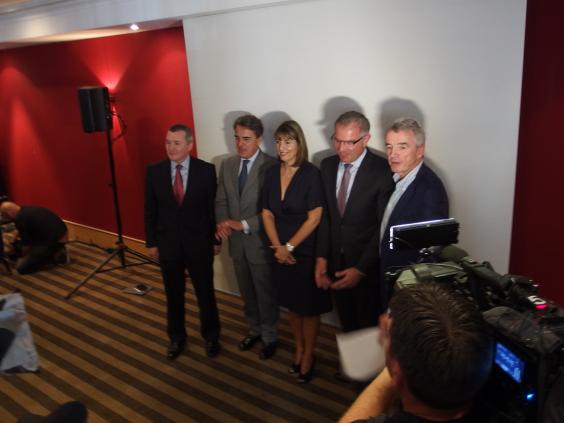 "We're calling for action on strikes. Strikes should not be the first club in the golf bag you reach for," he said. The airlines claim that new technology allows aircraft safely to overfly any country in which air-traffic controllers are on strike.
All the airline CEOs deplored the cost and standards of airport security. Alexandre de Juniac of Air France said there had been "inadequate control of security costs," while his counterpart at Lufthansa, Carsten Spoor, claimed: "Quality has gone down, including in my home airport [Frankfurt]. Passengers are paying more and more fees and not getting a better service."
The airlines believe passengers are picking up the tab for checks that form part of national security measures, and which therefore should be state-funded.
Willie Walsh of IAG hit out at the European passenger-rights rules, known as EC261, that provide compensation for anyone on an EU airline whose flight is three hours late: "We believe that what was well-intended has been misrepresented and misinterpreted by the courts. We would like to see effective and balanced consumer protection."
How much notice the new Commissioner will take is open to question. The business she set up in Ljubljana, called Vibacom, which continues to run, promotes: "The power of networks, holistic individual, and positive energy."
Reuse content