The Greek Prime Minister, Alexis Tsipras, leapt to the defence of his embattled former Finance Minister, admitting that Yanis Varoufakis may have "made mistakes" on austerity reforms, planning a Greek exit from the euro – and even his taste in shirts.
Mr Tsipras acknowledged that his government had made covert contingency plans in case Greece was forced out of the eurozone, but rejected accusations that he had plotted to take the country back to its old currency, the drachma. Mr Tsipras was forced to address the issue after Mr Varoufakis revealed efforts to hack into citizens' tax codes to create a parallel payment system, prompting shock and outrage in Greece.
The disclosure heaped new pressure on Mr Tsipras, who is also battling a rebellion within his Syriza party and starting tough talks with the EU and International Monetary Fund to seal a third bailout deal in less than three weeks.
The talks began again with the new Finance Minister, Euclid Tsakalotos, and the Economy Minister, Giorgos Stathakis, meeting lead negotiators from the EU and IMF in Athens. "We didn't design or have a plan to pull the country out of the euro, but we did have emergency plans," Mr Tsipras told parliament. "If our partners and lenders had prepared a Grexit plan, shouldn't we as a government have prepared our defence?"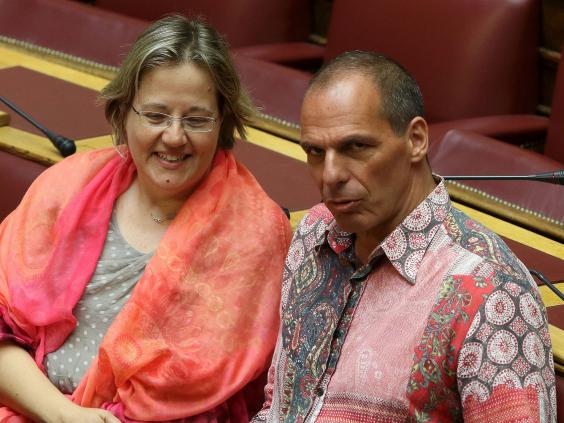 He compared the plan to a country preparing its defences ahead of war, saying it was the obligation of a responsible government to have contingency plans in place. He did not directly refer to Mr Varoufakis's disclosure of plans to hack into his ministry's software to obtain tax codes, but said but said the idea of a database giving Greeks passwords to make payments to settle arrears was hardly "a covert and satanic plan to take the country out of the euro". Mr Varoufakis has continued to create headaches for the government since being ousted earlier this month.
"Mr Varoufakis might have made mistakes, as all of us have... You can blame him as much as you want for his political plan, his statements, for his taste in shirts, for vacations in Aegina," said Mr Tsipras. "But you cannot accuse him of stealing the money of Greek people or having a covert plan to take Greece to the precipice."
Bailout talks with the IMF, European Commission, European Central Bank and European Stability Mechanism must be concluded by 20 August, when a €3bn debt repayment to the ECB is due, money Greece does not have.
In pictures: Solidarity protest for Greece in London
In pictures: Solidarity protest for Greece in London
1/7 London

Campaigners hold a solidarity protest for Greece in Trafalgar Square

2/7 London

Campaigners hold a solidarity protest for Greece in Trafalgar Square

3/7 London

Campaigners hold a solidarity protest for Greece in Trafalgar Square

4/7 London

Campaigners hold a solidarity protest for Greece in Trafalgar Square

5/7 London

Supporters blow horns, chant slogans and hold various signs to show support for Greece's new anti-austerity government

6/7 London

Christos Giovanopoulos from the Greek group 'Solidarity For All' speaks against the 'regime of austerity and social barbarism' and how Greece has a chance to escape a country in crisis, now under Alexis Tsipras and the Syriza party

7/7 London

A sign reads 'Merkel Crete is here' as the Greece Solidarity Campaign, Syriza London and other organisations gathered for a mass rally in support of the people of Greece in Trafalgar Square
The talks are focused on how to recapitalise Greece's battered banking system, whose deposit base was badly hit in recent months as Greeks fearing a euro exit emptied their accounts. The talks also addressed Greece's privatisation commitments and budget surplus targets. Reuters
Reuse content