A seven-year-old boy is reportedly among the three people killed in Austria by a man who ploughed his car into crowds in the country's second-largest city and then reportedly started stabbing people.
A witness told the Wiener Zeitung newspaper that dead bodies were left lying face down in the road after the vehicle sped through streets near the the historical Herrengasse in Graz.
The killing only stopped when the driver parked his battered car outside a police station.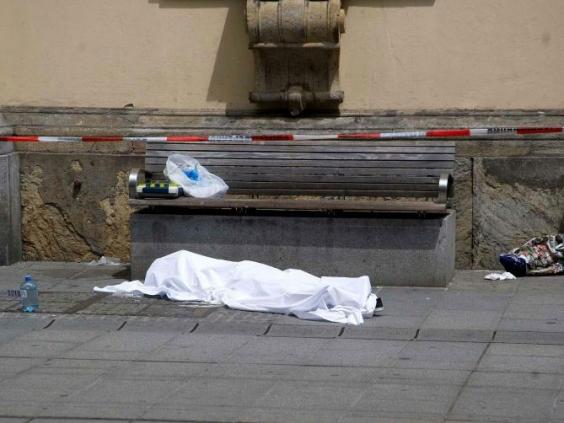 More than 30 pedestrians, including three children, were hurt at several locations during the rampage and 10 victims were in hospital with serious injuries. One patient was in a critical condition on Saturday afternoon.
The driver, identified by police as a 26-year-old Austrian man of Bosnian heritage, has been arrested. He works as a professional driver and is married with two children.
Police are not currently investigating terrorism as a motive and the suspect is believed to be suffering from mental illness.
Witnesses recounted how the man drove his vehicle into crowds apparently at random, sending pedestrians and cyclists crashing into the windscreen and rolling over the bonnet.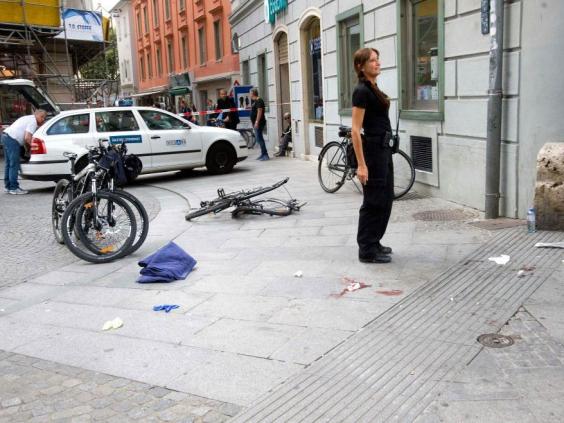 Dr Sea Rotmann, who was nearby, told Sky News: "I had a friend who was there and she saw people flying through the air. She saw bodies lying there, it was absolute chaos and mayhem.
"Apparently the guy was attacking two elderly people with a knife and then attacking police with a knife when he got out."
Police said the stabbing happened outside a grocery shop, where a man was seriously injured and a woman wounded less severely.
The incident started at around 12.15pm local time (11.15am BST), sending screaming shoppers running into shops for safety.
#graz @Austria_UK #crazydriver scene today at #hauptplatz pic.twitter.com/UMY73ybB54

— ark2grz (@ark2grz) June 20, 2015
A statement from the city council said: "At 12pm there was an appalling incident in the centre of Graz, which has caused major alarm and left the city deeply shaken.
"A killer used his car as a weapon and deliberately ran people down on a rampage. The perpetrator is in custody."
A spokesperson said the killing spree started in Zweiglgasse, where one person died, and the driver continued through the city and over the Schönaugasse bridge to Herrengasse, ploughing into a cafe seating area in the Hauptplatz (main square).
A witness speaking to the Wiener Zeitung compared the sound of chairs and tables being knocked over by the speeding car to a "gunfight".
The mayor of Graz, Siegfried Nagl, was riding his Vespa only metres away from the car as it screamed down Zweiglgasse and said he heard a "loud bang" behind him.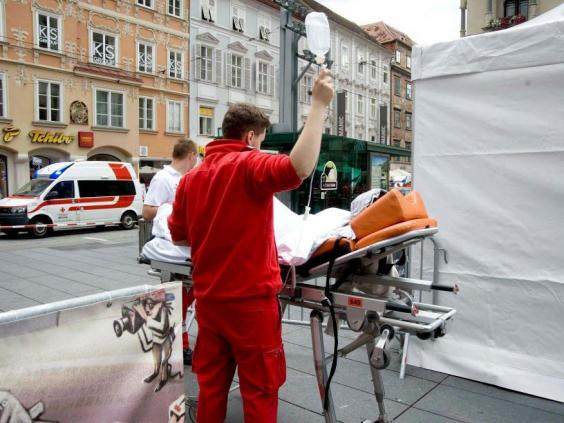 He described seeing the vehicle overtake a bus at "extremely high speed" and hit a man, who died at the scene.
Mr Nagl said: "At first I thought it was an accident and the driver would stop, but he carried on purposefully and had deliberately killed the man."
The suspect was caught in a nearby Schmiedgasse, where he stopped his car outside a police station.
Josef Klamminger, the director of police, said the driver's motive was not yet known but he appeared to be "psychotic" following problems at home.
Herrengasse is Graz's main shopping street and the adjoining squares are popular with tourists and diners making the most of the summer with its outdoor cafes and bars.
This afternoon it was lined with 50 ambulances and dozens of police cars as helicopters flew overhead.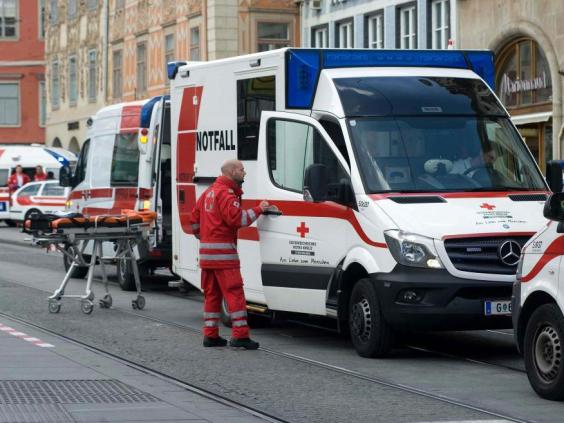 Hermann Schützenhöfer, the governor of Styria state, called the driver a "deranged lone assassin".
"We are shocked and dismayed...here is no explanation and no excuse for this attack," he said at a press conference.
"We have much to do to ensure cohesion in our community, which has clearly become difficult for many people. I appeal to everyone to seek unity in their lives and build bridges, not walls."
The deputy governor, Michael Schickhofer, called the tragedy "incomprehensible" and said he could not express the city's pain.
Wilhelm Krautwaschl, the Bishop of Graz, said he was deeply saddened by the attack.
"Shocked about what happened, I pray for the victims and for those hurrying to help them," he wrote on Facebook.
A memorial service for the victims was due to be held at the Grazer Stadtpfarrkirche at 6pm this afternoon.
The 2015 Austrian Grand Prix is currently being held at the Spielberg Ring about 40 miles from Graz.
Reuse content