European leaders have firmly rejected Benjamin Netanyahu's call for the continent's Jewish community to migrate to Israel in the wake of a spate of terror attacks.
Hundreds of Jewish graves were found vandalised in France on Sunday, hours after a Danish Jew guarding a synagogue in Copenhagen was shot dead.
Following the Charlie Hebdo massacre, Amedy Coulibaly deliberately targeted a Kosher supermarket to take hostages and a Jewish museum in Brussels and school in Toulouse have also been attacked.
The Israeli Prime Minister has called for the migration of European Jews several times in recent months, most recently at the weekend.
"Jews were killed on European land just because they were Jewish," Mr Netanyahu said, claiming that "this wave of attacks will continue".
"Jews deserve security in every country, but we say to our Jewish brothers and sisters, Israel is your home," he added.
Shooting at Copenhagen blasphemy event
Shooting at Copenhagen blasphemy event
1/12 Copenhagen shooting

The first tributes are paid outside the Krudttoenden café

EPA

2/12 Copenhagen shooting

Forensic police officers work at the crime scene

AFP

3/12 Copenhagen shooting

A CCTV image of the main suspect in the shooting

AP

4/12 Copenhagen shooting

Prime Minister Helle Thorning Schmidt addressing the media in Oesterbro, a district of Copenhagen

AFP

5/12 Copenhagen shooting

A police officer is carried into an ambulance after being shot after a public meeting and discussion arranged by the Lars Vilks Committee

Getty Images

6/12 Copenhagen shooting

Policemen secure the area around a building in Copenhagen, Denmark, where shots were fired

AFP

7/12 Copenhagen shooting

Bullet holes are seen in the window and door of Krudttonden cafe after shots were reportedly fired during a discussion meeting about art, blasphemy and free speech in Copenhagen

EPA

8/12 Copenhagen shooting

Police presence is seen at the site of a shooting in Copenhagen

Reuters

9/12 Copenhagen shooting

The Swedish artist Lars Vilks has lived under police guard since he published a drawing of the Prophet Muhammad with the body of a dog in 2007

GETTY IMAGES

10/12 Copenhagen shooting

Francois Zimeray, the French Ambassador to Denmark

11/12 Copenhagen shooting

Police presence is seen at the site of a shooting in Copenhagen

Reuters

12/12 Copenhagen shooting

Policemen search the area where shots were reportedly fired during a discussion meeting about art, blasphemy and free speech in Copenhagen

EPA
The call provoked anger among some rabbis and politicians.
Copenhagen's chief rabbi, Jair Melchior, said he was "disappointed" by the remarks, adding: "Terror is not a reason to move to Israel."
The Danish Prime Minister, Helle Thorning-Schmidt, called on Jews to reject Mr Netanyahu's offer.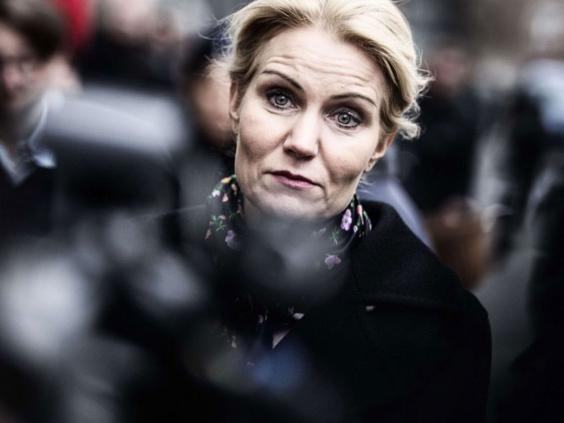 "The Jewish community have been in this country for centuries," she added.
"They belong in Denmark, they are part of the Danish community and we wouldn't be the same without the Jewish community in Denmark."
A spokesperson for the Jewish Community in Denmark, Jeppe Juhl, echoed her sentiments.
"We're very grateful for Netanyahu's concern but having said that, we are Danish — we're Danish Jews but we're Danish — and it won't be terror that makes us go to Israel," he said according to AFP.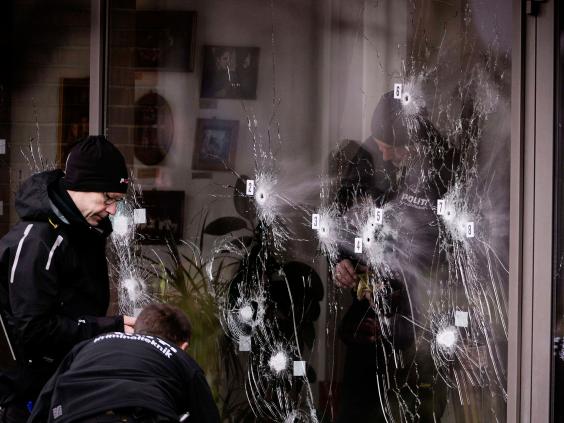 The French President said that although Jewish people may have "doubts" and "questions", there was no need to leave.
Francois Hollande will visit the desecrated Jewish cemetery in the small town of Sarre-Union on Tuesday, his office said. Of the 400 tombs in the Sarre-Union cemetery, 250 had been vandalised.
"I will not just let what was said in Israel pass, leading people to believe that Jews no longer have a place in Europe and in France in particular," Mr Hollande said.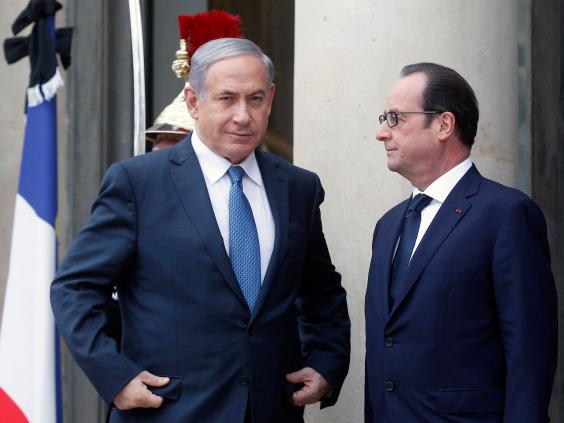 His Prime Minister, Manuel Valls, said the government would defend French Jews against what he described as "Islamo-fascism."
"A Jew who leaves France is a piece of France that is gone," he told RTL radio.
Thousands of police and security forces are now protecting Jewish sites in France after the Paris terror attacks in January, and Interior Minister Bernard Cazeneuve suggested that Mr Netanyahu could be taking advantage of the issue  in the run-up to the Israeli elections.
In 2014, more than 7,000 French Jews in a community estimated at around 500,000 left for Israel, more than double the number for 2013.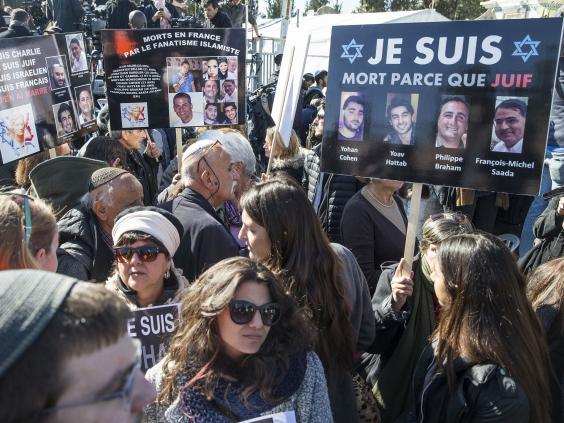 The Israeli Cabinet on Sunday approved a £30 million plan to encourage still more Jewish immigration from France, Belgium and Ukraine.
The German Chancellor, Angela Merkel, said on Monday that that her government will do everything possible to make sure Jewish sites are secure.
"We are glad and thankful that there is Jewish life in Germany again," she said in Berlin. "And we would like to continue living well together with the Jews who are in Germany today."
Additional reporting by AP
Reuse content