Fears were growing that widespread violence would erupt in the aftermath of Russia's annexation of Crimea, as former US Secretary of State Hillary Clinton warned of growing regional tensions.
Clinton called Russia's move to annex Crimea "illegal" and "a violation of international law" and said that other countries near Russia could also face aggression if President Vladimir Putin is allowed to get away with his actions in Ukraine.
"If he's allowed to get away with that, I think you'll see a lot of other countries either directly facing Russian aggression or suborned with their political systems so that they are so intimidated that in effect they are transformed into vassals, not sovereign democracies," Clinton said at an event hosted by the Board of Trade of Metropolitan Montreal at the Palais des Congres.
She argued for sanctions against Russia and increased financial and technical support for a democratic government in Kiev.
It came as a Ukrainian officer was killed in a confrontation in Simferopol, just hours after the Russian president delivered an incendiary speech justifying Moscow's reclamation of the former Ukrainian territory.
Several others were injured and the Ukrainian commander captured as the military facility in the Crimean capital was stormed by troops dressed in Russian camouflage kits and balaclavas.
The Ukrainian Prime Minister warned that  "the conflict is shifting from a political to a military stage" and claimed that "Russian soldiers have started shooting at Ukrainian servicemen and that is a war crime". His government, he added, has now authorised the use of firearms for its forces surrounded in their bases in Crimea.
Crimea referendum and independence
Crimea referendum and independence
1/14 Crimea Referendum

A man shows his shirt with the Russian emblem as he celebrates the results of the Crimean referendum at the Lenin Square in Simferopol

EPA

2/14 Crimea Referendum

An elderly retired Soviet Navy officer and his wife take a walk in Sevastopol the morning after the referendum

AFP/Getty

3/14 Crimea Referendum

A man plays accordion as people dance during celebrations in Sevastopol

AFP

4/14 Crimea Referendum

People wave Russian flags as fireworks explode in the sky over Sevastopol following the announcement of the result of the referendum

EPA

5/14 Crimea Referendum

A member of a Ukrainian "Maidan" self-defense battalion takes part in training to qualify for service in the newly-created National Guard.

Reuters

6/14 Crimea Referendum

Pro-Russian protesters hold a Russian, Crimean and Soviet flags during their rally at Lenin Square in Simferopol, Ukraine

EPA

7/14 Crimea Referendum

A member of the Crimean election commission waits for voters at the polling station in Belogorsk near Simferopol, Crimea, Ukraine

EPA

8/14 Crimea Referendum

Polling stations opened in Crimea for a referendum about whether the Ukrainian Black Sea region should join Russia. The vote has been widely condemned by Western governments, who call it illegal and have announced sanctions against Russia if it goes ahead. Thousands of unmarked forces, believed to be Russian, have appeared in Crimea after local Moscow-backed authorities asked Russia for protection against 'extremists' in the new Ukrainian leadership

EPA

9/14 Crimea Referendum

A lettering on the facade of the Council of Ministers building reads 'Spring in Crimea' in Simferopol, Crimea, Ukraine

EPA

10/14 Crimea Referendum

People wave Crimean flags at Lenin square in Simferopol, Crimea, Ukraine

EPA

11/14 Crimea Referendum

A poster in Crimea presents a stark choice - Nazism, or Russia - to voters ahead of the referendum

12/14 Crimea Referendum

Protesters against Ukraine's referendum gather in Simferopol

Getty Images

13/14 Crimea Referendum

Action stations: Preparations for today's referendum in Simferopol, where Crimea will vote to become part of Russia

AP

14/14 Crimea Referendum

Cossacks guard the regional parliament building in Simferopol during the Crimean referendum

AP
However, there were indications that it was the separatist Crimean government's recently created "Self Defence Forces" who had actually carried out the fatal attack. Local officials, meanwhile, claimed that "fascist snipers" had fired the first shot from a residential building and one of the injured was one of the defence force members.
The Ukrainian and Russian governments had agreed to a ceasefire until 21 March, aimed at preventing hostilities breaking out at the blockaded bases. But there was apprehension that the assault and the resultant death and injuries may break the delicate accord, with highly dangerous consequences.
The shooting began three and-a-half hours after Mr Putin had claimed Crimea for his country in a speech laced with invectives against the West and a robust reassertion of Russian power. At the end of his 66-minute address , punctuated by repeated applause, came the signing of documents which, the Kremlin declared, transferred control of Crimea from Ukraine to Russia once and for all.
There were expressions of outrage from the US, the European Union and the government in Kiev, but no immediate ratcheting up of the international sanctions Moscow has publicly derided as ineffectual. The G7 group of countries are to hold an emergency summit, at President Barack Obama's request, in the Hague next week, when announcements of further measures are expected.
Nato secretary-general Anders Fogh Rasmussen also condemned Russia's move to annex Ukraine's Crimea region, saying Moscow had embarked on a "dangerous path". "Crimea's annexation is illegal and illegitimate and Nato allies will not recognise it," he said.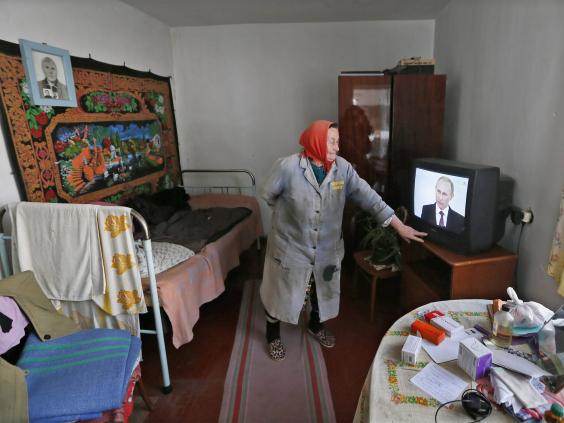 During a visit to Warsaw, the US Vice-President, Joe Biden, accused President Putin of carrying out "nothing but a land grab" adding that "the world has seen through Russia's actions and has rejected the flawed logic". The White House declared that Mosow's actions "are in violation of international law and Ukrainian constitution."
The British Prime Minister, David Cameron, said: "It is completely unacceptable for Russia to use force to change borders based on a sham referendum held at the barrel of a Russian gun."
The German Chancellor, Angela Merkel, said that the referendum, the declaration of independence and Crimea's "absorption into the Russian Federation" were "against international law". France has threatened to halt the sale of two warships to Russia.
President Putin's speech and the signing ceremony with the Crimean Prime Minister, Sergei Aksyonov, who had come to power in a putsch, had drawn a rapturous crowd at Simferpol's Lenin Square which regularly burst into chants of "Russia, Russia". They heard the President stress: "There was not one single military confrontation in Crimea, there were no victims."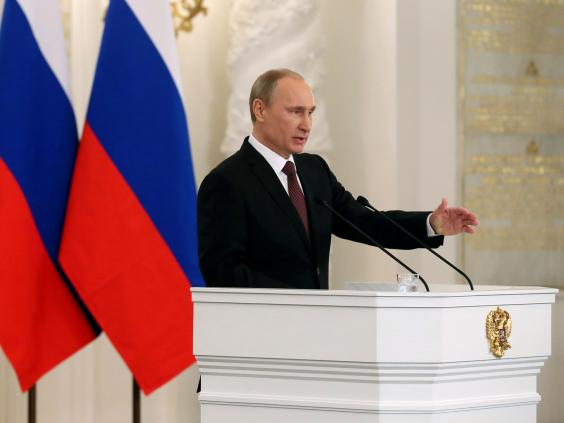 Later, around a dozen troops arrived in two vehicles without registration numbers and started moving towards the base of the Mapping and Navigation Service at Kubanskaya Street. There were two prolonged bursts of gunfire, followed by several single shots. Soon afterwards soldiers inside started calling journalists.
One wanted to reveal: "A serviceman, Ukrainian, has been wounded in the neck and collarbone. Now we have barricaded ourselves on the second floor. The headquarters has been taken and the commander has been taken. They want us to put down our arms, but we don't intend to surrender."
The officer, believed to be a Captain Valentin Fedun, was later taken to a hospital for treatment. His father-in-law said the armed men had asked the Ukrainian soldiers to take their flag and depart before the shooting had started.
The dead Ukrainian officer is thought to have been outside the base when he was gunned down. The commander, Colonel Andriy Andryushin, and his remaining men were disarmed and arrested.
Local authorities presented a different version of what had taken place. A police officer said: "There were snipers who were using peoples' homes to start shooting, that was the provocation. One of those injured was from the Self Defence Forces." 
Ukraine's acting President, Oleksandr Turchynov, said: "We would like to warn President Putin, who is personally responsible for this act of provocation, that the political leadership of the Russian Federation will have to answer to the entire world for the crimes which they are committing today on the territory of our country." The Russian annexation of Crimea, he said, echoed Nazi Germany's takeover of Austria and Sudetenland.
At the Kremlin, it was President Putin who had accused the Ukrainian government, which came to power after the overthrow of Viktor Yanukovych, as being riddled with "neo-Nazis" and "anti-semites" and having no legitimate authority.
Reuse content