Police have shut down a shopping centre in Germany after receiving intelligence over a potential terror attack.
Authorities in Essen said the centre in Limbecker Platz was closed for "security reasons" as searches continued.
"Police have concrete indications of a possible attack," a spokesperson for North Rhine Westphalia Police said.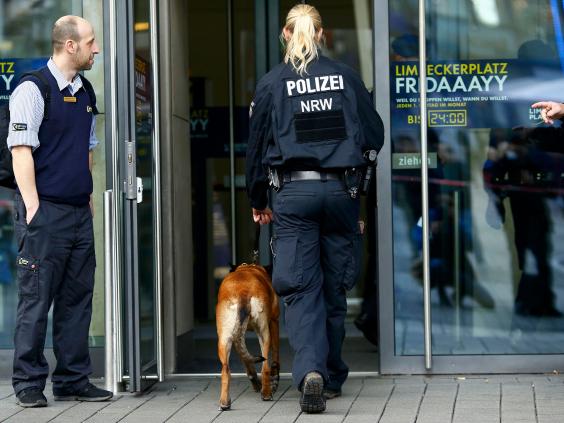 "In order to avoid possible danger to visitors, they will not be able to enter the shopping halls or the car park. The current investigation indicates that the threat refers only to the shopping centre."
The force said investigators were urgently looking into the origin of the attack threat using specialist forces, and a phone number has been set up for concerned residents.
A notice was posted on the Limbecker Platz website asking customers for their understanding as it remained closed for security checks yesterday. 
Opened in 2008, it is one of the largest shopping centres in Germany, containing around 200 businesses and visited by more than 50,000 people a day.
Essen Police have arrested two men in connection with the threat – one in his flat in nearby Oberhausen and a second suspect in a web cafe in the city.
Officials said the alert was received on Friday from another, unspecified, security authority and investigations ran through the night.
Oberhausen's Centro shopping centre was also revealed to be a potential target, with officers stationed there as a precaution.
Germany remains on high alert following a series of Isis-inspired terror attacks, including the massacre of 12 people when a lorry was rammed into a Berlin Christmas market in December. Following the large-scale attacks in Paris and Brussels, Isis propaganda has encouraged jihadis to carry out atrocities on "soft targets" like transport hubs that have little security.
The latest security alert in Germany comes days after a man injured seven people with an axe in a rampage at Düsseldorf's main railway station.
Berlin Christmas market lorry attack
Berlin Christmas market lorry attack
1/18

Several people have been killed after a lorry drove into crowds at a Christmas market in Berlin

REUTERS/Fabrizio Bensch

2/18

'At least nine' people have been killed and more than 50 injured.

AP

3/18

Emergency Services rush a Berlin market victim to an ambulance

Associated Press

4/18

Police cordoned off the square at Kaiser Wilhelm Memorial Church following the incident

REUTERS

5/18

Rescue workers inspect the lorry that crashed into a Christmas market close to the Kaiser Wilhelm memorial church in Berlin

EPA

6/18

Emergency crews inspect the lorry that ploughed into a Berlin Christmas market, killing at least nine people

AFP

7/18

Fire crews attend the scene of the attack

AFP/Getty

8/18

Armed police secure the site of a lorry attack at a Christmas market in Berlin

REUTERS

9/18

Crushed debris is visible beneath the wheels of the vehicle

REUTERS

10/18

An injured man is pushed to an ambulance

REUTERS

11/18

Medics attend an injured person after the lorry attack which killed at least nine and injured more than 50 people

AFP/Getty

12/18

Firefighters examine the lorry which was rammed into a Berlin Christmas market

REUTERS

13/18

A person is carried into an ambulance

REUTERS

14/18

View of the lorry that crashed into a Christmas market in Berlin, killing at least nine and injuring at least 50 people

AFP/Getty

15/18

Rescue workers push a person on a stretcher to an ambulance

Getty

16/18

Firefighters assess the damage after the lorry rammed the Christmas market, killing 'at least nine', and injuring more than 50 people

AP

17/18

Firefighters stand beside a toppled Christmas tree at the site of the suspected terrorist attack in a Berlin Christmas market

AP

18/18

Damaged stalls at the scene of the incident at a Berlin Christmas market where at least nine people have been killed

EPA
Police said there was no indication of a link to terrorism and described the 36-year-old suspect as mentally ill.
Numerous arrests have been made over suspected terror plots, including an Isis supporter found manufacturing explosives to bomb an airport in Berlin last year. 
Germany's federal prosecutor charged three suspected Isis members with planning a terror attack in Düsseldorf.
Officials said the two of the Syrian men, aged between 25 and 27, investigated smuggling routes to Europe for jihadis in 2014, sending several refugees as tests before journeying along the migrant route themselves in 2015.
They allegedly drew the third suspect into the plot and worked with an Isis bomb maker already deployed to Germany, planning to detonate two suicide bombs in Düsseldorf's popular Old Town before other militants massacred as many passers-by with guns as possible.
The plan was thwarted after one of the conspirators turned himself into French authorities in February last year.
Security fears have put additional pressure on Angela Merkel as she campaigns for a fourth term as Germany's Chancellor, with anti-immigration parties boosted by concern over her refugee policy.