The European Commission is considering making Eritrea a partner for "managing migration" amid calls for its leaders to be tried for crimes against humanity.
The EU's executive body listed the East African nation among 16 possible countries in line for unspecified "packages" to increase co-operation as the refugee crisis continues.
Eritreans make up a significant portion of the asylum seekers crossing the Mediterranean Sea, risking their lives to escape a litany of human rights abuses documented in the authoritarian state.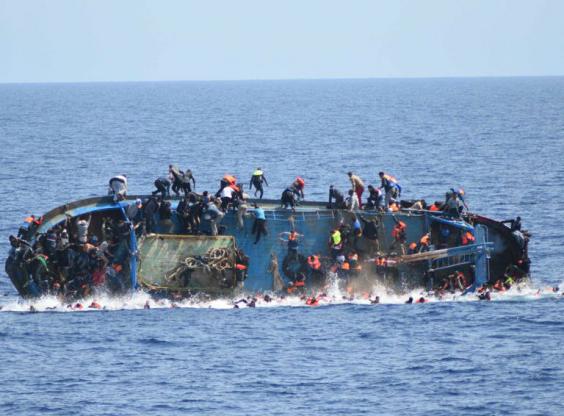 A United Nations Commission of Inquiry found that crimes against humanity had been committed in a "widespread and systematic manner" in Eritrean detention facilities, military training camps and other locations over the past 25 years.
Its report listed enslavement, imprisonment, enforced disappearances, torture, persecution, rape, murder and other abuses as part of what investigators said was a campaign to control Eritrean civilians dating back to the country's foundation in 1991.
"Eritrea is an authoritarian State," said Mike Smith, chair of the UN Commission. "There is no independent judiciary, no national assembly and there are no other democratic institutions in Eritrea. 
"This has created a governance and rule of law vacuum, resulting in a climate of impunity for crimes against humanity to be perpetrated over a quarter of a century. These crimes are still occurring today."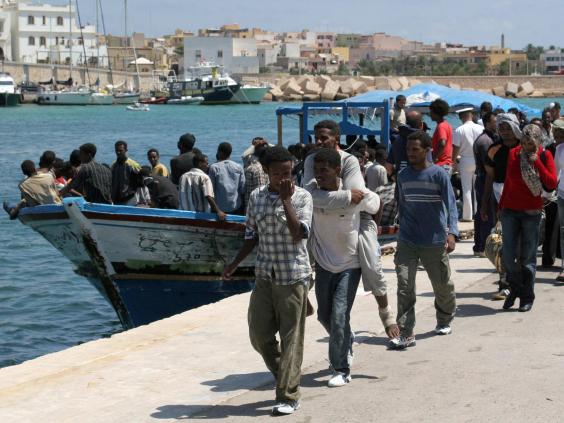 The UN Commission, which received thousands of testimonies and written submissions, called for perpetrators to be sent to the International Criminal Court and claimed there was no prospect of them being held to account under the current administration.
"Eritreans also continue to be subjected to indefinite national service, arbitrary detention, reprisals for the alleged conduct of family members, discrimination on religious or ethnic grounds, sexual and gender-based violence and killings," the report said. 
It alleged that officials at the highest levels of government, in the ruling party, National Security Office and commanding military officers "bear responsibility for crimes against humanity and other gross human rights violations". 
But a European Commission document on its New Migration Partnership Framework said it was testing a new approach to Eritrea and other selected countries to increase co-operation on managing migration.
Sudan, Afghanistan, Ethiopia, Somalia and Tunisia were among the other candidates, which include several listed as countries of concern in a human rights report by the British Government.
An EU report said research had shown a "direct link" between migration policies in Europe, the Middle East and Africa, and that flows were being driven by both conflict and economic factors.
Refugee crisis - in pictures
Refugee crisis - in pictures
1/27

A child looks through the fence at the Moria detention camp for migrants and refugees at the island of Lesbos on May 24, 2016.

AFP/Getty Images

2/27

Ahmad Zarour, 32, from Syria, reacts after his rescue by MOAS (Migrant Offshore Aid Station) while attempting to reach the Greek island of Agathonisi, Dodecanese, southeastern Agean Sea

3/27

Syrian migrants holding life vests gather onto a pebble beach in the Yesil liman district of Canakkale, northwestern Turkey, after being stopped by Turkish police in their attempt to reach the Greek island of Lesbos on 29 January 2016.

Getty Images

4/27

Refugees flash the 'V for victory' sign during a demonstration as they block the Greek-Macedonian border

5/27

Migrants have been braving sub zero temperatures as they cross the border from Macedonia into Serbia.

6/27

A sinking boat is seen behind a Turkish gendarme off the coast of Canakkale's Bademli district on January 30, 2016. At least 33 migrants drowned on January 30 when their boat sank in the Aegean Sea while trying to cross from Turkey to Greece.

Getty Images

7/27

A general view of a shelter for migrants inside a hangar of the former Tempelhof airport in Berlin, Germany

8/27

Refugees protest behind a fence against restrictions limiting passage at the Greek-Macedonian border, near Gevgelija. Since last week, Macedonia has restricted passage to northern Europe to only Syrians, Iraqis and Afghans who are considered war refugees. All other nationalities are deemed economic migrants and told to turn back. Macedonia has finished building a fence on its frontier with Greece becoming the latest country in Europe to build a border barrier aimed at checking the flow of refugees

9/27

A father and his child wait after being caught by Turkish gendarme on 27 January 2016 at Canakkale's Kucukkuyu district

10/27

Migrants make hand signals as they arrive into the southern Spanish port of Malaga on 27 January, 2016 after an inflatable boat carrying 55 Africans, seven of them women and six chidren, was rescued by the Spanish coast guard off the Spanish coast.

11/27

A refugee holds two children as dozens arrive on an overcrowded boat on the Greek island of Lesbos

12/27

A child, covered by emergency blankets, reacts as she arrives, with other refugees and migrants, on the Greek island of Lesbos, At least five migrants including three children, died after four boats sank between Turkey and Greece, as rescue workers searched the sea for dozens more, the Greek coastguard said

13/27

Migrants wait under outside the Moria registration camp on the Lesbos. Over 400,000 people have landed on Greek islands from neighbouring Turkey since the beginning of the year

14/27

The bodies of Christian refugees are buried separately from Muslim refugees at the Agios Panteleimonas cemetery in Mytilene, Lesbos

15/27

Macedonian police officers control a crowd of refugees as they prepare to enter a camp after crossing the Greek border into Macedonia near Gevgelija

Getty Images

16/27

A refugee tries to force the entry to a camp as Macedonian police officers control a crowd after crossing the Greek border into Macedonia near Gevgelija

Getty Images

17/27

Refugees are seen aboard a Turkish fishing boat as they arrive on the Greek island of Lesbos after crossing a part of the Aegean Sea from the Turkish coast to Lesbos

Reuters

18/27

An elderly woman sings a lullaby to baby on a beach after arriving with other refugees on the Greek island of Lesbos after crossing the Aegean sea from Turkey

Getty Images

19/27

A man collapses as refugees make land from an overloaded rubber dinghy after crossing the Aegean see from Turkey, at the island of Lesbos

EPA

20/27

A girl reacts as refugees arrive by boat on the Greek island of Lesbos after crossing the Aegean sea from Turkey

Getty Images

21/27

Refugees make a show of hands as they queue after crossing the Greek border into Macedonia near Gevgelija

Getty Images

22/27

People help a wheelchair user board a train with others, heading towards Serbia, at the transit camp for refugees near the southern Macedonian town of Gevgelija

AP

23/27

Refugees board a train, after crossing the Greek-Macedonian border, near Gevgelija. Macedonia is a key transit country in the Balkans migration route into the EU, with thousands of asylum seekers - many of them from Syria, Afghanistan, Iraq and Somalia - entering the country every day

Getty Images

24/27

An aerial picture shows the "New Jungle" refugee camp where some 3,500 people live while they attempt to enter Britain, near the port of Calais, northern France

Getty Images

25/27

A Syrian girl reacts as she helped by a volunteer upon her arrival from Turkey on the Greek island of Lesbos, after having crossed the Aegean Sea

EPA

26/27

Refugees arrive by boat on the Greek island of Lesbos after crossing the Aegean sea from Turkey

Getty Images

27/27

Beds ready for use for migrants and refugees are prepared at a processing center on January 27, 2016 in Passau, Germany. The flow of migrants arriving in Passau has dropped to between 500 and 1,000 per day, down significantly from last November, when in the same region up to 6,000 migrants were arriving daily.
Major refugee routes run through Africa, with smugglers transporting migrants in desperate conditions through countries – including Ethiopia, Sudan and Libya – on lengthy journeys that not all survive.
Nations chosen by the EU will be offered diplomatic, technical and financial incentives and aid as part of the scheme, although no details have been announced.
A spokesperson said the policy aimed to save lives at sea, increase returns, address the root causes of migration and "enable migrants and refugees to stay closer to home".
Federica Mogherini, Vice-President of the European Commission, said migration could only be managed if nations "act globally".
"For this reason, we are proposing a new approach for strong partnerships with key countries," she added.
"Our goal, while staying focused on saving lives at sea and dismantling smugglers' networks, is to support the countries that host so many people and foster growth in our partner countries…our duty, and also our interest, is to give people the chance and the means for a safe and decent life."
More than 47,000 Eritreans applied for asylum in Europe last year, with many having made the deadliest sea crossing in the world between Libya and Italy.
The UN said many cited indefinite military service as the reason for their flight, with Mr Smith saying between 300,000 and 400,000 people were enslaved in Eritrea, mostly through conscription. The Eritrean government, which did not grant UN investigators access, has denied any wrongdoing.
"Eritrea rejects the politically motivated and groundless accusations and the destructive recommendations of the COI," presidential advisor Yemane Gebreab said a statement. "It believes they are an unwarranted attack not only against Eritrea, but also Africa and developing nations." 
The EU's Emergency Trust Fund for Africa is being topped up with €1 billion (£800,000) – as the work continues. 
The European Commission has not yet responded to The Independent's request for a comment.
Reuse content