George Osborne was accused last night of stage-managing an alleged victory over Brussels by using an accounting trick to claim he had slashed a surprise £1.7bn bill from the European Commission.
The Chancellor emerged from talks in Brussels to declare he had halved the amount Britain owes to £850m and that the cash would be paid in stages over the next year. The bill fell because of the automatic rebate Britain receives on all payments to the EU.
But Mr Osborne's declaration of victory was immediately challenged by other finance ministers and politicians who said the final amount remained unchanged. EU officials suggested the extra £850m "discount" had been found from moving forward part of the rebate Britain would have normally been due from the Union at a later stage.
That claim was vehemently denied last night by Downing Street. A spokesman said: "We will hand over an extra £850m and no more. There's no impact on any rebate further down the line."
But Ed Balls, the shadow Chancellor, said: "David Cameron and George Osborne are trying to take the British people for fools. Ministers have failed to get a better deal for the taxpayer. Not a single penny has been saved for the taxpayer compared to two weeks ago when David Cameron was blustering in Brussels.
"By counting the rebate Britain was due anyway they are desperately trying to claim that the backdated bill for £1.7 bn has somehow been halved."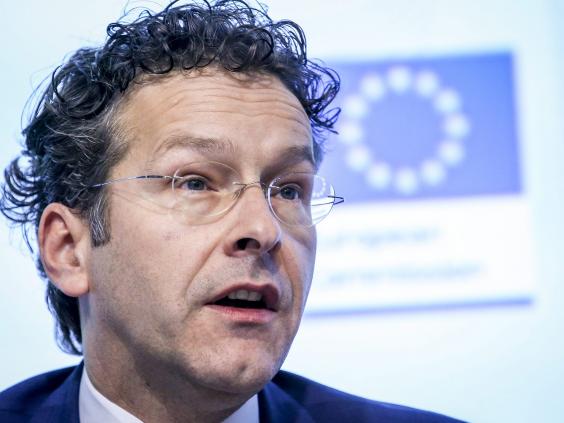 The budget row erupted at a summit of EU leaders late last month, when David Cameron appeared ambushed by a demand from the European Commission that he pay a top-up of €2.1bn (£1.7bn) to the annual EU budget because of Britain's unexpectedly strong economic performance.
He angrily refused to meet the 1 December deadline for payment, and Mr Osborne headed to yesterday's meeting in Brussels under intense pressure from Eurosceptic Tory backbenchers to negotiate a lower payment. Leaving the meeting, Mr Osborne claimed to have done just that.
"Instead of footing the bill, we have halved the bill," he said, giving a new figure of around £850m. "We have delayed the bill. We will pay no interest on the bill. We have also changed permanently the rules of the European Union…."
Irish Finance Minister, Michael Noonan, immediately contradicted Mr Osborne's statement.
"I don't know what the basis of that calculation is but the instalments will be paid over a period of time," he said. "My understanding is that the UK will pay the whole amount but there will be no penalties attached or interest on that."
Tory MPs who want to leave the EU
Tory MPs who want to leave the EU
1/4 Mark Reckless

MP for Rochester and Strood. Will tell his constituents he will vote "out" in 2017 no matter what concessions David Cameron wins from EU. Has called for "level playing field" referendum with no recommendation from Mr Cameron on how people should vote

Rex

2/4 David Nuttall

MP for Bury North. Has said: "I am fed up with this country being told what to do by other countries in the EU, which is why I believe we should leave the EU and instead have free trade agreements with EU countries."

3/4 Heather Wheeler

MP for Derbyshire South. She has said: "I have decided enough is enough and that Britain really is better off out. We should be part of a free trade association, not a political union."

4/4 Gordon Henderson

MP for Sittingbourne and Sheppey. He has said: "My reason for wanting to leave the EU is simple. Britain needs to retain control of its own destiny if it is to remain a sovereign nation."
"He [Osborne] still has to pay a big amount and he didn't negotiate a discount today and no discount has been awarded," said Jeroen Dijsselbloem, head of the Eurogroup nations which use the single currency. "Britain has had this rebate system for a very long time."
Britain's interpretation of the meeting provoked accusations that the government was simply massaging the figures.
"There are serious questions about this: it would appear that what he has done is simply calculated the British rebate into the figures, but the British rebate was never in doubt," Richard Corbett, a Labour MEP and former adviser to the European Council said. "It would normally have been paid a bit later but if you put it into the same calculation then he's not had any change whatsoever in what Britain will have to pay."
Kristalina Georgieva, the European Commissioner responsible for budget issues, confirmed that Mr Osborne's statement was "factually accurate"– because Britain's extra payment was unusually large this year, the rebate they receive will also be larger.
She said that taking this rebate into account, "preliminary calculations show it [the final payment] will be around €1bn".