The European Union held out the chance of a fresh dialogue with Athens in the wake of crushing victory of the Greek government in Sunday's referendum on a bailout package, with officials in Brussels and elsewhere indicating they were still willing to discuss new bailout terms.
German Chancellor Angela Merkel is due to meet French President Francois Hollande in Paris on Monday night to discuss the situation, with sources suggesting an emergency EU summit could be held in Brussels on Wednesday. Already there are reports that Greek Prime Minister Alexis Tsipras had spoken with several European leaders, including Mr Hollande and European Central Bank (ECB) president Mario Draghi.
Martin Schulz, the European Parliament's president, said the eurozone summit on Tuesday should consider an immediate "humanitarian aid programme for Greece".
He blamed the Greek government for the current crisis but said ordinary people should not suffer as a result.
Mr Schulz urged Athens to make "meaningful and constructive proposals" in talks with the other eurozone countries. "If not, we are entering a very difficult and even dramatic time," he said.
In pictures: Greek referendum
In pictures: Greek referendum
1/28 Greece EU Referendum

People celebrate in Athens after the first exit-polls of the Greek referendum

Getty Images

2/28 Greece EU Referendum

A "No" supporter flashes a victory sign before a Greek flag atop the parliament in Athens, Greece July 5, 2015.Greeks voted overwhelmingly "No" on Sunday in a historic bailout referendum, partial results showed, defying warnings from across Europe that rejecting new austerity terms for fresh financial aid would set their country on a path out of the euro.

REUTERS/Yannis Behrakis

3/28 Greece EU Referendum

Supporters of the No vote react after the first results of the referendum at Syntagma square in Athens

AP

4/28 Greece EU Referendum

Supporters of the No vote wave Greek flags after the referendum's exit polls at Syntagma square in Athens

AP

5/28 Greece EU Referendum

Greece's finance minister Yanis Varoufakis casts his vote in the country's referendum

EPA

6/28 Greece EU Referendum

A ballot box is emptied by a voting official at the closing of polling stations in Athens, Greece July 5, 2015. Greece voted on Sunday on whether to accept more austerity in exchange for international aid, in a high-stakes referendum likely to determine whether it leaves the euro-currency area after seven years of economic pain.

REUTERS/Marko Djurica

7/28 Greece EU Referendum

A photographer photographs a man waiting to vote in the referendum at a school in the suburbs of Athens

Getty

8/28 Greece EU Referendum

Greek voters are being asked to choose between backing their creditor's austerity measures or rejecting them

Getty

9/28 Greece EU Referendum

Tourists walk past posters with slogans that read "OXI" (NO) and "NAI" (YES) ahead of the referendum in Athens

AFP

10/28 Greece EU Referendum

Opposition parties to Syriza, including the centre-right New Democracy, are campaigning for a 'Yes' vote in the referendum

Reuters

11/28 Greece EU Referendum

Protesters on both sides of the argument ('No' pictured here) have rallied in Athens

AP

12/28 Greece EU Referendum

Greek Prime Minister Alexis Tsipras has been branded reckless and a feckless liar by EU leaders

Reuters

13/28 Greece EU Referendum

According to polls which surveyed some 1000 people across the country, 41.5 percent of Greeks would support the new bailout measures to avoid an exit from the Eurozone

AP

14/28 Greece EU Referendum

Despite Tsipras's assurances, many Greek people are not certain whether Sunday's referendum is a vote on whether Greece will remain in the euro or not

Reuters

15/28 Greece EU Referendum

The Greek and EU flags flutter in front of the ancient Acropolis hill in Athens. The Greek people have been called upon to show "calm and national unity"

Getty

16/28 Greece EU Referendum

Greek Prime Minister Alexis Tsipras addresses a crowd of 25,000 'No' supporters in Athens' Syntagma Square

YANNIS BEHRAKIS/Reuters

17/28 Greece EU Referendum

Greece's Prime Minister Alexis Tsipras gave a televised address to the nation ahead of the vote. He has called on voters to reject creditors' proposals for more austerity in return for rescue loans

AP

18/28 Greece EU Referendum

Protesters march holding a torn European Union flag during a demonstration for the 'NO' campaign in Thessaloniki

Getty Images

19/28 Greece EU Referendum

Greek Finance minister Yanis Varoufakis has pledged to resign if his country votes "yes" to the bailout plan

Reuters

20/28 Greece EU Referendum

Pensioner wait to get their pensions outside a National Bank of Greece branch in central Athens. Banks only opened for pensioners to allow them to get their pensions, with a limit of 120 euros.

AFP/Getty Images

21/28 Greece EU Referendum

Protesters attend an anti-austerity pro-government rally in front of the parliament building

Getty

22/28 Greece EU Referendum

The possibility of Greece leaving the Eurozone is increasing by the day. Merchandise already exists to accompany the event

EPA

23/28 Greece EU Referendum

An elderly man waits to receive his pension outside the closed National Bank of Greece headquarters in Athens

AP

24/28 Greece EU Referendum

People stand in a queue to use an ATM outside a closed bank in Athens

AP

25/28 Greece EU Referendum

A banner supporting the NO vote in the upcoming referendum hangs from the offices of the Greek Finance Ministry

Getty Images

26/28 Greece EU Referendum

Greeks will be asked whether they accept the austerity terms demanded by the country's creditors

Getty

27/28 Greece EU Referendum

Eurozone finance ministers expressed disappointment at the Greek decision to hold a referendum on the bailout terms

Getty

28/28 Greece EU Referendum

Alexis Tsipras, the Greek Prime Minister, said bailout conditions had 'asphyxiated' his country

EPA
In the UK, John Cridland, Director-General of the Confederation of British Industry, called for an agreement to be reached quickly.
"While the UK economy's direct exposure to Greece is minimal, we are not immune to wider eurozone risks," he said.
"We must now encourage all leaders, particularly those of the Troika [the EU, European Central Bank and International Monetary Fund], to act decisively to agree a deal, providing certainty for Greece and the wider eurozone.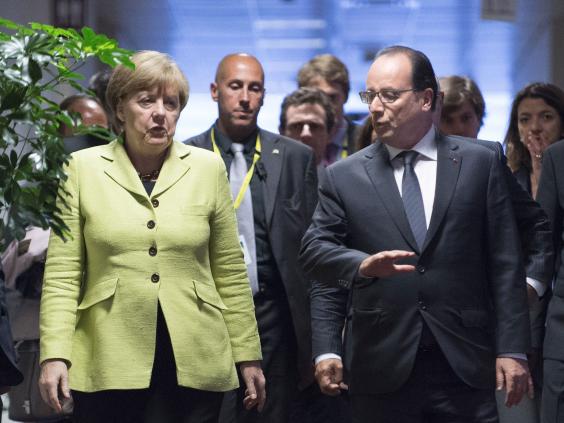 "Europe's policymakers should not hesitate to use every tool at their disposal to preserve growth and stability throughout the eurozone."
No EU leader has officially commented on the result, but the mood was already softening before the vote, with European Council President Donald Tusk saying that the referendum was not about being in the euro zone or not. Spanish Prime Minister Mariano Rajoy was also offering to compromise, telling Spanish daily El Pais that he hoped Greece remained in the Eurozone, while underlining the solidarity of the single currency.
And European Parliament President Martin Schulz, who said last Thursday that a No vote would mean Greece would have to introduce another currency, had already adapted his message yesterday, telling Die Welt am Sonntag newspaper that "We won't abandon the Greek people."
The only top French government official to go on the record was Economy Minister Emmanuel Macron, who said Greece and its international creditors must work on a compromise, and that Europe could not "crush an entire people". He pointedly referred to one of Europe's biggest mistakes of the past century, saying, "If the No wins, it will be our responsibility not to create the Treaty of Versailles of the Eurozone."
With the Greek economy close to collapse, there was also a measure of relief from the ECB, with Executive Board member Benoit Coeure offering emergency assistance. "The ECB has been clear that if we need to do more we will do more. We will find the necessary instruments," Mr Coeure said. "Our will to act in this matter should not be doubted."
In Berlin, however, there were mixed messages. On Saturday, hardline Finance Minister Wolfgang Schauble made conciliatory noises, telling the Bild newspaper that the vote was between holding on to the euro and being "temporarily without it," adding, "it is clear that we will not leave the people in the lurch."
But Vice Chancellor Sigmar Gabriel, from the centre left SPD party responded with fury as the result came through, telling the Tagesspiegel daily that it was hard to imagine talks on a new bailout programme, and adding that Mr Tsipras had "torn down the last bridges on which Greece and Europe could have moved towards a compromise". And Hans Michelbach, a senior German Conservative MP, said: "Now one has to question whether Greece would not be better off outside the euro-zone."
Reuse content