France has passed a bill forcing supermarkets to donate food that is approaching its best-before date in an attempt reduce the estimated seven million tons of food wasted in the country each year. 
But how much food does the EU waste?
In total, the EU wastes 89.2 million tonnes of food each year. The UK is the most wasteful of the EU's 27 member states, with a food waste total of 14.3 million tonnes per year, according to the most recent figures from Eurostat.
Germany (10.3 million tonnes), the Netherlands (9.4 million ), France (9 million) and Poland (8.9 million) make up the top five most profligate countries. Malta is the least wasteful country, with the relatively little excess of 25,000 tonnes per year.
An inquiry conducted by the House of Lords last year suggest that the figure of 89 million tonnes will rise to around 126 million tonnes by 2020 if no preventative action is taken - raising the prospect of significant costs to the environment and the economy.
Compared to the rest of the world, Europe is second only to North America and Oceania when it comes to per capita food losses and waste, according to a report by the Food and Agriculture Organization of the United Nations.
Europe's food waste amounts to 280kg per capita each year, but North America and Oceania tops the list with 295kg per capita –  more than three times the total of South and Southeast Asia.
Despite the EU's high level of food waste, a large percentage of it is avoidable, according to the European Commission. 
Their study, which covered the UK, the Netherlands, Denmark, Finland, Germany and Romania, suggests that nearly three quarters of the food waste in those countries avoidable.
Waste for cereals, animal fats and cream are reportedly entirely avoidable, as they are edible, whereas avoidable food waste for fruit (49.41%), meat (53.10%) and fish (51.03%) is relatively lower, yet still significant.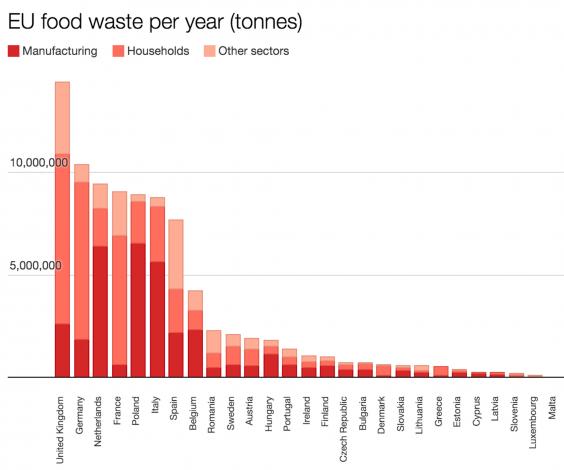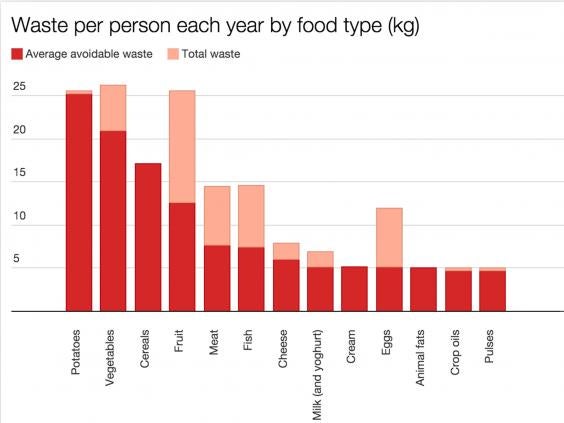 Western countries have a far higher ratio of personal waste. Consumers in North America and Oceania create 40% of the region's waste, in Europe that figure is over a third, but in Sub-Saharan Africa it is only 2.94%.
Andrew Opie, the British Retail Consortium's director of food & sustainability, said: "It is important to continue to focus attention and efforts on where the biggest reductions in food waste can be made – and that is in the supply chain and at home."
A 2013 report by the Institution of Mechanical Engineers claimed that around 2bn tonnes of food produced in the world each year goes to waste. It suggested that key contributors to this were unnecessarily strict sell-by dates, poor storage, promotional offers and consumer demand for cosmetically perfect food.
Reuse content