More than 300 migrants were said to have died making the treacherous journey across the Mediterranean Sea from North Africa in recent days, sparking calls for European authorities to plough more resources into search and rescue operations – or for the return of an Italian-run programme ended last year – to halt the mass loss of lives.
After news that 29 migrants froze to death on Sunday night between North Africa and Sicily, the International Maritime Organisation said today that three other inflatable boats carrying around 100 people each had sunk and the total death toll was "at least 330".
Reports suggest that one of the boats capsized, another then partially tipped over as other refugees panicked.
News of the tragedy – one of the worst single incidents in the ongoing migrant crisis – drew lacerating criticism from human rights groups, which demanded the immediate re-instatement of the Italian navy's Mare Nostrum mission, ended last year and replaced by a programme run by the EU boarder protection agency, Frontex.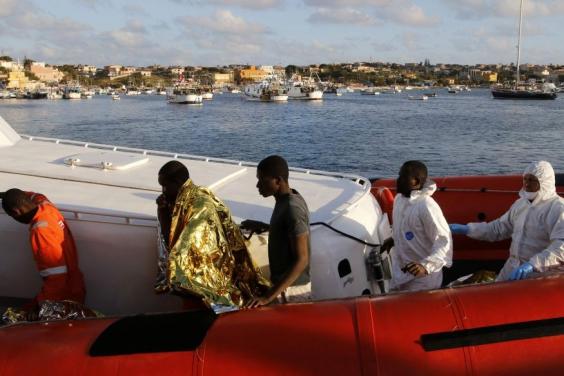 "The EU and its member states must hang their heads in shame," said John Dalhuisen, Europe Programme Director at Amnesty International. "This new tragedy realises our worst fears about the end of Italy's Mare Nostrum search and rescue operation and exposes the predictable consequences of the European Union's failure to provide an adequate replacement."
The Italian Coast Guard said the dinghies, which set off from Libya, were drifting in extreme sea conditions with waves as high as eight metres and temperatures barely above zero. Those who died were believed to be between 18 and 25 years old and from sub-Saharan Africa.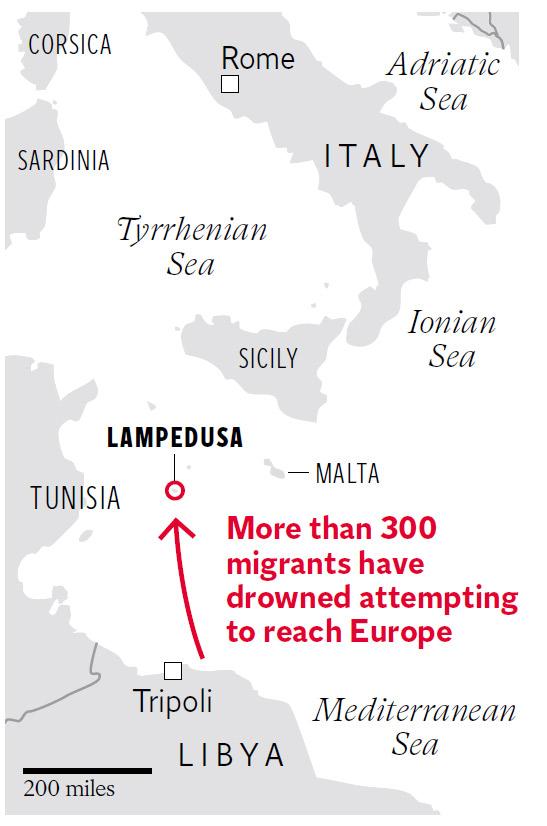 Despite rescuing a number of migrants, hundreds were "swallowed by the waves," UN Refugee Agency (UNHCR),  spokeswoman Carlotta Sami said. Two of the boats were part of a four-vessel flotilla that left a beach near Libya's capital Tripoli on Saturday, according to Ms Sami. One of the vessels has yet to be found.
In December, the Mediterranean crossing from African to Europe was dubbed "the most lethal route in the world" by the UN agency for refugees, after announcing that a record 3,419 migrants had lost their lives in 2014 crossing the sea on rickety boats.
But according to the UN agency, the number of irregular migrants arriving by sea in January 2015 increased by around 60 per cent over the same month last year, when Mare Nostrum was in place.
Laurens Jolles, UNHCR Executive Officer for Southern Europe, said it was "astonishing" that the EU had not built on the success of Mare Nostrum, given the "magnitude of the humanitarian  crisis in progress".
Michael Diedring, Secretary General of the European Council on Refugees and Exiles said: "It's a question of life or death and the EU needs to engage now to save lives".
As the gravity of the latest incident began to sink in, Federica Mogherini, the EU's foreign affairs chief and a former Italian foreign minister, announced she was calling for an "emergency meeting" on migrant deaths.
The Italian coalition government, of which Ms Mogherini was a member until October 2014, succumbed to right wing pressure to phase out the Mare Nostrum at the end of the last year, claiming that the migrant crisis was the responsibility of the whole continent. It was replaced by the Triton system, run by Frontex – launched with resources of just €3m a month, a third of what the Italian navy had at it disposal. Natasha Bertaud, a spokesperson for the European Commission, said that in the aftermath of a tragedy, "pointing fingers is not going to get us anywhere". But she conceded that Frontex was not up to the task of preventing carnage in the Mediterranean.
Mare Nostrum was set up by the former Italian Prime Minister, Enrico Letta, after two migrant disasters in October 2013. In the worst accident, a boat capsized off the Sicilian island of Lampedusa, killing more than 360 people. The Government said it saved over 100,000 lives at sea. Mr Letta called today for it to be brought back.
In pictures: Global refugee crisis
In pictures: Global refugee crisis
1/41 Yemeni refugees

Yemeni refugees carry water to their tent at the Mazraq internally displaced people's camp in the northwestern province of Hajja

2/41 Yemeni refugees

A displaced man from Yemen's Saada province amid UNHCR tents at a camp set up by the United Nations High Commissioner for Refugees in Mazraq in Yemen's Hajja region, 360 kms northwest of Sanaa

3/41 Yemeni refugees

Yemeni refugees queue to get food aid at the Marzaq internally displaced people's camp in Harad in the northwestern province of Hajjah

4/41 Yemeni refugees

Displaced Yemenis from al-Jaachan Al-Ansin, a village in the province of Ibb, some 200km South-East of Sanaa, stand next to their tents in a makeshift refugee camp in Sanaa

5/41 Yemeni refugees

Yemeni refugees walk to a refugee camp in the southern Saudi province of Jizan after crossing the border from Yemen into Saudi Arabia

6/41 Syrian refugees

Syrian refugees arrive in Turkey at the Cilvegozu crossing gate of Reyhanli, in Hatay. The number of people driven from their homes by conflict and crisis has topped 50 million for the first time since World War II, with Syrians hardest hit, the UN refugee agency (UNCHR) said, in an annual report released on World Refugee Day

7/41 Syrian refugees

Syrian refugees walking among tents at Karkamis' refugee camp near the town of Gaziantep, south of Turkey

8/41 Sudanese refugees

South Sudanese refugees waiting for food in the Kule refugee camp near the Pagak Border Entry point in the Gambella Region, Ethiopia

9/41 African refugees

African refugees live homelessly at a temporary shelter beside a road on World Refugee Day in Sana'a, Yemen. The number of African refugees who have come to Yemen during the past few years has reached 750,000, most of them are Somalis

10/41 Iraqi refugees

An Iraqi refugee girl from Mosul stands outside her family's tent at Khazir refugee camp outside Irbil, 217 miles (350 kilometers) north of Baghdad, Iraq. The militants' capture of Iraq's cities of Mosul and Tikrit makes their dream of a new Islamic state look more realistic. It already controlled a swath of eastern Syria along the Euphrates River, with a spottier presence extending further west nearly to Aleppo, Syria's largest city. In Raqqa, the biggest city it holds in Syria, it imposes taxes, rebuilds bridges and enforces the law - its strict version of Shariah

11/41 Iraqi refugees

Refugees queue to register at a temporary camp in northern Iraq

Getty Images

12/41 Syrian refugees

A young Syrian refugee stands near jerry cans used to collect water at Al-Zaatri refugee camp in the Jordanian city of Mafraq, near the border with Syria. The United Nations hopes that political talks between the warring sides in Syria will clinch local ceasefires to allow vital food and medicines to reach millions of civilians

13/41 Syrian refugees

A child refugee from the northern province of Raqqa in Syria, reacts from the cold weather in a Syrian refugee camp beside the Lebanese border town of Arsal, in eastern Bekaa Valley

Reuters

14/41 Syrian refugees

Boys help their father remove snow in front of their tent in the Azaz refugee camp

15/41 Syrian refugees

A Syrian refugee family from Aleppo crosses the Bosphorus from Uskudar to the European side of Istanbul

16/41 Syrian refugees

A child refugee stands next to a home constructed using a billboard in the settlement of Qab Elias in the Bekaa Valley, Lebanon

PA

17/41 Syrian refugees

Refugee baby Rim in the settlement of Qab Elias in the Bekaa Valley, Lebanon

PA

18/41 African refugees

Refugees arriving at a camp near Bossangoa, 190 miles north of Bangui, the capital. Forty-one thousand people fled their homes following mass executions in the area

Juan Carlos Tomasi/Médecins Sans Frontières/Doctors Without Borders

19/41 Syrian refugees

Representatives of Syrian President Bashar al-Assad, a deeply divided opposition, world powers and regional bodies started a long-delayed peace conference aimed at bringing an end to a nearly three-year civil war

20/41 Iraqi refugees

A women and a girl wash at a tap at a temporary displacement camp set up next to a Kurdish checkpoint in Kalak. Thousands of people have fled Iraq's second city of Mosul after it was overrun by Isis (Islamic State of Iraq and Syria) militants. Many have been temporarily housed at various IDP (internally displaced persons) camps around the region including the area close to Erbil, as they hope to enter the safety of the nearby Kurdish region

21/41 Iraqi refugees

Families arrive at a Kurdish checkpoint next to a temporary displacement camp in Kalak

22/41 Iraqi refugees

An Iraqi refugee girl from Mosul stands outside her family's tent at Khazir refugee camp outside Irbil, 217 miles (350 kilometers) north of Baghdad, Iraq. Days after Iraq's second-largest city fell to Isis fighters, some Iraqis are already returning to Mosul, lured back by insurgents offering cheap gas and food, restoring power and water and removing traffic barricades

23/41 Iraqi refugees

A girl, who fled from the violence in Mosul, carries a case of water at a camp on the outskirts of Arbil in Iraq's Kurdistan region

24/41 Iraqi refugees

A displaced Iraqi woman washes her family's laundry as the children shower outside their tent at a temporary camp set up to shelter civilians fleeing violence in Iraq's northern Nineveh province in Aski kalak, 40 kms west of the Kurdish autonomous region's capital Arbil

25/41 Iraqi refugees

Iraqi refugees from Mosul arrive at Khazir refugee camp outside Irbil, 217 miles (350 kilometers) north of Baghdad

AP

26/41 Sudanese refugees

The international Red Cross said that the road from Bor to the nearby Awerial area 'is lined with thousands of people' waiting for boats so they could cross the Nile River and that the gathering of displaced 'is the largest single identified concentration of displaced people in the country so far'

27/41 Sudanese refugees

People unload the few belongings at Minkammen, that they were able to bring with them to the camps

28/41 Sudanese refugees

Thousands of exhausted civilians are crowding into the fishing village of Minkammen, a once-tiny riverbank settlement of a few thatch huts 25 kilometres (20 miles) southwest of Bor

29/41 Sudanese refugees

Many people had spent days hiding out in the bush outside Bor as gunmen battled for control of the town, which has exchanged hands three times in the conflict, and remains in rebel control

30/41 Sudanese refugees

A young boy pulls his suitcase of belongings as he walks to find a place to rest after getting off a river barge from Bor

31/41 Sudanese refugees

A displaced family camp under a tree providing partial shade from the midday sun

32/41 Sudanese refugees

A boy carries a fish, caught from the nearby Nile river, in a cardboard box on his head back to his relatives to eat

33/41 Sudanese refugees

A mother and her baby, one of the few to have a mosquito net, wake up in the morning after sleeping in the open

34/41 Sudanese refugees

Four-month old Haida Majzub was born in the Ajuong Thok refugee camp inside South Sudan. The camp, in northern Unity State, hosts thousands of refugees from the Nuba Mountains, located across the nearby border with Sudan

35/41 Sudanese refugees

A girl fills a container with muddy water in the Ajuong Thok Refugee Camp

36/41 Sudanese refugees

The clashes in South Sudan began when uniformed personnel opened fire at a meeting of the governing party, the Sudan People's Liberation Movement

37/41 Myanmar refugees

45 year old Dilbhar looks towards the camera as she stands in the Shamalapur Rohingya refugee settlement in Chittagong district. She escaped to Bangladesh from the Bodchara village in the Mondu district of Myanmar

38/41 Myanmar refugees

32 year old Mahada Khatum, 5 year old Hasan Sharif, and 9 year old Umma Kulsum sit outside their home in the Shamalapur Rohingya refugee settlement in Chittagong district. The family escaped violence and discrimination from the Zomgara Baharchara village in the Meherulla district of Myanmar

39/41 Myanmar refugees

Hamid and his daughter Rajama sit inside their home in the Shamalapur Rohingya refugee settlement in Chittagong district. They fled to Bangladesh from the Dhuachopara village in the Rachidhong district of Myanmar

40/41 Afghan refugees

Afghan children wait for relief supplies from the Muslim Hands United For The Needy during an aid distribution at a refugee camp on the outskirts of Kabul

41/41 Afghan refugees

Afghan people carry relief supplies received from the Muslim Hands United For The Needy during an aid distribution at a refugee camp on the outskirts of Kabul
Giusi Nicolini, the mayor of Lampedusa, said: "The 366 deaths at Lampedusa counted for nothing. The words of the Pope counted for nothing. We are going back to where we were before Mare Nostrum."
Ms Nicolini said she would seek to meet the Interior Minister, Angelino Alfano, "as soon as possible" in order to pressure the government to overhaul rescue services before the spring.
Many experts fear the arrival of warmer weather will bring with it a deadly new surge in numbers fleeing North Africa and the Middle East.
Mare Nostrum deployed five ships including two frigates with helicopter landing pads, an amphibious ship with a crew of 180, and two patrol vessels, as well as helicopters, drones and other coast guard air assets. Triton operates with seven smaller patrol boats, one helicopter and four fixed wing aircraft. Crucially, the boundaries of Triton's operating area are limited to 30 nautical miles from the Italian coast, whereas Mare Nostrum ventured much further out to sea.
Paolo Gentiloni, Italy's current foreign minister, said: "Triton is a start but it's not sufficient and the scope of the initiative are reduced compared to Mare Nostrum".
Martin Xuereb, director of the rescue charity Migrant Offshore Aid Station, said: "Migrants are being pushed to leave their homes, not pulled to Europe. They are getting onto boats in rough seas and freezing weather, knowing the rescue missions have stopped. This is their last resort." 
Reuse content