Greek police have locked migrants in a football stadium on Kos for over 24 hours, where dozens have been treated for panic attacks and a number have reported police beatings, as the situation continued to deteriorate.
Around a thousand men, women and children were given no food or water on the island, where they are waiting to be registered by authorities after arriving on boats from Turkey, according to Doctors Without Borders.
Medics with charity said they treated around 28 refugees fleeing Syria and other warzones for panic attacks after police threw stun grenades, which emit blinding flashes of light and deafening bangs, into the crowds on Wednesday.
Around 20 migrants also fainted from hunger, dehydration, lack of food and exhaustion in the 33C heat.
Hundreds of people were seen climbing the stadium's 12-foot perimeter wall to go and buy food and one man was taken away in an ambulance after he fell and seriously injured his leg.
"What we see now is a completely disproportionate focus on security management of these people without the relative humanitarian assistance that they need," MSF's Vangelis Orfanoudakis told the Associated Press.
"There are just two toilets, no access to water, they now have put a water hose for all the people. The situation is really dramatic."
Police, who ordered the migrants into the stadium after clearing them out of makeshift camps in parks and other public spaces, had handed out around 300 travel documents by Wednesday afternoon.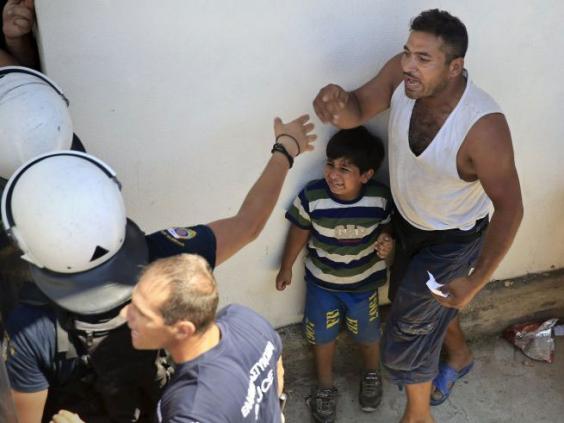 Riot officers sprayed fire extinguishers and moved into the crowd with batons as anger mounted at the conditions and hours of waiting, with migrants chanting "we want papers, we want to eat" in a repeat of clashes seen on Tuesday.
A spokeswoman for the charity confirmed that around 28 migrants had been treated for panic attacks, and at least six had reported police beatings.
One police officer has been suspended from work on the island after allegedly slapping a Pakistani migrant and threatening him with a knife, local media reported.
"The situation here is very bad and police here they beat a boy, they beat a man, they beat children, it's too bad," Syrian refugee Laith Saleh, who is in the stadium, said. "We can't go out."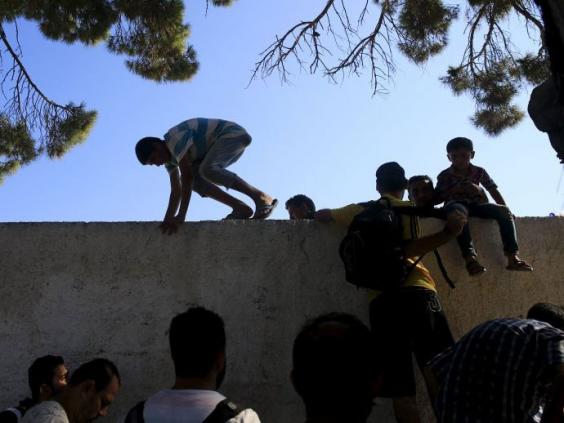 United Nations refugee agency the UNHCR has slammed the situation on Kos and other Greek islands as "total chaos", saying that it must offer food and shelter despite the ongoing economic crisis.
For many refugees, the conditions are still a vast improvement on what they left behind. 
Dirar, an English graduate from Syria, said Kos was nothing compared to his hometown of Aleppo, which he called the "worst city in the world".
"There's no electricity, no water, no internet," he added. "My home was destroyed by a rocket blast. I was so happy to be alive."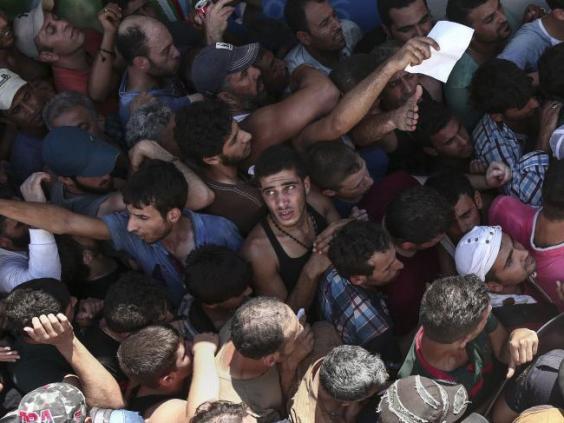 Most refugees say they are leaving economically-troubled Greece as soon as possible after gaining temporary travel papers to continue their trek through the Balkans and central Europe to wealthier countries.
Kos saw 7,000 migrants arrive last month and the number is expected to continue rising as smugglers, avoiding fighting in Libya and the deadly Mediterranean crossing, use alternative routes.
But authorities on the island have not provided any food or water since April, or opened reception centres like those set up across Italy to house arrivals until they can move on.
Brice de le Vingne, MSF's Director of Operations, said the charity had been lobbying for basic facilities to be introduced for months and was "very worried" about the situation.
Migrants mingle with holidaymakers in Kos
Migrants mingle with holidaymakers in Kos
1/14 Boat migrants in Kos

Migrants watch a father and daughter cycle past as they wait outside a police station to receive temporary traveling papers

AP

2/14 Boat migrants in Kos

Tourists pass by a Syrian refugee sleeping on a bench at the coast of Kos island

EPA

3/14 Boat migrants in Kos

Afghan migrants stand in front of the police station as a woman runs past on 27 May

AFP/Getty Images

4/14 Boat migrants in Kos

An Afghan immigrant sleeps on a bench outside a local police station as tourists cycle by

Reuters

5/14 Boat migrants in Kos

An Afghan family heads to the port of Kos with Athens as a destination on Wednesday

AP

6/14 Boat migrants in Kos

Baloch, from Pakistan, wears a blanket as he waits outside the police station

AP

7/14 Boat migrants in Kos

Migrants buy goods from from a van, on the island of Kos

AP

8/14 Boat migrants in Kos

Immigrants staying in a deserted hotel on the Greek island of Kos look at newly-arrived refugees

Reuters

9/14 Boat migrants in Kos

Afghan migrants wash next to a deserted hotel, where hundreds have found temporary shelter

AFP/Getty Images

10/14 Boat migrants in Kos

Afghan children inside a room of an abandoned hotel on the island of Kos

EPA

11/14 Boat migrants in Kos

A migrant hangs his clothes on a fence of an abandoned hotel

AP

12/14 Boat migrants in Kos

An Afghan woman sits with her child at a dock at the port of Kos

AP

13/14 Boat migrants in Kos

Afghan immigrants land at a beach after landing in a dinghy on 27 May

Reuters

14/14 Boat migrants in Kos

A dinghy overcrowded with migrants is towed into Kos as the influx looks set to continue

Reuters
"What was previously a situation of state inaction is now one of state abuse, with police using increasing heavy handed force against these vulnerable people," he added.
"The Kos authorities have clearly stated that they have no intention of improving the situation for these people as they believe that this would constitute a 'pull factor'.  
"But the truth is that people fleeing war will keep on coming whether or not the authorities are trying to stop them from doing so."
Additional reporting by AP
Reuse content