Five more Ukrainian soldiers have died as fighting continues to rage with pro-Russian rebels while politicians scramble to thrash out a new peace deal.
Hours of talks between European leaders and Vladimir Putin ended without an agreement on the crisis yesterday and Francois Hollande believes these talks could be the last chance at a peaceful resolution.
"If we don't manage to find not just a compromise but a lasting peace agreement, we know perfectly well what the scenario will be. It has a name, it's called war," the French President warned after returning to France.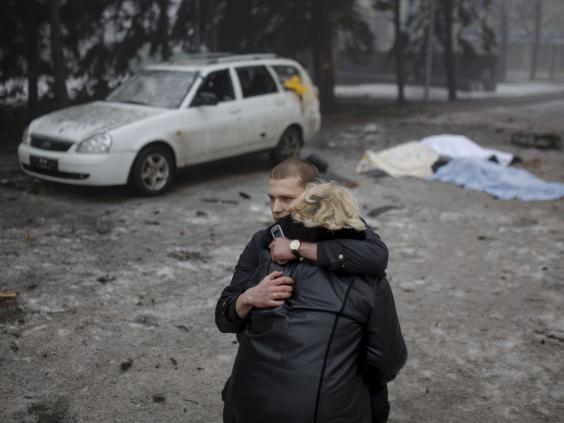 More than 5,000 people have been killed so far in the conflict, including civilians hit by shelling and caught in the crossfire between government troops and rebels.
Pro-Russian separatists have stepped up shelling of government forces on front lines and appear to be massing forces for new offensives on the key railway town of Debaltseve and the coastal city of Mariupol, the government military said on Saturday.
Five Ukrainian soldiers have been killed and 26 wounded in fighting in the past 24 hours.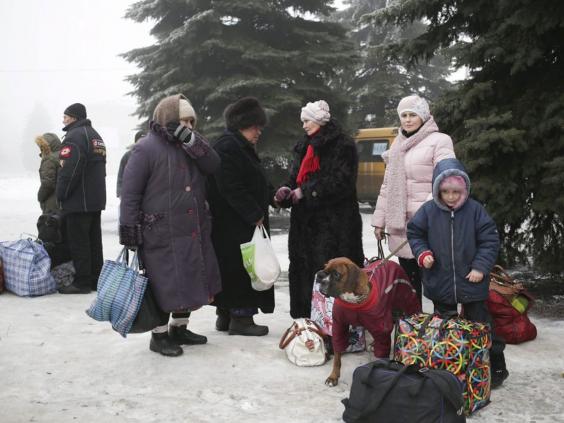 Angela Merkel voiced doubts on whether a deal can be reached or maintained at a meeting attended by Ukrainian President Petro Poroshenko and US Vice President Joe Biden today.
Addressing the Munich Security Conference, the German Chancellor said it was "uncertain whether (the talks) will be successful" and cautioned that previous truces, such as the ceasefire that collapsed in September, had not been "good experiences".
Ukraine crisis: A timeline of the conflict
Ukraine crisis: A timeline of the conflict
1/22 30 November 2013

Public support grows for the "Euromaidan" anti-government protesters in Kiev demonstrating against Yanukovych's refusal to sign the EU Association Agreement as images of them injured by police crackdown spread.

EPA

2/22 20 February 2014

Kiev sees its worst day of violence for almost 70 years as at least 88 people are killed in 48 hours, with uniformed snipers shooting at protesters from rooftops.

AFP/Getty Images

3/22 22 February 2014

Yanukovych flees the country after protest leaders and politicians agree to form a new government and hold elections. The imprisoned former Prime Minister, Yulia Tymoshenko, is freed from prison and protesters take control of Presidential administration buildings, including Mr Yanukovych's residence.

Genya Savilov/AFP/Getty Imageses

4/22 27 February 2014

Pro-Russian militias seize government buildings in Crimea and the new Ukrainian government vows to prevent the country breaking up as the Crimean Parliament sets a referendum on secession from Ukraine in May.

Sean Gallup/Getty Images

5/22 16 March 2014

Crimea votes overwhelmingly to secede from Ukraine and join Russia in a ballot condemned by the US and Europe as illegal. Russian troops had moved into the peninsula weeks before after pro-Russian separatists occupied buildings.

EPA

6/22 6 April 2014

Pro-Russian rebels seize government buildings in the eastern cities of Donetsk, Luhansk and Kharkiv, calling for a referendum on independence and claiming independent republic. Ukraine authorities regain control of Kharkiv buildings on 8 April after launching an "anti-terror operation" but the rest remain out of their control.

EPA/PHOTOMIG

7/22 7 June 2014

Petro Poroshenko is sworn in as Ukraine's president, calling on separatists to lay down their arms and end the fighting and later orders the creation of humanitarian corridors, since violated, to allow civilians to flee war zones.

Getty Images

8/22 27 June 2014

The EU signs an association agreement with Ukraine, along with Georgia and Moldova, eight months after protests over the abandonment of the deal sparked the crisis.

LOUISA GOULIAMAKI/AFP/Getty Images

9/22 17 July 2014

Malaysian Airlines flight MH17 is shot down over eastern Ukraine, killing all 298 people on board. Ukrainian intelligence officials claim it was hit by rebels using a Buk surface-to-air launcher in an apparent accident.

10/22 22 August 2014

A Russian aid convoy of more than 100 lorries enters eastern Ukraine and makes drop in rebel-controlled Luhansk without Government permission, sparking allegations of a "direct violation of international law".

Reuters/Alexander Demianchuk

11/22 29 August 2014

Nato releases satellite images appearing to show Russian soldiers, artillery and armoured vehicles engaged in military operations in eastern Ukraine.

Nato

12/22 8 September 2014

Russia warns that it could block flights through its airspace if the EU goes ahead with new sanctions over the ongoing crisis and conflict

EPA

13/22 17 September 2014

Despite the cease-fire and a law passed by the Ukrainian parliament on Tuesday granting greater autonomy to rebel-held parts of the east, civilian casualties continued to rise, adding to the estimated 3,000 people killed

Reuters

14/22 16 November 2014

The fragile ceasefire gives way to an increased wave of military activity as artillery fire continues to rock the eastern Ukraine's pro-Russian rebel bastion of Donetsk

Getty

15/22 26 December 2014

A new round of ceasefire talks, scheduled on neutral ground in the Belariusian capital Minsk, are called off

AFP/Getty

16/22 12 January 2015

Soldiers in Debaltseve were forced to prepare heavy defences around the city; despite a brief respite to the fighting in eastern Ukraine, hostilities in Donetsk resumed at a level not seen since September 2014

AFP/Getty

17/22 21 January 2015

13 people are killed during shelling of bus in the rebel-held city of Donetsk

Reuters

18/22 24 January 2015

Ten people were killed after pro-Russian separatists bombarded the east Ukrainian port city of Mariupol

AP

19/22 2 February 2015

There was a dangerous shift in tempo as rebels bolstered troop numbers against government forces

AFP/Getty

20/22 11 February 2015

European leaders meet in Minsk and agree on a ceasefire in eastern Ukraine beginning on February 14. From left to right: Belarus President Alexander Lukashenko, Russian President Vladimir Putin, German Chancellor Angela Merkel, France's President Francois Hollande and Ukrainian President Petro Poroshenko.

MAXIM MALINOVSKY | AFP | Getty Images

21/22 13 February 2015

Pro-Russian rebels in the city of Gorlivka, in the Donetsk region, fire missiles at Ukrainian forces in Debaltseve. Fighting continued in Debaltseve for a number of days after the Minsk ceasefire began.

ANDREY BORODULIN | AFP | Getty Images

22/22 18 February 2015

Ukrainian soldiers repair the bullet-shattered windshield of their truck as their withdraw from the strategic town of Debaltseve. Following intense shelling from pro-Russian rebels, Ukrainian forces began to leave the town in the early hours of February 18.

Brendan Hoffman | Getty Images
But Ms Merkel also said the floated option of the US sending more arms to Ukrainian government forces would not work either.
"I understand the debate but I believe that more weapons will not lead to the progress Ukraine needs. I really doubt that," she added. "There is already a large number of weapons in the region and I don't see that this has made a military solution more likely."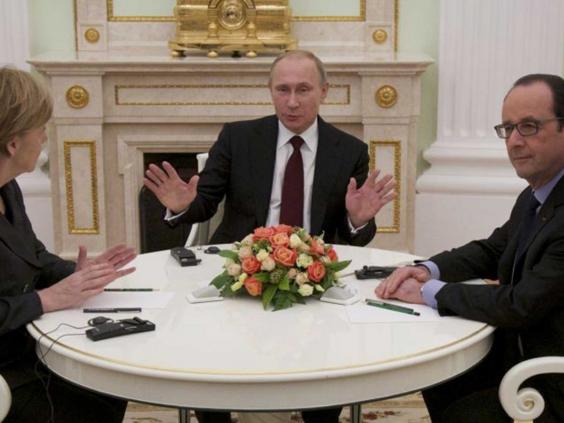 The Chancellor and President Hollande flew home from Moscow in the dead of night after five hours of talks with Putin on Friday that yielded little beyond a promise to keep talking.
Ms Merkel is flying to Washington on Sunday to meet Barack Obama, when President Poroshenko is due to receive a peace plan described as "constructive and substantive".
Philip Hammond insisted the UK remains a "key player" in the peace process after a former Nato commander said the Prime Minister had become "a diplomatic irrelevance" in the crisis.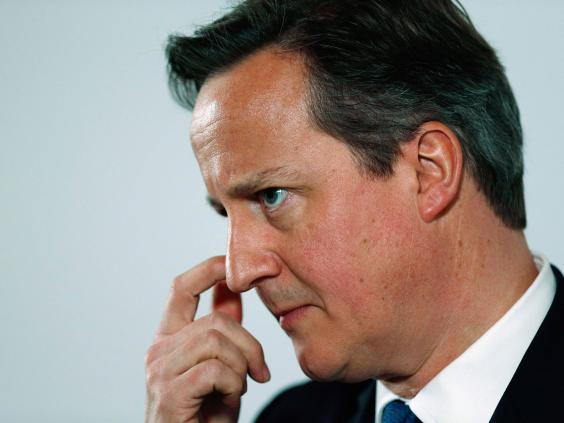 The Foreign Secretary dismissed General Sir Richard Shirreff's description of David Cameron as "ludicrous".
Mr Hammond was in Germany today to meet with other foreign ministers over the progress made.
It was pressure from the UK that ensured tough sanctions were imposed that pushed Mr Putin to the negotiating process in the first place, he said.
"We are about to sit down here and have a meeting to discuss where we go now, what the options are," he told BBC Radio 4's Today programme.
"We will decide, together, what is the best way to go forward. The United States and the United Kingdom will be at that table with France and Germany.
"What is being painted is a ludicrous proposition that France and Germany are somehow doing their own thing. It is inconceivable that without the United States there will be a solution to this crisis."
Additional reporting by agencies
Reuse content