Russia's notorious roads, where crashes are frequent and payments to corrupt transport police can seldom be avoided, will not have to deal with what the Kremlin views as a new and "dangerous" threat:  transgender and transsexual drivers.
In another sign of Moscow's  intolerance of the LGBT community, the government has launched the ban that will, apparently, reduce road traffic accidents. For in Russia, transsexualism and transgenderism are now listed along with fetishism and voyeurism as examples of "mental disorders" that can make someone "unfit" to drive.
The new road safety rules, signed by the Prime Minister, Dmitry Medvedev, have been published on the government's official website. The government says the number of road accidents in the country justifies tightening medical controls on drivers, but fails to show how sexual orientation is connected to driving ability.
"Psychiatric disorders" including schizophrenia and drug addiction are also included in the new ban, prompting medical experts to warn that those suffering from mental health issues may be discouraged from seeking help for fear of being banned from driving.
The A-list opposing Russia's anti-gay laws
The A-list opposing Russia's anti-gay laws
1/15 When Madonna performed in Russia, she took to the stage with the words "No Fear" scrawled across her back. "Show your love and appreciation to the gay community," she urged her audience.

2/15 "In solidarity. From Russia with love," Tilda Swinton posted alongside this photograph of her holding a rainbow flag in support of the LGBT community outside the Kremlin in Moscow.

3/15 "As a gay man, I can't leave those people on their own without going over there and supporting them," Elton John said ahead of his boycotted string of shows in Russia in 2013. "I don't know what's going to happen, but I've got to go."

4/15 "The Russian government is criminal," Lady Gaga tweeted in August. "Oppression will be met with revolution. Russian LGBTs you are not alone. We will fight for your freedom." She later noted: "Sending bravery to LGBTs in Russia. The rise in government abuse is archaic. Hosing teenagers with pepper spray? Beatings? Mother Russia?"

5/15 "I think we should do more than just send gay Olympians there," the Star Trek actor said in a recent interview. ''What's happening there in terms of gay rights or the lack of it is extraordinary and awful."

6/15 Gay Star Trek actor George Takei that Russia's "cynical and deplorable actions against the LGBT community have given license to hate groups within its borders to act with violence and impunity against a group, based solely on whom they were born to love."

7/15 Prisonbreak star Wentworth Miller publicly came out in an open letter to Russia regarding its anti-gay laws. "I am deeply troubled by the current attitude toward and treatment of gay men and women by the Russian government," he wrote, turning down an invitation to a Russian film festival. "The situation is in no way acceptable, and I cannot in good conscience participate in a celebratory occasion hosted by a country where people like myself are being systematically denied their basic right to live and love openly."

8/15 Jamie Lee Curtis was one of many celebrities who joined the 'Love Conquers Hate' T-shirt initiative, lauched by the Human Rights Campaign, the largest gay rights activist group in the US.

9/15 Kevin Bacon also joined the 'Love Conquers Hate' initiative."We stand with Russia's LGBT community and their allies," said HRC President Chad Griffin. "We are committed to doing as much as we possibly can to support their efforts to repeal this heinous law."

10/15 "I'd boycott Russian goods if I could think of a single thing they made besides the rest of the world depressed," Hugh Laurie posted on Twitter in January 2014.

11/15 "I can't name names but my friend called who is a big oligarch over there, and asked me if I'd like to be an ambassador for the Olympics and open the show," Cher told Maclean's writer Elio Iannacci. "I immediately said no. I want to know why all of this gay hate just exploded over there."

12/15 Putin "is making scapegoats of gay people, just as Hitler did Jews," Stephen Fry warned in his appeal to the IOC.

13/15 "For real: Tell Russia & the @Olympics that #LoveConquersHate. Join @HRC and share your pic. #Sochi14," actress Kristen Bell tweeted, promoting her gay rights advocacy T-shirt scheme.

14/15 "Help us show Russia & the world that #LoveConquersHate," Wolf of Wall Street star Jonah Hill tweeted as part of the same campaign alongside a picture of himself wearing the T-shirt.

15/15 Grammy-winning singer Melissa Etheridge released a song, "Uprising of Love", in support of the Russian LGBT community, and partnered with Bruce Cohen to launch a coalition of celebrities and influential public figures, too.
Human rights and gay rights activists were swift to condemn the legislation. The Association of Russian Lawyers for Human Rights called it "discriminatory".
A statement on the group's website said the decision would "cause serious violations of human rights" and demonstrated "prejudice against groups of citizens".
It said: "The decision demonstrates the invasion of the privacy of each person who plans to drive a vehicle…  The resolution discriminates [against] individuals and groups of citizens [which] obviously contradicts the international legal norms and standards and the Constitution of the Russian Federation."
The organisation suggested the new law would lead to a "new growth in corruption" and said it would present its complaints to the Presidential Council on Human Rights, the Constitutional Court of the Russian Federation and international organisations.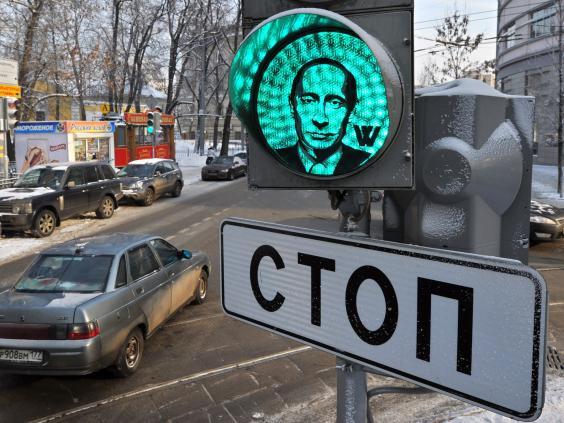 Mr Medvedev's decision will do little to improve Russia's poor record on LGBT rights. Despite the relaxation of some anti-gay laws after the fall of the Soviet Union in 1991, the Russian government has continued to pass restrictive laws such as the curbs on Gay Pride parades.
In 2013, the controversial "gay propaganda" law banning the "promotion of non-traditional sexual relations" was passed, enforcing fines of up to 5,000 roubles (£53) for anyone caught "propagandising" homosexuality to anyone aged 18 or under. Its implementation a year before Sochi Winter Olympics of 2014 led to widespread calls from LGBT-rights activists and world leaders for the games to be boycotted.
The editor of PinkNews, Joseph Patrick McCormick, said: "It is clear from this move by the Russian government that regulations are being exploited in an effort to crack down on minority groups. It is unclear what being transgender has to do with a person's ability to drive, so banning trans people from driving seems a bizarre and irrational move."
But the head of the Russian Professional Drivers Union, Alexander Kotov, defended the government's decision. He said: "We have too many deaths on the road, and I believe toughening medical requirements for applicants is fully justified." However, he added that only professional drivers should be subject to such strict rules.
The law makes reference to "personality and behavioural disorders" listed in the World Health's Organisation's (WHO) International Classification of Diseases (ICD). Under the WHO categorisations, people with gambling addictions could potentially also be prevented from driving.
A WHO spokesman said: "The issue of whether to move the 'transsexualism' category from the ICD chapter on mental and behavioural disorders is being examined as part of the ongoing process."