As Ukraine's Minister for Tax and Revenue under Viktor Yanukovych, it was Oleksandr Klymenko's job to go after the oligarchs who had a stranglehold on one of the most corrupt and inefficient economies in Europe.
They bitterly resented his actions, however – and since Mr Yanukovych was ousted they have been getting their revenge.
That is the charge levelled by Mr Klymenko, 35, who is now in exile in Moscow and is accused of corruption and organising violence in his native country. He has been placed on the European Union's sanctions list at the request of the post-revolutionary government in Kiev, meaning his assets are at risk and he cannot travel to or through the EU; and now he has decided to come out fighting against the claims.
"It is nothing but political persecution aimed at demonising me," the former minister told The Independent. "This is payback from those who have vested interests and are now in a position of power."
His persecutors, he claimed, include Petro Poroshenko, Ukraine's Western-leaning President, who was elected in June last year after the popular uprising in Kiev, four months earlier, that caused Mr Yanukovych to flee to Russia. Mr Poroshenko's company, the Roshen Confectionery Corporation, was among those that Mr Klymenko's ministry had investigated.
The change of government in Ukraine was the catalyst for the pro-Russian separatist movement in eastern Ukraine that – after two years of fighting – still holds sway over much of the Donbas region.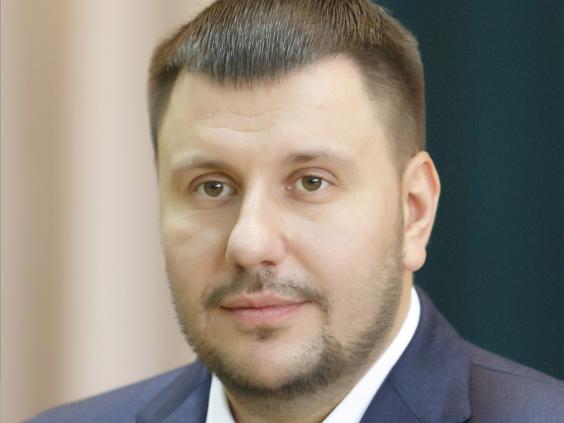 Mr Klymenko insisted that he himself believes in a unified Ukraine and did not want the Donbas – where his own roots lie – to break away; he supports the Minsk Agreement, meant to end the fighting between the Ukrainian government and the separatists. 
A management graduate with a master's degree in finance, his own businesses have included commercial property, packaging and publishing. He insisted that he was not anti-Western; indeed, he said, he had worked "productively" with the International Monetary Fund on reforms of the Ukrainian tax system and had brought in the accountancy firm, PWC, to advise his ministry.
In the process, Mr Klymenko claimed, he made formidable enemies who now "want to keep me away from politics" by levelling what he says are unfounded charges against him. His intention to try to clear his name has been bolstered by a recent decision by the General Court of the European Union. 
The court ruled that the European Council acted wrongly when it put another Ukrainian official, Andriy Portnov, on the EU sanctions list solely on the basis of a letter from the Kiev government accusing him of fraud.
Mr Klymenko maintained that he was merely a "technocrat" in the Yanukovych government, and had not been close to the President who was to be overthrown by the Maidan protests in February last year. 
"The new authorities in Kiev have tried to create the myth I was close to Mr Yanukovych," he said. "Mr Poroshenko himself actually had good access to the government. 
"The last time I saw Mr Yanukovych was in Ukraine in February 2014. I have not seen him in Russia apart from on television, when he was talking about ostriches – make of that what you will. Did he make mistakes in handling the Maidan? Yes, we all made mistakes, there was no proper dialogue."
The current Ukrainian President's office pointed out that Mr Klymenko is accused of extremely serious charges, including the creation of bogus companies, extortion and money laundering; and Mr Klymenko can be accused of being self-serving in making allegations against it, given his bitter legal confrontation with the authorities in Kiev.
Mr Klymenko maintains that the fateful encounters which he claims were a key factor in what has befallen him occurred when his tax ministry investigated the business affairs of the Roshen Corporation, the multinational confectionery empire which led to Mr Poroshenko being nicknamed the Chocolate King. Significant penalties were imposed on Roshen by the inspectors and these were bitterly disputed by the billionaire entrepreneur and his company, who felt they were being unfairly treated.
Mr Klymenko told The Independent: "When we were investigating Roshen, Mr Poroshenko himself came to see me personally, and not just once, to express his disapproval about what we were doing. He also spoke to other members of government. Roshen was insistently requesting that we change the course of the investigation. They were addressing me publicly, but also privately. But we stood our ground and they had to agree to pay the taxes they owed. And now this is payback time for me."
The new President's office refused to comment on Mr Klymenko's claim of meetings between Mr Poroshenko and him during the Roshen investigation.
Mr Poroshenko has been much in the international headlines since he became President, as Ukraine fell into its bitter separatist conflict and Russia annexed Crimea. As leader of a country seen as being in the front line of a new Cold War, he has received both political and financial backing from the West.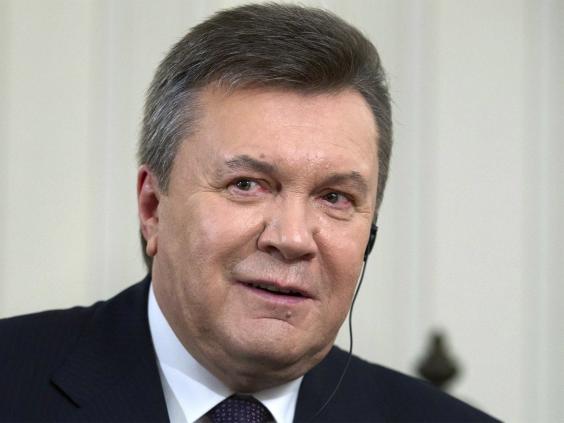 But an opinion poll conducted two months ago found that just 3 per cent of Ukrainians were satisfied with the pace of reform and, astonishingly, 51 per cent believed that the Yanukovych government, accused by its opponents of being a kleptocracy, had actually been better at combating corruption.
Speaking over breakfast at a Moscow restaurant, Mr Klymenko, a burly, bearded and jovial figure, said that after the revolution Roshen had refused to pay the penalty charges imposed by the tax investigation, and the government under Mr Poroshenko had meanwhile begun prosecutions of tax inspectors. Roshen claims that the penalties were wrongly imposed, and the current government says that the tax inspectors abused their power.
Mr Poroshenko, it is clear, had been deeply concerned by the investigation into his companies and raised his concerns at senior levels of the government at the time. In November 2013, he complained that the main threat to Roshen was not from Russia – where the firm has assets – but that of "the so-called security forces, including tax authorities [in Ukraine]."
He expressed his gratitude that at a meeting with Ukraine's then Prime Minister, "it was very clearly stated that the Ukrainian government will be tough in preventing such illegal intervention of the tax authorities into the activities of enterprises".
According to Ukraine's ministry of taxes and revenues at the time, inspections were carried out on 11 enterprises connected to Roshen in 2010, 2011 and 2012. These established that "a number of violations of tax legislation were taking place" and imposed additional taxes of 47m Ukrainian hryvnia – equivalent to £1.3m. Almost 5m hryvnia had already been paid into the state budgets, it said.
Mr Poroshenko's predicament was recalled by an amused Mr Klymenko as he sipped coffee. "You must understand – at that time Poroshenko was trying to build his resumé as a Western-oriented, transparent businessman, paying all his taxes. 
"But we were saying 'Excuse me, there is a problem here with this very "Western" businessman, problems of fictitious contracts and not paying taxes.' So it wasn't as beautiful as it looked. It was not purely commercial for him, it was about his reputation, so he was getting very upset."
But almost exactly as President Yanukovych was ousted, according to recent court documents, "all allegations against Roshen were lifted ... as not having reasonable basis." The Poroshenko government's internal affairs ministry is now investigating alleged abuse of power by those same tax inspectors, and papers lodged in a Ukrainian court two months ago claimed there was no "reasonable basis" for the inspections of Roshen – which, the document said, meant that "businesses of current President Poroshenko were charged additional tax in the amount of 118.2m hryvnia and 23 criminal proceedings were initiated". 
The ministry, the papers showed, requested that a VAT tax official should be suspended for two months – a request denied by the court.
It was in March 2014, while under the caretaker presidency of Oleksander Turchynov, that the Ukrainian government asked the EU to place 20 former officials in the Yanukovych government on the EU sanctions list, imposing travel restrictions and freezing their assets, mostly over alleged widespread theft of public funds.
One of those on the list, Andriy Portnov, was accused of misappropriating land and wrongfully claiming a state salary, as well as nothing less than mass murder of activists during the Maidan protests. 
But a court in Kiev threw out the charges and the EU removed him from its sanctions list, along with three others accused by the Kiev authorities of various crimes.
In its ruling last month, the General Court of the EU stated: "The court finds that the [EU] Council identified Mr Portnov as responsible for the misappropriation of Ukrainian state funds solely on the basis of a letter of 3 March 2014 from the Public Prosecutor's Office of Ukraine, which stated that the investigation into, amongst others, Mr Portnov had 'made it possible to establish misappropriation of sizeable amounts of state funds and the subsequent illegal transfer of those funds outside Ukraine'."
It said the letter had failed to provide any details of the case against Mr Portnov and concluded that the inclusion of his name on the list "does not satisfy the criteria for designating persons whose funds are to be frozen",
Like Mr Portnov, Mr Klymenko – along with the former Prime Minister Sergei Arbuzov – had also been accused by the Ukrainian secret service of being involved in violence. The two men, it was claimed, financed the disturbances in the port of Odessa which led to 46 deaths. However, no charges were brought and Mr Klymenko subsequently won a civil case, for defamation, against the secret service in Ukrainian courts.
"I have no idea why they decided to say myself and Arbuzov were involved in the terrible events at Odessa, as the court case showed here was no connection at all," said Mr Klymenko.
"I suppose it could be because we were both in the news at the time; they had accused us of stealing a lot of money and thought they could say we have financed it. It is unbelievable that officials can tell such lies publicly. I don't think this would happen in Britain or Germany. I won my case and proved there was not a single word of truth in the claims, but no one has ever apologised."
World news in pictures
World news in pictures
1/30 24 June 2016

A rider rears up on his horse while surrounded by a cheering crowd during the traditional Fiesta of Sant Joan (Saint John) in downtown Ciutadella, on the island of Menorca, Spain

REUTERS

2/30 24 June 2016

A man throws a bucket of water at a motorcyclist as residents join in a water-splashing frenzy to honor their patron St. John the Baptist's Feast Day in San Juan, Metro Manila, Philippines

REUTERS

3/30 23 June 2016

Migrant workers supporting Myanmar Foreign Minister and State Counselor Aung San Suu Kyi wave to her during a meeting at the coastal fishery centre of Samut Sakhon, Thailand

REUTERS

4/30 23 June 2016

A general view shows the financial district of Lujiazui in Shanghai

AFP/Getty Images

5/30 23 June 2016

A cat walks past Muslim women offering afternoon prayers at a mosque at the shrine of Sufi Saint Khawaja Naqashband during the holy month of Ramadan in Srinagar

REUTERS

6/30 23 June 2016

A test launch of ground-to-ground medium long-range ballistic rocket Hwasong-10 in North Korea

REUTERS

7/30 22 June 2016

Family members cry near coffins containing the bodies of Nepali nationals, who were killed when a suicide bomber struck a minibus in Kabul, lined up after being flown from Afghanistan at Tribhuvan International Airport in Kathmandu, Nepal

REUTERS

8/30 22 June 2016

Villagers carry banners which read "Plead the central government to help Wukan" (in red) and "Wukan villagers don't believe Lin Zuluan took bribes" during a protest in Wukan, China's Guangdong province

REUTERS

9/30 21 June 2016

A plane drops retardant on a wildfire as it attacks the flames on a hillside in the San Gabriel mountains near Monrovia, California

REUTERS

10/30 21 June 2016

Aymara indigenous hold up their hands to receive the first rays of sunlight in a New Year's ritual in the ruins of the ancient city Tiwanaku, Bolivia. Bolivia's Aymara Indians are celebrating the year 5,524 as well as the Southern Hemisphere's winter solstice, which marks the start of a new agricultural cycle

AP

11/30 21 June 2016

A resident making his way through a flooded area in a village in Poyang county, in southeast China's Jiangxi province

AFP/Getty Images

12/30 20 June 2016

Seagulls fly as the full moon rises behind the ancient marble Temple of Poseidon at Cape Sounion, southeast of Athens, on the eve of the summer solstice

AP

13/30 20 June 2016

An aerial view shows people practising yoga on a glass sightseeing platform ahead of the International Day of Yoga, on the outskirts of Beijing, China

REUTERS

14/30 20 June 2016

Dessana indigenous shaman Raimundo Dessana holds the Olympic Torch during a ritual at the Tupe Reservation in the outskirts of Manaus, Amazonas, Brazi

AFP/Getty Images

15/30 20 June 2016

An emu runs to escape an approaching wildfire as it burns near Potrero, California

REUTERS

16/30 20 June 2016

Wales' supporters cheer downtown Toulouse, before the Euro 2016 football match of Russia vs Wales

AFP/Getty Images

17/30 19 June 2016

A rescuer grabs a rope to prevent a raft carrying residents from being flushed away as residents are evacuated from a flooded area in Jiujiang, China

REUTERS

18/30 19 June 2016

Palestinians scuffle with an Israeli border policeman as Israeli troops demolish sheds belonging to Palestinians near the West Bank village of Yatta, south of Hebron

REUTERS

19/30 19 June 2016

People hold placards reading "A kiss against hate", "Rome loves Europe" as they gathered in front of the Colosseum to send a message of affection, sealed with a kiss to Britain, before next week's referendum, in Rome, Italy

REUTERS

20/30 19 June 2016

People perform dragon dance and present it in a shape of the Chinese character "father" to celebrate Father's Day in Yueyang, China

REUTERS

21/30 19 June 2016

A humming bird is seen landing on a bird feeder at a public square in Santiago, Chile

REUTERS

22/30 18 June 2016

A reveller participates in Regenbogenparade gay pride parade in Vienna, Austria

REUTERS

23/30 18 June 2016

Mohammed Tofeeq holds his 10-month-old daughter, Gulshan Tofeeq, while he prays at the grave of his wife Muqadas Tofeeq, who local police say was killed by her mother, in Butrawala village on the outskirts of Gujranwala in Pakistan. Police have arrested the mother of Muqadas Tofeeq who is accused of killing her pregnant daughter for marrying against the wishes of her family. Violence against women is not uncommon in Pakistan where nearly 1,000 women are killed each year in so-called "honor killings" for violating conservative norms on love and marriage

AP

24/30 17 June 2016

A relative of a an Indian man convicted for the 2002 Gujarat riots cries after the court announced the lengths of the sentences in Ahmadabad, India. An Indian court has sentenced 11 people to life in prison for murder in one of the many deadly religious riots that swept across the western state of Gujarat in 2002, leaving more than 1,000 dead. Special Court Judge P. B. Desai rejected the demand for death penalty as the prosecution failed to prove charges of criminal conspiracy against the defendants. The judge also sentenced 12 defendants to seven years in prison and one to 10 years in prison in the case

AP

25/30 17 June 2016

Police officers hug as they pay homage to the two police officials killed by an extremist claiming allegiance to IS, during a ceremony in Versailles, near Paris. Police commander Jean-Baptiste Salvaing and his companion, police administrator Jessica Schneider were stabbed by attacker Larossi Abballa, who was killed in a police raid

AP

26/30 17 June 2016

A long exposure photograph shows star trails in the night sky over a camp in Altyn-Emel national park, in Almaty region, Kazakhstan

REUTERS

27/30 16 June 2016

A member of the Indian LGBT community attends a vigil in Mumbai, in solidarity with the victims of the Orlando mass shooting

AFP/Getty Images

28/30 16 June 2016

Dockers hold up flares during a protest against what they say is a lack of job stability in Lisbon, Portugal

REUTERS

29/30 16 June 2016

New recruit "Pepper" the robot, a humanoid robot designed to welcome and take care of visitors and patients, holds the hand of a new born baby next to his mother at AZ Damiaan hospital in Ostend, Belgium

REUTERS

30/30 16 June 2016

Souad Hamidi, 19, removes the niqab she said she had been forced to wear since 2014, after U.S.-backed Syria Democratic Forces took control of her village Am Adasa in northern Syria from Islamic State fighters, in the outskirts of Manbij, Aleppo province, Syria

REUTERS
Embezzlement charges still hang over Mr Klymenko, although he has won a separate civil case for defamation in relation to some of the allegations. "They claim I have stolen 6bn hryvnia (£174m)," he said. 
"Of course I totally deny it. The stupid thing is that if you make such a serious charge, you need to be sure of your evidence and you would want to show what you have.
"But it took my lawyers nine months even to get access to the case files, I had to go to court to make that happen. The EU sanctions were based on these. Prosecutor generals keep changing and each new one says, 'What happened under my predecessor is nothing to do with me'. I have written to Swiss banks asking them to tell the EU if I have any assets; the sanctions haven't led to any country cancelling my visas.
"I want to be able to go to court on the criminal case as I did in the civil ones as soon as possible. But the idea is to keep me away from Ukrainian politics. I used to be a technocrat, but now I have a political vision for my country. People may not agree with what I have to say, but I want a chance to say it in my country, Ukraine."
Meanwhile, he points out, Mr Poroshenko's company maintains business operations in Russia, among other countries, despite Ukraine's stand-off with Moscow. Russian authorities claim that Roshen received illegal VAT refunds amounting to £2.3m, and have ordered the seizure of one of its factories. The company denies the claims which, it says, are politically motivated and arise from Mr Poroshenko's fierce criticism of Moscow's backing for separatist forces in eastern Ukraine.
At an international conference in Kiev three months ago, the President was asked why he had failed to sell his shares in Roshen, which had revenues of $1bn (£670m) last year, and 10 other concerns, as he had promised he would after winning the election 16 months ago. Mr Poroshenko said it had not been possible to find a buyer in the current economic climate – though recently published figures showed the value of his assets rose 20 per cent to £653m in the last year.
Ukrainian activists have found that taxes paid by Mr Poroshenko's concerns to Russian authorities are enough to fund 82,000 Russian soldiers every year, even as Russian soldiers have been fighting Ukrainian forces. Opposition politicians have relished raising this against the President.
The deputy head of the President's administration, Dmitry Simkin, has repeated that Mr Poroshenko would fulfil his promise to sell Roshen, although it would not be easy. "It's like asking Bill Gates to sell Microsoft", he said.
Mr Klymenko said: "Despite what my enemies say, the fact is that I wanted the system to be transparent. That's why I brought in PwC, for instance. How transparent are the people running Ukraine now?"