President Francois Hollande has said France will welcome 30,000 refugees in the next two years.
His renewal of the pledge originally made in September comes just days after militant group Isis said it was responsible for the Paris terror attacks, which claimed the lives of 129 people and injured hundreds.
During his speech to a gathering of France's mayors in Paris, President Hollande acknowledged that the "tragic events" had "sown doubts" in some people's minds. But he called it a "humanitarian duty" to help the refugees, ABC News reported.
According to the Guardian, he said: "Some people have tried to draw a connection between the movement of refugees from the Middle East and the terrorist threat. This link exists because people from Iraq and Syria live in areas controlled by Islamic State and are killed by those who attack us."
He assured the audience that France's security would be a priority though, according to The Huffington Post.
"We also have to verify people who are coming onto the European territory and into France to make sure there are zero risks for our country. So we will be executing necessary verification before accepting any refugees onto our soil."
President Hollande's commitment to welcome the refugees has garnered praise from many people.
One social media user said: "This is what strength looks like."
Another said: "So much grace in the face of evil."
@ABC this is what strength looks like

— Mark Montesano (@mark_my_words4) November 18, 2015
Master class in how to not let fear win: French Pres. Hollande commits to taking 30,000 refugees in next 2 years. Via @ABC

— Left Leaning Cock (@LeftLeaningCock) November 18, 2015
@ABC And Ohio and other states refuse ?? Noble leader ! What our governors should be learning do from his statement.

— Kathy Snyder (@ShelbyKathy) November 18, 2015
Refusing to give ISIS the pleasure of his fear, President Hollande says he will accept 30,000 refugees.

— Kristen Maxwell (@Kmax2go) November 18, 2015
In the speech, President Hollande also said that following the attacks, "life should resume fully".
"What would France be without its museums, without its terraces, its concerts, its sports competitions?"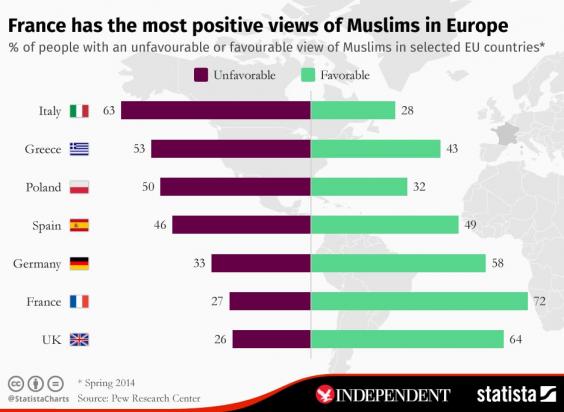 According to research collected last year, France had the most positive view of Muslim people compared with other European countries.