Attacks on refugee accommodation have doubled in Austria, seeing homes firebombed, vandals spray Nazi graffiti on walls and a man threaten to "get a gun and shoot the dogs".
The interior ministry revealed the figures at the request of an MP, who said the vast majority of cases were motivated by hatred and called for more to be done to catch the culprits.
Albert Steinhauser, an opposition Green party politician, said he was dismayed to find out that more than three quarters of the 49 recorded cases remain unsolved.
"The most important thing is for the interior ministry to take these incidents seriously and make every necessary effort to investigate," he told the Austria Press Agency.
Among the incidents was a firebombing that saw two Molotov cocktails launched at a refugee home in Himberg, Lower Austria, in November.
It was one of several reported arsons, including a fire in Rohrbach, Upper Austria, in June, which damaged one accommodation centre so badly it had to be evacuated and rebuilt.
Police said refugees were put at severe risk in August when assailants broke into a storage unit and cut a gas supply hose "to cause a leak" that went unnoticed for more than a week.
Authorities said the motivations of the perpetrators were unknown, but they could have caused poisoning or a gas explosion.
In May, a man approached a centre in the Alpine town of Imst and shouted threats at asylum seekers, saying he would "get a gun and shoot the dogs". He was later arrested.
The following month, a man falsely posing as a police officer entered a home in Fulpmes armed with a baton to carry out a supposed "inspection".
Other attacks involved fireworks, paintball guns and homemade Molotov cocktails, while others saw stones and other projectiles launched at windows.
Most incidents involved vandalism, including the smashing of windows and spraying of racist and Nazi graffiti, including swastikas, the phrase "Heil Hitler" and SS runes. 
Activists believe many more incidents may have occurred in 2016 than the 49 officially recorded, compared to 25 in 2015.
The interior ministry also listed numerous attacks and threats by asylum seekers, including carers being threatened with "decapitation" gestures in Linz, where another refugee told his supervisor "I will kill you all".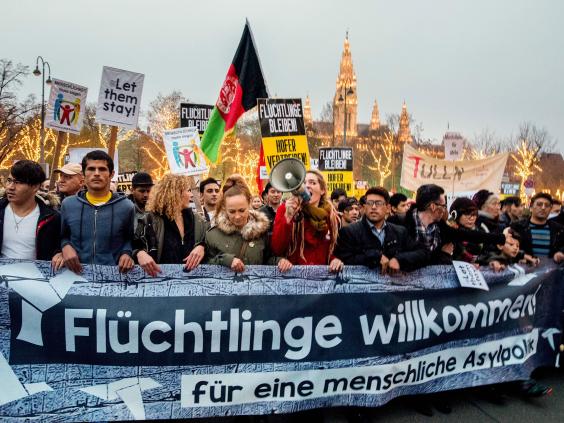 At least two sexual assaults were recorded. In one attack in Bad Hall in June, a female supervisor was threatened with a smashed glass, pinned to a wall by the neck and assaulted until she managed to flee.
A female worker was repeatedly assaulted by a migrant in Poysdorf, attempting to kiss her, grabbing her breasts and leaving her with a bleeding lip on one occasion.
A female social worker was forcibly held in her office and prevented from making phone calls by three Afghan asylum seekers in Görtschach, who told police they terrorised her for five hours "because she was a woman and a 'bitch'".
"We have to look closely at what the causes are. We strongly suspect that trauma, experiences of war and extreme violence play a role," Mr Steinhauser said, calling for better psychiatric care.
In all but two of 49 violent incidents or threats against workers recorded at refugee homes the perpetrators were caught, the interior ministry said.
More than 130,000 people have applied for asylum in Austria since the start of the refugee crisis, with the country sitting on the route from the Greek islands into western Europe.
In neighbouring Germany, more than 900 attacks on refugee homes were recorded in 2016, with the arrival of more than one million asylum seekers driving a spike in political violence and hate speech.
Refugee crisis - in pictures
Refugee crisis - in pictures
1/27

A child looks through the fence at the Moria detention camp for migrants and refugees at the island of Lesbos on May 24, 2016.

AFP/Getty Images

2/27

Ahmad Zarour, 32, from Syria, reacts after his rescue by MOAS (Migrant Offshore Aid Station) while attempting to reach the Greek island of Agathonisi, Dodecanese, southeastern Agean Sea

3/27

Syrian migrants holding life vests gather onto a pebble beach in the Yesil liman district of Canakkale, northwestern Turkey, after being stopped by Turkish police in their attempt to reach the Greek island of Lesbos on 29 January 2016.

Getty Images

4/27

Refugees flash the 'V for victory' sign during a demonstration as they block the Greek-Macedonian border

5/27

Migrants have been braving sub zero temperatures as they cross the border from Macedonia into Serbia.

6/27

A sinking boat is seen behind a Turkish gendarme off the coast of Canakkale's Bademli district on January 30, 2016. At least 33 migrants drowned on January 30 when their boat sank in the Aegean Sea while trying to cross from Turkey to Greece.

Getty Images

7/27

A general view of a shelter for migrants inside a hangar of the former Tempelhof airport in Berlin, Germany

8/27

Refugees protest behind a fence against restrictions limiting passage at the Greek-Macedonian border, near Gevgelija. Since last week, Macedonia has restricted passage to northern Europe to only Syrians, Iraqis and Afghans who are considered war refugees. All other nationalities are deemed economic migrants and told to turn back. Macedonia has finished building a fence on its frontier with Greece becoming the latest country in Europe to build a border barrier aimed at checking the flow of refugees

9/27

A father and his child wait after being caught by Turkish gendarme on 27 January 2016 at Canakkale's Kucukkuyu district

10/27

Migrants make hand signals as they arrive into the southern Spanish port of Malaga on 27 January, 2016 after an inflatable boat carrying 55 Africans, seven of them women and six chidren, was rescued by the Spanish coast guard off the Spanish coast.

11/27

A refugee holds two children as dozens arrive on an overcrowded boat on the Greek island of Lesbos

12/27

A child, covered by emergency blankets, reacts as she arrives, with other refugees and migrants, on the Greek island of Lesbos, At least five migrants including three children, died after four boats sank between Turkey and Greece, as rescue workers searched the sea for dozens more, the Greek coastguard said

13/27

Migrants wait under outside the Moria registration camp on the Lesbos. Over 400,000 people have landed on Greek islands from neighbouring Turkey since the beginning of the year

14/27

The bodies of Christian refugees are buried separately from Muslim refugees at the Agios Panteleimonas cemetery in Mytilene, Lesbos

15/27

Macedonian police officers control a crowd of refugees as they prepare to enter a camp after crossing the Greek border into Macedonia near Gevgelija

Getty Images

16/27

A refugee tries to force the entry to a camp as Macedonian police officers control a crowd after crossing the Greek border into Macedonia near Gevgelija

Getty Images

17/27

Refugees are seen aboard a Turkish fishing boat as they arrive on the Greek island of Lesbos after crossing a part of the Aegean Sea from the Turkish coast to Lesbos

Reuters

18/27

An elderly woman sings a lullaby to baby on a beach after arriving with other refugees on the Greek island of Lesbos after crossing the Aegean sea from Turkey

Getty Images

19/27

A man collapses as refugees make land from an overloaded rubber dinghy after crossing the Aegean see from Turkey, at the island of Lesbos

EPA

20/27

A girl reacts as refugees arrive by boat on the Greek island of Lesbos after crossing the Aegean sea from Turkey

Getty Images

21/27

Refugees make a show of hands as they queue after crossing the Greek border into Macedonia near Gevgelija

Getty Images

22/27

People help a wheelchair user board a train with others, heading towards Serbia, at the transit camp for refugees near the southern Macedonian town of Gevgelija

AP

23/27

Refugees board a train, after crossing the Greek-Macedonian border, near Gevgelija. Macedonia is a key transit country in the Balkans migration route into the EU, with thousands of asylum seekers - many of them from Syria, Afghanistan, Iraq and Somalia - entering the country every day

Getty Images

24/27

An aerial picture shows the "New Jungle" refugee camp where some 3,500 people live while they attempt to enter Britain, near the port of Calais, northern France

Getty Images

25/27

A Syrian girl reacts as she helped by a volunteer upon her arrival from Turkey on the Greek island of Lesbos, after having crossed the Aegean Sea

EPA

26/27

Refugees arrive by boat on the Greek island of Lesbos after crossing the Aegean sea from Turkey

Getty Images

27/27

Beds ready for use for migrants and refugees are prepared at a processing center on January 27, 2016 in Passau, Germany. The flow of migrants arriving in Passau has dropped to between 500 and 1,000 per day, down significantly from last November, when in the same region up to 6,000 migrants were arriving daily.
Austria, where the far-right Freedom Party (FPÖ) has seats in Parliament and almost had its leader elected President last year, has been hardening its stance towards refugees this year.
The government is doubling the amount of money offered to asylum seekers who leave the country voluntarily, while announcing plans to increase surveillance, ban the burqa and force refugees to sign an "integration contract" and work for benefits.
Christian Kern, the Austrian Chancellor, announced he would be seeking an exception from accepting more asylum seekers under EU quotas.
He argued that Austria had fulfilled its obligation and taken in its "fair share", sending a letter to kick-start negotiations with the European Commission on Tuesday.
Fewer than 14,500 migrants have been relocated from overcrowded camps in Greece and Italy under a two-year plan that was supposed to see 160,000 people housed by September.
Thousands of refugees continue to make treacherous sea crossings to Europe, with more dying than ever before on the passage between North Africa and Italy.
More than 28,000 asylum seekers have arrived this year, mostly from Syria, Afghanistan, Nigeria and Iraq, with at least 905 dying in the attempt.
Reuse content