Human smugglers made a record profit last year of between $3bn and $6bn (£2bn-£4bn) by exploiting the misery of refugees – which means governments must up their game or risk further growth of this ruthless industry, the head of Europol has told The Independent on Sunday. 
The business of human smuggling is now in the "Champions League" of criminal enterprises in Europe, Rob Wainwright said, close to rivalling the trade in illicit drugs. New research by the EU's law enforcement body based on debriefings with 1,500 asylum-seekers, refugees and economic migrants showed that 90 per cent had paid a criminal gang to reach Europe. 
With the UNHCR estimating that more than a million people have fled war, poverty and persecution in the past year risking their lives on the clandestine journey to Europe, that "means a lot of people making a lot of money", Mr Wainwright said.
"We also know that, on average, each migrant is paying between $3,000 and $6,000 to a criminal facilitator for their journey. So you do the simple math, and you're up to a turnover in 2015 of between $3bn- $6bn. They are big figures. It's running into billions of dollars made by criminal networks in one year alone in Europe."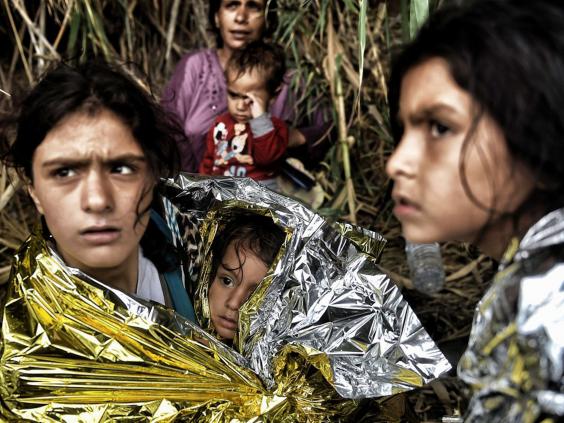 "Last year has been seismic in the development of the people-smuggling trade in Europe in particular, and we are now talking about its being a multibillion-dollar industry in the way it hasn't before, and the Champion's League of criminal sectors in Europe alongside drugs."
The criminal networks stretch from sub-Saharan Africa to Scandinavia, with tens of thousands of people involved in the trade. Mr Wainwright said that Europol identified 10,700 suspects last year alone, hinting at the scale of the illicit enterprise. The facilitators range from petty criminals, making fake passports, to taxi drivers taking migrants across countries and over borders, to established organised crime syndicates. 
A person fleeing their home will pay different smuggling gangs at different points throughout their journey. A Syrian may have to pay to leave their country without detection by the security forces, then buy fake documents in Turkey, before purchasing their perilous passage on a rubber dingy or boat launched into the waves, towards Greece. 
If they arrive safely on Europe's shores, another smuggler is engaged to taken them over the buffer of Balkan states to reach the passport-free Schengen zone and the chance of a safe life in richer nations such as Germany, Austria or Sweden. With Hungary and a number of other countries in Europe shutting down their borders and building fences, the migrants are forced to part with ever-increasing amounts of money to reach safety. 
Abuses are reported all along the migration routes: smugglers disappear with a family's life savings, scuttle boats on purpose to stop anyone returning to shore, or sell the most desperate people to kidnapping and extortion gangs.
Refugee crisis - in pictures
Refugee crisis - in pictures
1/27

A child looks through the fence at the Moria detention camp for migrants and refugees at the island of Lesbos on May 24, 2016.

AFP/Getty Images

2/27

Ahmad Zarour, 32, from Syria, reacts after his rescue by MOAS (Migrant Offshore Aid Station) while attempting to reach the Greek island of Agathonisi, Dodecanese, southeastern Agean Sea

3/27

Syrian migrants holding life vests gather onto a pebble beach in the Yesil liman district of Canakkale, northwestern Turkey, after being stopped by Turkish police in their attempt to reach the Greek island of Lesbos on 29 January 2016.

Getty Images

4/27

Refugees flash the 'V for victory' sign during a demonstration as they block the Greek-Macedonian border

5/27

Migrants have been braving sub zero temperatures as they cross the border from Macedonia into Serbia.

6/27

A sinking boat is seen behind a Turkish gendarme off the coast of Canakkale's Bademli district on January 30, 2016. At least 33 migrants drowned on January 30 when their boat sank in the Aegean Sea while trying to cross from Turkey to Greece.

Getty Images

7/27

A general view of a shelter for migrants inside a hangar of the former Tempelhof airport in Berlin, Germany

8/27

Refugees protest behind a fence against restrictions limiting passage at the Greek-Macedonian border, near Gevgelija. Since last week, Macedonia has restricted passage to northern Europe to only Syrians, Iraqis and Afghans who are considered war refugees. All other nationalities are deemed economic migrants and told to turn back. Macedonia has finished building a fence on its frontier with Greece becoming the latest country in Europe to build a border barrier aimed at checking the flow of refugees

9/27

A father and his child wait after being caught by Turkish gendarme on 27 January 2016 at Canakkale's Kucukkuyu district

10/27

Migrants make hand signals as they arrive into the southern Spanish port of Malaga on 27 January, 2016 after an inflatable boat carrying 55 Africans, seven of them women and six chidren, was rescued by the Spanish coast guard off the Spanish coast.

11/27

A refugee holds two children as dozens arrive on an overcrowded boat on the Greek island of Lesbos

12/27

A child, covered by emergency blankets, reacts as she arrives, with other refugees and migrants, on the Greek island of Lesbos, At least five migrants including three children, died after four boats sank between Turkey and Greece, as rescue workers searched the sea for dozens more, the Greek coastguard said

13/27

Migrants wait under outside the Moria registration camp on the Lesbos. Over 400,000 people have landed on Greek islands from neighbouring Turkey since the beginning of the year

14/27

The bodies of Christian refugees are buried separately from Muslim refugees at the Agios Panteleimonas cemetery in Mytilene, Lesbos

15/27

Macedonian police officers control a crowd of refugees as they prepare to enter a camp after crossing the Greek border into Macedonia near Gevgelija

Getty Images

16/27

A refugee tries to force the entry to a camp as Macedonian police officers control a crowd after crossing the Greek border into Macedonia near Gevgelija

Getty Images

17/27

Refugees are seen aboard a Turkish fishing boat as they arrive on the Greek island of Lesbos after crossing a part of the Aegean Sea from the Turkish coast to Lesbos

Reuters

18/27

An elderly woman sings a lullaby to baby on a beach after arriving with other refugees on the Greek island of Lesbos after crossing the Aegean sea from Turkey

Getty Images

19/27

A man collapses as refugees make land from an overloaded rubber dinghy after crossing the Aegean see from Turkey, at the island of Lesbos

EPA

20/27

A girl reacts as refugees arrive by boat on the Greek island of Lesbos after crossing the Aegean sea from Turkey

Getty Images

21/27

Refugees make a show of hands as they queue after crossing the Greek border into Macedonia near Gevgelija

Getty Images

22/27

People help a wheelchair user board a train with others, heading towards Serbia, at the transit camp for refugees near the southern Macedonian town of Gevgelija

AP

23/27

Refugees board a train, after crossing the Greek-Macedonian border, near Gevgelija. Macedonia is a key transit country in the Balkans migration route into the EU, with thousands of asylum seekers - many of them from Syria, Afghanistan, Iraq and Somalia - entering the country every day

Getty Images

24/27

An aerial picture shows the "New Jungle" refugee camp where some 3,500 people live while they attempt to enter Britain, near the port of Calais, northern France

Getty Images

25/27

A Syrian girl reacts as she helped by a volunteer upon her arrival from Turkey on the Greek island of Lesbos, after having crossed the Aegean Sea

EPA

26/27

Refugees arrive by boat on the Greek island of Lesbos after crossing the Aegean sea from Turkey

Getty Images

27/27

Beds ready for use for migrants and refugees are prepared at a processing center on January 27, 2016 in Passau, Germany. The flow of migrants arriving in Passau has dropped to between 500 and 1,000 per day, down significantly from last November, when in the same region up to 6,000 migrants were arriving daily.
With many of the people-smuggling networks now getting involved in other criminal enterprises such as narcotics trafficking, security services and governments need to redouble their efforts to shut them down, Mr Wainwright said. 
"Criminals that were active in the drugs business or predominantly active in the people-smuggling business are now turning their hand to a bit of both and are finding that their contacts and networks and routes and methods of concealment can work in both fields." 
The first challenge for governments and policing agencies was dealing with the scale of the new arrivals. If a million more people want to come to Europe this year, there is "a natural demand for these criminal services, which will therefore sustain a long-term growth model for this particular criminal sector", Mr Wainwright said.
"We're going to have to up our game in terms of dismantling this criminal infrastructure in a more successful way then we have done in the past," he added.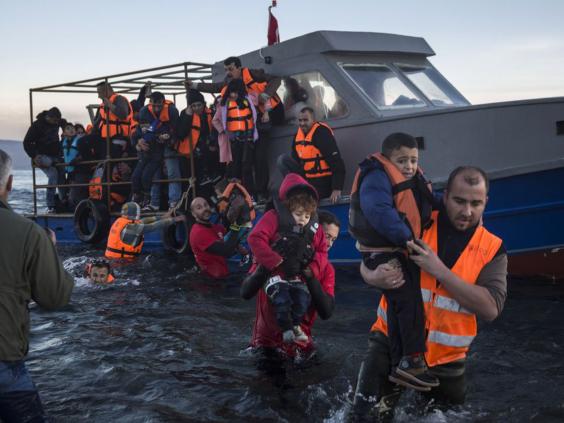 Countries in the EU needed to work on a coordinated response to the crisis, both at the entry point to the Union and in intelligence-sharing to target the criminal kingpins. Better planning of international arrest operations would help, he said, while police forces across the bloc needed to prioritise complaints related to smuggling. 
And intelligence-sharing and cooperation between nations was all the more important, given indications that terror groups may be now exploiting the chaotic response to the refugee crisis. 
Two members of the gang of Isis-affiliated attackers who killed 130 people in Paris on 13 November had apparently entered Europe using the Balkan migration route, and Mr Wainwright said it was crucial to make sure Greece was supplied with the technology, manpower and resources to carry out effective security screening of all new arrivals.
"When you put the external border of the EU under such strain that it has to cope with a million new arrivals at just a few of the external border points, then you can see how difficult it is to run a systematic and reliable screening process," he said. "This is the single most important thing to get right: to make sure that we can help the Greek authorities, who have been swamped." 
Germany proposes fuel levy to fund European aid for refugees
Germany's finance minister, Wolfgang Schäuble (above), has floated the idea of a European tax on petrol to help finance the Continent's efforts to manage the crisis. The EU has struggled to find common ground. Germany and Sweden  have allowed large numbers of refugees in but others are reluctant to share the burden. 
"If the funds in national budgets and the European budget aren't enough, let's agree, for example, to raise a levy on every litre of gasoline," Mr Schäuble told the daily newspaper Sueddeutsche Zeitung. "Why not agree this at the European level if the task is so urgent?"
Meanwhile, the UN's refugee agency, the UNHCR, is to seek more resources for Turkey, the world's largest host of refugees, and has called for a "massive resettlement" of Syrian and other refugees within Europe.
"We will do whatever we can to help the Turkish government find additional resources for people living here under temporary protection to make their lives as good as we can," said Filippo Grandi, who took the helm at the UNHCR this month and met refugees at camps near the Syrian border.
AP