Refugees landing on Greek islands will be deported within days under a "decisive" draft deal with Turkey. 
The German Chancellor, Angela Merkel, said the deal "gives [the EU] a chance to get a sustainable, pan-European solution to the refugee issue".
She was speaking on the eve of a summit to sign the deal which will fast rack Turkey's application to join the EU in exchange for readmitting refugees who have already crossed the Aegean Sea to Greece.
Ms Merkel, who drafted the deal with other EU leaders, said: "What is at stake tomorrow and the day after tomorrow is whether we can get a deal that, for the first time, gives us a chance to get a sustainable, pan-European solution to the refugee issue".
She warned other leaders not to be "deceived" by the current drop-off in the numbers of people arriving in Germany caused by Austria shutting its borders.
She said: "The current easing that Germany and some other member states is experiencing is one thing. The situation in Greece is the other and it must be a big concern to us all because it is not without consequences for us all in Europe".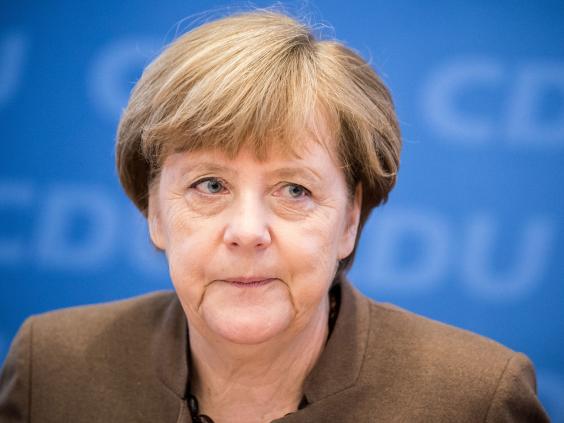 The border closures across the continent have created a bottleneck in financially strapped Greece which local officials say is untenable. 
What does the deal mean? 
The deal will mean Turkey will exchange refugees who cross the Aegean Sea with asylum seekers living in their camps on a one-to-one basis to encourage asylum seekers to use legal challenges. 
They will also receive €6bn (£4.7bn) in aid and visa-free travel for their citizens from June.
Reception centres on the holiday islands of Lesbos, Chios and Leros will be turned into detention camps and all refugees will undergo face-to-face interviews with EU asylum officials before having any appeals decided upon before Greek judges in fast-tracked hearings.  
Why is it so controversial? 
Turkey is not a signatory of the Geneva convention on refugee rights and currently deports some asylum seekers from Iraq and Afghanistan to war zones - which is forbidden under EU law. 
The deal has been watered down - with the interview process in Greece being included after the UN Refugee Agency (UNHCR) said mass deportation was a violation of international law - and the EU will only start deporting refugees if Greek judges agree conditions and legal processes in Turkey are up to same standard as theirs.   
Many EU leaders are uncomfortable about making a deal to remove restrictions on Turkish citizens' travel and the increasingly authoritarian rule of President Recep Tayyip Erdogan. 
Refugee crisis - in pictures
Refugee crisis - in pictures
1/27

A child looks through the fence at the Moria detention camp for migrants and refugees at the island of Lesbos on May 24, 2016.

AFP/Getty Images

2/27

Ahmad Zarour, 32, from Syria, reacts after his rescue by MOAS (Migrant Offshore Aid Station) while attempting to reach the Greek island of Agathonisi, Dodecanese, southeastern Agean Sea

3/27

Syrian migrants holding life vests gather onto a pebble beach in the Yesil liman district of Canakkale, northwestern Turkey, after being stopped by Turkish police in their attempt to reach the Greek island of Lesbos on 29 January 2016.

Getty Images

4/27

Refugees flash the 'V for victory' sign during a demonstration as they block the Greek-Macedonian border

5/27

Migrants have been braving sub zero temperatures as they cross the border from Macedonia into Serbia.

6/27

A sinking boat is seen behind a Turkish gendarme off the coast of Canakkale's Bademli district on January 30, 2016. At least 33 migrants drowned on January 30 when their boat sank in the Aegean Sea while trying to cross from Turkey to Greece.

Getty Images

7/27

A general view of a shelter for migrants inside a hangar of the former Tempelhof airport in Berlin, Germany

8/27

Refugees protest behind a fence against restrictions limiting passage at the Greek-Macedonian border, near Gevgelija. Since last week, Macedonia has restricted passage to northern Europe to only Syrians, Iraqis and Afghans who are considered war refugees. All other nationalities are deemed economic migrants and told to turn back. Macedonia has finished building a fence on its frontier with Greece becoming the latest country in Europe to build a border barrier aimed at checking the flow of refugees

9/27

A father and his child wait after being caught by Turkish gendarme on 27 January 2016 at Canakkale's Kucukkuyu district

10/27

Migrants make hand signals as they arrive into the southern Spanish port of Malaga on 27 January, 2016 after an inflatable boat carrying 55 Africans, seven of them women and six chidren, was rescued by the Spanish coast guard off the Spanish coast.

11/27

A refugee holds two children as dozens arrive on an overcrowded boat on the Greek island of Lesbos

12/27

A child, covered by emergency blankets, reacts as she arrives, with other refugees and migrants, on the Greek island of Lesbos, At least five migrants including three children, died after four boats sank between Turkey and Greece, as rescue workers searched the sea for dozens more, the Greek coastguard said

13/27

Migrants wait under outside the Moria registration camp on the Lesbos. Over 400,000 people have landed on Greek islands from neighbouring Turkey since the beginning of the year

14/27

The bodies of Christian refugees are buried separately from Muslim refugees at the Agios Panteleimonas cemetery in Mytilene, Lesbos

15/27

Macedonian police officers control a crowd of refugees as they prepare to enter a camp after crossing the Greek border into Macedonia near Gevgelija

Getty Images

16/27

A refugee tries to force the entry to a camp as Macedonian police officers control a crowd after crossing the Greek border into Macedonia near Gevgelija

Getty Images

17/27

Refugees are seen aboard a Turkish fishing boat as they arrive on the Greek island of Lesbos after crossing a part of the Aegean Sea from the Turkish coast to Lesbos

Reuters

18/27

An elderly woman sings a lullaby to baby on a beach after arriving with other refugees on the Greek island of Lesbos after crossing the Aegean sea from Turkey

Getty Images

19/27

A man collapses as refugees make land from an overloaded rubber dinghy after crossing the Aegean see from Turkey, at the island of Lesbos

EPA

20/27

A girl reacts as refugees arrive by boat on the Greek island of Lesbos after crossing the Aegean sea from Turkey

Getty Images

21/27

Refugees make a show of hands as they queue after crossing the Greek border into Macedonia near Gevgelija

Getty Images

22/27

People help a wheelchair user board a train with others, heading towards Serbia, at the transit camp for refugees near the southern Macedonian town of Gevgelija

AP

23/27

Refugees board a train, after crossing the Greek-Macedonian border, near Gevgelija. Macedonia is a key transit country in the Balkans migration route into the EU, with thousands of asylum seekers - many of them from Syria, Afghanistan, Iraq and Somalia - entering the country every day

Getty Images

24/27

An aerial picture shows the "New Jungle" refugee camp where some 3,500 people live while they attempt to enter Britain, near the port of Calais, northern France

Getty Images

25/27

A Syrian girl reacts as she helped by a volunteer upon her arrival from Turkey on the Greek island of Lesbos, after having crossed the Aegean Sea

EPA

26/27

Refugees arrive by boat on the Greek island of Lesbos after crossing the Aegean sea from Turkey

Getty Images

27/27

Beds ready for use for migrants and refugees are prepared at a processing center on January 27, 2016 in Passau, Germany. The flow of migrants arriving in Passau has dropped to between 500 and 1,000 per day, down significantly from last November, when in the same region up to 6,000 migrants were arriving daily.
Over the past few weeks the government took over one of the country's most popular newspapers, Zaman, and has carried out an ongoing military crackdown on Kurdish militants. 
There is also "the unresolved question" of Cyprus - an EU member state which wants Turkey to recognise its sovereignty over the island and withdraw from the north of the country which it invaded in 1974 and declared as an independent state in 1983.
Additional reporting by Reuters