The number of refugees in the world has reached the highest level ever recorded, according to figures published by the United Nations (UN).
After an increase of five million last year, the number of people displaced by conflict – refugees, asylum seekers or those displaced internally – was at an estimated 65.3 million by the end of 2015.
It is the equivalent of one in every 113 people on the planet, according to the UN Refugee Agency, and if considered a nation would make up the 21st largest in the world.
In its annual report to mark World Refugee Day, the UN said it was the first time the number of refugees worldwide had passed the 60 million mark.
On average 24 people were displaced from their homes every minute of every day during 2015 – some 34,000 people per day.
"World leaders can no longer watch passively as so many lives are needlessly lost" - @RefugeesChief #WithRefugeeshttps://t.co/EiWm9KASTj

— UN Refugee Agency (@Refugees) June 20, 2016
Lamenting the largest refugee crisis of our time, Ban Ki-moon, the UN Secretary General,described it "not just a crisis of numbers", but "a crisis of solidarity."
More than half of the world's refugee come from Syria, Afghanistan and Somalia.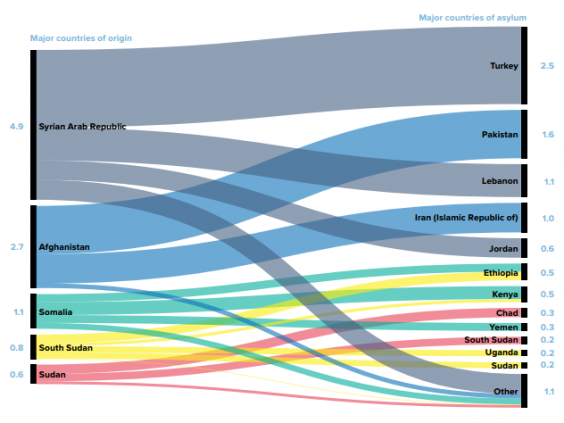 The UN said 86 per cent of the refugees under its mandate were being sheltered in low- and middle-income countries.
If the closure the Dadaab camp in Kenya, the largest refugee settlement in the world, is to go ahead it will risk a "humanitarian disaster", according to campaigners.
Johan Eldebo, World Vision UK's Senior Humanitarian Policy Adviser, said in a statement: "The Kenyan Government, like many others, is struggling to help millions of displaced and desperate people.
"But this is not just an issue for Kenya or Africa. Over 200,000 refugees have risked their lives this year to cross the Mediterranean to Europe. More than a quarter has come from Somalia and other war-torn East African countries such as the Democratic Republic of Congo and Burundi.
"It's time for Europe and the rest of the world to accept that we can't wish the refugee challenge away. We must take collective action to address the root causes driving migration and ensure refugees are not marginalised, or left unproductive for years in camps. Children must be given education, communities should have access to healthcare and adults must have work opportunities. Such factors restore dignity and reduce reliance on expensive and unsustainable aid hand-outs."
Filippo Grandi, the UN High Commissioner for Refugees, last week warned of a "climate of xenophobia" gripping Europe.
Speaking in Tehran, he said: "Refugees don't bring danger but flee from dangerous places.
UN warns of rising tensions as refugees flood into cities
UN warns of rising tensions as refugees flood into cities
1/22

UNHCR/ Zalmaï

2/22

UNHCR/ Zalmaï

3/22

UNHCR/ Zalmaï

4/22

UNHCR/ Zalmai

5/22

UNHCR/ Zalmai

6/22

UNHCR/ Zalmaï

7/22

UNHCR/ Zalmaï

8/22

UNHCR/ Zalmaï

9/22

UNHCR/ Zalmaï

10/22

UNHCR/ Zalmaï

11/22

UNHCR/ Zalmaï

12/22

UNHCR/ Zalmaï

13/22

UNHCR/ Zalmaï

14/22

UNHCR/ Zalmaï

15/22

UNHCR/ Zalmaï

16/22

UNHCR/ Zalmaï

17/22

UNHCR/ Zalmaï

18/22

UNHCR/ Zalmaï

19/22

UNHCR/ Zalmaï

20/22

UNHCR/ Zalmaï

21/22

UNHCR/ Zalmaï

22/22

UNHCR/ Zalmaï
"[Those who] stir up public opinion against refugees and migrants have a responsibility in creating a climate of xenophobia that is very worrying in today's Europe."
More than 1,011,700 migrants arrived in Europe by sea last year, according to the International Organisation for Migration (IOM), although others estimate that figure to be much higher.