At least 31 refugees drowned in the Aegean Sea after rescue workers stationed nearby were initially left unable to assist them until the boat had left Turkish waters. 
Australian national Simon Lewis says he and a team of rescue workers were sailing in international waters near the Greek island of Lesbos when they heard reports of a refugee boat nearby.
Because the boat was still in Turkish waters at the time, Mr Lewis' crew were not dispatched to the scene and were therefore not in a position to help when the vessel subsequently started to sink, leaving 31 people dead.
Had the vessel made it into international waters before sinking then rescue workers could have approached them and helped.
"That's the nature of lifesaving, we put ourselves in that situation to help prevent people from drowning and yet because it's across the way in international water you're restricted and can't actually do anything about it," Mr Lewis told Australia's ABC News.
Maritime law states that refugees must cross borders under their own steam and that anybody assisting them in doing so by piloting or towing vessels could be charged with people smuggling.
Due to these rules, rescue workers usually assess refugee boats from a distance while waiting for them to cross maritime borders unaided. 
Should the initial assessment reveal that the boat is taking on water or presenting a threat to the refugees' lives, then lifesavers would not delay intervention.
Mr Lewis described reports in Australia that his team had simply stood by and watched as refugees a boatload died in front of them as having been "hyped up".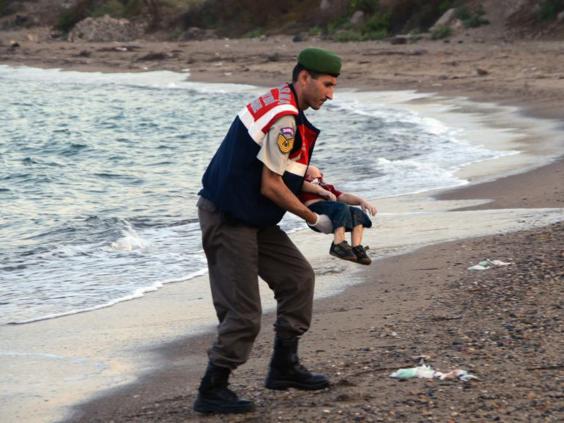 Speaking to The Independent, he said: "We didn't actually have 31 people drown right in front of us…Their boat was either going to come towards us or come towards [the Greek island village] Skala."
"The [people smuggling] rules may still apply but what lifesaver would not [intervene]?," he added.
Mr Lewis also spoke of a separate incident in which he thought a desperate refugee mother was considering throwing her baby into the sea in the hope rescuers would have no choice but to dive in and save its life.
"This was an inflatable boat crammed with people and we were kind of near the boat as we intercepted it. The mother turned and went to pass us her child and we were like 'oh f***' - because we knew what she was doing."
"So we pulled away and she was just like 'why don't you want my child?'… the look on her face; she stared me in the eye like we'd just broken her heart," he added.
"We realised exactly what she was about to do so we just pulled away. We had to make that snap call knowing that she was about to drop the kid in the ocean and push it towards us," Mr Lewis said.
Had the mother dropped the child into the sea, the risk to the child and any rescue worker who went in after it would have been immense. 
Thankfully the sinking vessel was subsequently escorted to shore by Mr Lewis' team with no loss of life.
Mr Lewis, who went to Greece as part of a joint venture between the Greek Lifeguards and the International Surf Lifesaving Association, said his team were able to save the lives of 517 people in just 10 days. He estimates 2,000 refugees passed through the waters in that time.
He also revealed that he had been inspired to help refugees after seeing harrowing photographs of Syrian toddler Aylan Kurdi washed up on a Turkish beach last year.
Refugee crisis - in pictures
Refugee crisis - in pictures
1/27

A child looks through the fence at the Moria detention camp for migrants and refugees at the island of Lesbos on May 24, 2016.

AFP/Getty Images

2/27

Ahmad Zarour, 32, from Syria, reacts after his rescue by MOAS (Migrant Offshore Aid Station) while attempting to reach the Greek island of Agathonisi, Dodecanese, southeastern Agean Sea

3/27

Syrian migrants holding life vests gather onto a pebble beach in the Yesil liman district of Canakkale, northwestern Turkey, after being stopped by Turkish police in their attempt to reach the Greek island of Lesbos on 29 January 2016.

Getty Images

4/27

Refugees flash the 'V for victory' sign during a demonstration as they block the Greek-Macedonian border

5/27

Migrants have been braving sub zero temperatures as they cross the border from Macedonia into Serbia.

6/27

A sinking boat is seen behind a Turkish gendarme off the coast of Canakkale's Bademli district on January 30, 2016. At least 33 migrants drowned on January 30 when their boat sank in the Aegean Sea while trying to cross from Turkey to Greece.

Getty Images

7/27

A general view of a shelter for migrants inside a hangar of the former Tempelhof airport in Berlin, Germany

8/27

Refugees protest behind a fence against restrictions limiting passage at the Greek-Macedonian border, near Gevgelija. Since last week, Macedonia has restricted passage to northern Europe to only Syrians, Iraqis and Afghans who are considered war refugees. All other nationalities are deemed economic migrants and told to turn back. Macedonia has finished building a fence on its frontier with Greece becoming the latest country in Europe to build a border barrier aimed at checking the flow of refugees

9/27

A father and his child wait after being caught by Turkish gendarme on 27 January 2016 at Canakkale's Kucukkuyu district

10/27

Migrants make hand signals as they arrive into the southern Spanish port of Malaga on 27 January, 2016 after an inflatable boat carrying 55 Africans, seven of them women and six chidren, was rescued by the Spanish coast guard off the Spanish coast.

11/27

A refugee holds two children as dozens arrive on an overcrowded boat on the Greek island of Lesbos

12/27

A child, covered by emergency blankets, reacts as she arrives, with other refugees and migrants, on the Greek island of Lesbos, At least five migrants including three children, died after four boats sank between Turkey and Greece, as rescue workers searched the sea for dozens more, the Greek coastguard said

13/27

Migrants wait under outside the Moria registration camp on the Lesbos. Over 400,000 people have landed on Greek islands from neighbouring Turkey since the beginning of the year

14/27

The bodies of Christian refugees are buried separately from Muslim refugees at the Agios Panteleimonas cemetery in Mytilene, Lesbos

15/27

Macedonian police officers control a crowd of refugees as they prepare to enter a camp after crossing the Greek border into Macedonia near Gevgelija

Getty Images

16/27

A refugee tries to force the entry to a camp as Macedonian police officers control a crowd after crossing the Greek border into Macedonia near Gevgelija

Getty Images

17/27

Refugees are seen aboard a Turkish fishing boat as they arrive on the Greek island of Lesbos after crossing a part of the Aegean Sea from the Turkish coast to Lesbos

Reuters

18/27

An elderly woman sings a lullaby to baby on a beach after arriving with other refugees on the Greek island of Lesbos after crossing the Aegean sea from Turkey

Getty Images

19/27

A man collapses as refugees make land from an overloaded rubber dinghy after crossing the Aegean see from Turkey, at the island of Lesbos

EPA

20/27

A girl reacts as refugees arrive by boat on the Greek island of Lesbos after crossing the Aegean sea from Turkey

Getty Images

21/27

Refugees make a show of hands as they queue after crossing the Greek border into Macedonia near Gevgelija

Getty Images

22/27

People help a wheelchair user board a train with others, heading towards Serbia, at the transit camp for refugees near the southern Macedonian town of Gevgelija

AP

23/27

Refugees board a train, after crossing the Greek-Macedonian border, near Gevgelija. Macedonia is a key transit country in the Balkans migration route into the EU, with thousands of asylum seekers - many of them from Syria, Afghanistan, Iraq and Somalia - entering the country every day

Getty Images

24/27

An aerial picture shows the "New Jungle" refugee camp where some 3,500 people live while they attempt to enter Britain, near the port of Calais, northern France

Getty Images

25/27

A Syrian girl reacts as she helped by a volunteer upon her arrival from Turkey on the Greek island of Lesbos, after having crossed the Aegean Sea

EPA

26/27

Refugees arrive by boat on the Greek island of Lesbos after crossing the Aegean sea from Turkey

Getty Images

27/27

Beds ready for use for migrants and refugees are prepared at a processing center on January 27, 2016 in Passau, Germany. The flow of migrants arriving in Passau has dropped to between 500 and 1,000 per day, down significantly from last November, when in the same region up to 6,000 migrants were arriving daily.
"I didn't go there for any political reason," he said. "I didn't go there for anything other than I'm a life guard and I saw the image of the infant that drowned and I realised that I've got this unique set of work skills, so I asked myself 'why am I not going to this crisis?'."
"I couldn't answer that question but in a way I just felt I had no excuse. So I just went 'yep, I'm going – I'm going to go there and I'm going to try and help', so I just volunteered."
Upon returning to Australia, Mr Lewis ran a crowd-funding campaign which raised A€22,000 to pay for a rescue jet ski which Greek lifeguards will use to help them reach stricken refugees more speedily.
Reuse content