Most visitors to Sochi soon find that the Cossacks patrolling the city during the Olympics are about the most picturesque thing there: a swashbuckling throwback in their sheepskin hats and old-fashioned military coats.
But when one (who officials say was off-duty) decided to strike Pussy Riot activists in the city centre with a traditional Cossack whip this week, it highlighted the growing security role this once-great warrior caste is carving out for itself under the patronage of President Vladimir Putin and regional leaders. According to Cossack officers, these new powers include not just keeping order, but also protecting Russia and its traditional values, including the Orthodox religious beliefs they say Pussy Riot offended.
"That Cossack admitted he broke the law, and he got a ticket and paid the fine," said Valery Yefremov, who is in charge of the detachment in Sochi. "But we told him, 'good work, way to go, that's how it should be done.' We will continue to drive these girls out of here with a dirty broom."
Despite previous media reports that 800 Cossacks from all over Russia would patrol Sochi during the Olympics, only 500 members of the Kuban Cossack Host, a group based in the regional capital of Krasnodar, are here, he said. By law, Cossacks can only detain and check the documents of people disrupting the peace, and during their Sochi deployment they are patrolling without weapons and in groups with police officers, he added. But thanks to agreements with law enforcement organs, their normal activities have taken on a much broader scope, ranging from guarding border zones to raids against undocumented immigrants.
The Krasnodar region, where Sochi is located, is one of the traditional homelands of Russian Cossacks and the epicentre of their recent revival. Originally a militaristic group living in Russia's frontier lands, the Cossacks led a series of revolts against the czar before becoming loyal servants of the crown. Starting in the 16th century, they expanded Russia's borders south through the Caucasus mountains and east to the Pacific. But many of them fought the Bolsheviks during Russia's Civil War, and in the early Soviet era most Cossack groups were dispersed.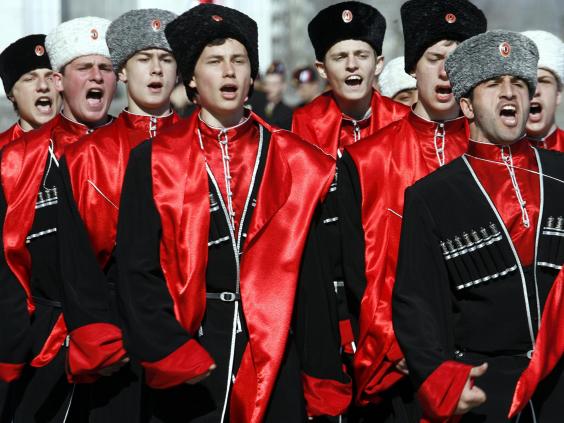 But in Putin's Russia, with its emphasis on traditional values and patriotism, the Cossacks and their image as soldiers of the czar have found new purpose. In a 2012 article on security policy, Putin wrote that "the mission of the state now is to help the Cossacks, draw them into military service and educational activities for youths, involving a patriotic upbringing and initial military training".  In the last census in 2010, Cossacks were listed as their own ethnic group.
According to Moscow's Cossack leader, Sergei Shishkin, the duty of a Cossack is to promote patriotism, Russian Orthodoxy and a "strong government". Today's Cossack groups are striving for a greater role in law enforcement and more funding for cultural and military education programmes, he said.
While volunteer Cossacks now patrol neighbourhoods in Moscow and other cities, Krasnodar Territory, whose governor Alexander Tkachyov is himself a Cossack colonel, has become the first to officially enrol them in government service and provide them with a living wage. The Cossacks' determination to keep law and order often resonates with locals, including in Sochi, which did not have widespread Cossack patrols before the Games.
"Before we had Chechens, Ingush, everyone you could imagine. There was no order, we had fights and drunkenness," said local resident Galina Osipovich, referring to the natives of two restive republics in Russia's North Caucasus region. "Then the Cossacks came and everything quietened down."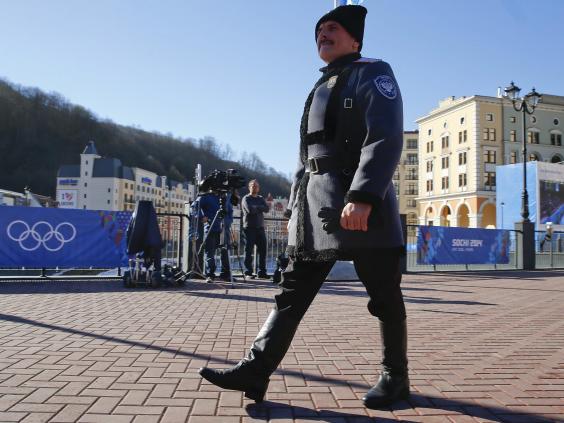 Although Cossacks have not had to deal with any bombs or terrorist attacks, they have stopped crime. On 10 February, a patrol of Cossacks and police captured a man who had stolen more than 1 million roubles (£17,000) from a visitor to the city and returned the money, according to Yefremov. But their brand of vigilante justice has also raised concerns. In a speech announcing the expansion of Cossack duties, Tkachyov told police: "What you can't do, a Cossack can."
"They are private security guards with a claim to a historical status. The Pussy Riot incident was an example of how they apply that," said New York University professor Mark Galeotti, an expert in Russia's security services.  "They tend to be nationalist, and they think, rightly, that they can get away with what a security guard can't."
According to Galeotti, although Putin is the "great patron of the Cossacks", it is local authorities and governors who often promote them as a kind of personal militia.
"The actual police is controlled by the Interior Ministry in Moscow... Whether you want to make people feel secure or whether you feel it's time to put pressure on the Azeri market on the outskirts of town, [Cossacks] are people you can release without going to the police," he said.
Historically, Cossacks have been known to lead pogroms against Jews (Yefremov said he hadn't heard of any such instances), and today's version of these "Christian warriors", as Yefremov calls them, have a noted nationalist streak.
According to the immigrant rights activist Semyon Simonov, Cossacks have participated in nationalist marches in Sochi, as well as raids on construction sites during which they humiliated the mostly Muslim immigrant workers. After mass raids last autumn, hundreds of immigrant workers were deported. Many of them are said to have been held in inhumane conditions and were not paid the wages they were owed.
Yefremov admitted that Cossacks had participated in theraids, but he saidthey were  "tolerant to all religions". Rank-and-file Cossacks make no secret of their heightened scrutiny of Russia's non-Slavic ethnic groups.
"There are Chechens and all sorts of non-Russians around here," said Oleg Pisarenko, a Cossack from Krasnodar. "Some of them have tried to show off, but we quickly pacified them." This week, a patrol broke up a fight between 20 to 30 Chechens and Dagestanis, he said.
The whipping of Pussy Riot in Sochi, as they attempted to film a video for a new protest song, is the latest in a string of actions, such as breaking up LGBT rallies and raiding controversial art exhibitions, that has led Cossacks to be labelled a latter-day "morality police". But Cossack leaders see such measures as necessary.  "The Maidan in Ukraine started with this kind of action, and now blood is flowing," Yefremov said, referring to the protests that have once again spiralled into violence. "We won't let that happen here."
Reuse content