It has been a year of permanent stress for Georgy Tuka. What with raising enough money to provide Ukraine's "Maidan warriors" with basic body protection, and stepping into the governmental void, the 50-year old entrepreneur-turned-activist has had no time to rest.
"The work is relentless and we all need a break, but I doubt I'll see the seaside for another three to five years," he told The Independent. Mr Tuka currently devotes most of his waking hours to organising supplies to the front line in the ongoing battles against separatists in the east. His Army SOS volunteer organisation has been providing soldiers with everything from underwear to specialist sniper rifles.
When Army SOS began its work, flak jackets and food supplies were the real concern. Today, the issues are inadequate communication systems – many Ukrainian forces are still using 30-year-old Soviet systems – and an acute shortage of Kevlar helmets, boots and winter clothing. With temperatures rapidly approaching freezing in the east, perhaps only half of the estimated 50,000 Ukrainians soldiers stationed in the military zone have clothing suitable for cold weather.
Donations, which come from ordinary Ukrainians and businessmen, are now back to the level they were at the height of the campaign in the summer, says Mr Tuka. And the requests for winter clothes are coming in thick and fast. But the request Mr Tuka hears most of all is: "When will we be allowed to fight again?"
The region's fragile "ceasefire", which only existed where it did not matter militarily, now has given way to an increased wave of military activity. In recent days, several columns of armed vehicles have been observed in the regions controlled by Russian-backed fighters.
Fighting has become more frequent around the region's most strategically sensitive points: in Mariupol, a port city, Donetsk airport, Debaltsevo, a major transport hub, and Schastya, the location of a power station. There was panic in many districts in Donetsk over the weekend due to increased shelling near the airport. Today, government forces were redeploying in preparation for a possible new offensive by rebels. "We are repositioning our armed forces to respond to the actions of the [rebel] fighters," the Defence Minister Stepan Poltorak said. "I see my main task is to prepare for military action." Nato said it had seen columns of Russian military equipment entering Ukraine. "Russian tanks, Russian artillery, Russian air defence systems and Russian combat troops" were sighted, said the US General Philip Breedlove in Bulgaria.
Ukraine crisis: A timeline of the conflict
Ukraine crisis: A timeline of the conflict
1/22 30 November 2013

Public support grows for the "Euromaidan" anti-government protesters in Kiev demonstrating against Yanukovych's refusal to sign the EU Association Agreement as images of them injured by police crackdown spread.

EPA

2/22 20 February 2014

Kiev sees its worst day of violence for almost 70 years as at least 88 people are killed in 48 hours, with uniformed snipers shooting at protesters from rooftops.

AFP/Getty Images

3/22 22 February 2014

Yanukovych flees the country after protest leaders and politicians agree to form a new government and hold elections. The imprisoned former Prime Minister, Yulia Tymoshenko, is freed from prison and protesters take control of Presidential administration buildings, including Mr Yanukovych's residence.

Genya Savilov/AFP/Getty Imageses

4/22 27 February 2014

Pro-Russian militias seize government buildings in Crimea and the new Ukrainian government vows to prevent the country breaking up as the Crimean Parliament sets a referendum on secession from Ukraine in May.

Sean Gallup/Getty Images

5/22 16 March 2014

Crimea votes overwhelmingly to secede from Ukraine and join Russia in a ballot condemned by the US and Europe as illegal. Russian troops had moved into the peninsula weeks before after pro-Russian separatists occupied buildings.

EPA

6/22 6 April 2014

Pro-Russian rebels seize government buildings in the eastern cities of Donetsk, Luhansk and Kharkiv, calling for a referendum on independence and claiming independent republic. Ukraine authorities regain control of Kharkiv buildings on 8 April after launching an "anti-terror operation" but the rest remain out of their control.

EPA/PHOTOMIG

7/22 7 June 2014

Petro Poroshenko is sworn in as Ukraine's president, calling on separatists to lay down their arms and end the fighting and later orders the creation of humanitarian corridors, since violated, to allow civilians to flee war zones.

Getty Images

8/22 27 June 2014

The EU signs an association agreement with Ukraine, along with Georgia and Moldova, eight months after protests over the abandonment of the deal sparked the crisis.

LOUISA GOULIAMAKI/AFP/Getty Images

9/22 17 July 2014

Malaysian Airlines flight MH17 is shot down over eastern Ukraine, killing all 298 people on board. Ukrainian intelligence officials claim it was hit by rebels using a Buk surface-to-air launcher in an apparent accident.

10/22 22 August 2014

A Russian aid convoy of more than 100 lorries enters eastern Ukraine and makes drop in rebel-controlled Luhansk without Government permission, sparking allegations of a "direct violation of international law".

Reuters/Alexander Demianchuk

11/22 29 August 2014

Nato releases satellite images appearing to show Russian soldiers, artillery and armoured vehicles engaged in military operations in eastern Ukraine.

Nato

12/22 8 September 2014

Russia warns that it could block flights through its airspace if the EU goes ahead with new sanctions over the ongoing crisis and conflict

EPA

13/22 17 September 2014

Despite the cease-fire and a law passed by the Ukrainian parliament on Tuesday granting greater autonomy to rebel-held parts of the east, civilian casualties continued to rise, adding to the estimated 3,000 people killed

Reuters

14/22 16 November 2014

The fragile ceasefire gives way to an increased wave of military activity as artillery fire continues to rock the eastern Ukraine's pro-Russian rebel bastion of Donetsk

Getty

15/22 26 December 2014

A new round of ceasefire talks, scheduled on neutral ground in the Belariusian capital Minsk, are called off

AFP/Getty

16/22 12 January 2015

Soldiers in Debaltseve were forced to prepare heavy defences around the city; despite a brief respite to the fighting in eastern Ukraine, hostilities in Donetsk resumed at a level not seen since September 2014

AFP/Getty

17/22 21 January 2015

13 people are killed during shelling of bus in the rebel-held city of Donetsk

Reuters

18/22 24 January 2015

Ten people were killed after pro-Russian separatists bombarded the east Ukrainian port city of Mariupol

AP

19/22 2 February 2015

There was a dangerous shift in tempo as rebels bolstered troop numbers against government forces

AFP/Getty

20/22 11 February 2015

European leaders meet in Minsk and agree on a ceasefire in eastern Ukraine beginning on February 14. From left to right: Belarus President Alexander Lukashenko, Russian President Vladimir Putin, German Chancellor Angela Merkel, France's President Francois Hollande and Ukrainian President Petro Poroshenko.

MAXIM MALINOVSKY | AFP | Getty Images

21/22 13 February 2015

Pro-Russian rebels in the city of Gorlivka, in the Donetsk region, fire missiles at Ukrainian forces in Debaltseve. Fighting continued in Debaltseve for a number of days after the Minsk ceasefire began.

ANDREY BORODULIN | AFP | Getty Images

22/22 18 February 2015

Ukrainian soldiers repair the bullet-shattered windshield of their truck as their withdraw from the strategic town of Debaltseve. Following intense shelling from pro-Russian rebels, Ukrainian forces began to leave the town in the early hours of February 18.

Brendan Hoffman | Getty Images
Over the period of the "ceasefire", launched after the Minsk agreement on 5 September, Ukrainian forces regrouped and dug in two lines of defences on the border of the breakaway "republics". The key battles in the region have been ongoing for several weeks without much territory changing hands. Without significant reinforcements from the east, many now see the status quo remaining unchanged.
Nevertheless, the military appears keen to heighten concerns of a possible Russian invasion. Speaking on Monday at his regular press conference, the military spokesman Colonel Andriy Lysenko said the region had been "flooded with a large number of enemy personnel and advanced weaponry". As proof, he presented a video showing a convoy supposedly moving from Russia to Snizhne in Donetsk region. The problem, as military bloggers later pointed out, was that the video was shot in March in an area now controlled by Ukrainians. Embarrassing, but by no means the worst mistake the Ukrainian military has made – blunders that have been increasingly infuriating activists.
"I can't work with these guys", admitted Mr Tuka. "All I see are lies and deceit and dead Ukrainians." The activist said he avoided working directly with government departments, which are "leaky", preferring instead to operate through direct relationships with forces in the east.
Aleksandr Zolutukhin is one of a number of returning soldiers who shared Mr Tuka's frustration with the new authorities. He served as a sniper and company leader within the Aidar battalion, a controversial and anarchic assault unit based in Luhansk region. Formally subordinate to the Ministry of Defence, but in practice only answerable to themselves, Aidar was involved in some of the fiercest fighting over the summer, and as many as 240 of its men died in fighting.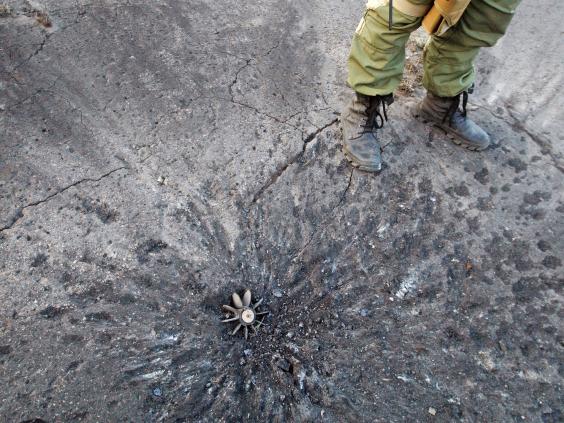 After going public with concerns about military command, Mr Zolutukhin says he found himself fighting powerful vested interests. Bureaucrats began blocking even simple things like registering the injured and dead so that their families could receive benefits. There were claims that the soldiers were not actually involved in frontline fighting. Visibly emotional, Mr Zolotukhin asked how he was supposed to explain this position to the families. "Some of us are fighting a war; for others it's more an opportunity to get rich," he said.
According to Mr Zolotukhin, part of Aidar's military command had taken up criminal practices – using the uniform as a way of appropriating cars, property and weapons. He claims he saw how some of the officers of this "other Aidar" carried "serious" sacks of cash around with them, and used a white powder he assumed to be cocaine. He also said he witnessed how they planted a grenade in someone's car, as a pretext to steal it.
When Mr Zolotukhin and a group of fellow soldiers returned to Kiev, he visited the main seats of government, including the Minister of the Interior, Arsen Avakov, to register his concerns. According to Mr Zolotukhin, the minister "then suggested we sort the problem out ourselves". "We would put ourselves into jail if we followed such advice," Mr Zolotukhin said.
The future of the contentious Interior Minister is one of the questions being most actively discussed in Kiev today. Concerned with the power wielded by his enlarged and militarised ministry, President Petro Poroshenko is said to have been keen on a reshuffle of the position. But his bloc did much worse than anticipated in the recent elections, while Mr Avakov and the Prime Minister Arseniy Yatsenyuk's party were the unexpected winners. Speaking with The Independent, a high-ranking official confirmed that Mr Avakov's position remained one of the main sticking points in the ongoing talks on the new coalition. On Monday, five parties signed a "coalition project", but the source noted there is as yet little agreement on detail.
The other thing that might change with the new political calculus in Kiev is policy towards the east. Given the more populist, anti-Russian and hawkish positions espoused by Mr Yatsenyuk's victorious People's Front party, Ukraine's response to increased military activity is unlikely to be a new ceasefire.
Mr Tuka seems sensible to have cancelled his seaside holidays.
Reuse content