Vladimir Putin has given a confident performance in front of the media, insisting that the events of the last 10 days in Ukraine amounted to nothing less than a coup d'état. At almost the same time, the US Secretary of State, John Kerry, arrived in Kiev to shore up the new, pro-Western, yet unelected government.
In Crimea, where Russian troops have taken control and faced an ugly stand-off with Ukrainian forces at the Belbek military airbase, the situation is a long way from being under control. The Russians have effectively annexed the region, despite Mr Putin's protestations to the contrary.
Ukraine's finances have flirted with the precipice for a month and Washington announced a $1bn aid package; but beyond that, there seems to be little of substance from the West that will ultimately bring a swift end to the stand-off.
In pictures: The crisis in Ukraine
In pictures: The crisis in Ukraine
1/15 Perevalnoye, Ukarine

Russian forces stand as they block the Ukrainian unit in Perevalnoye, not far from Simferopol

2/15 London, England

Memorials and floral tributes, dedicated to protesters who were killed in recent clashes with security forces in Kiev, surround a statue of 'Vladimir the Great', the Grand Prince of Kiev from 980 to 1015 AD, in Notting Hill in London

3/15 Kiev, Ukraine

Pallbearers carry the coffin of Andryi Pozniak (25) a self defense volunteer who was shot and killed by an unknown assailant near Kiev's Independence Square

4/15 Simferopol, Ukraine

Ukrainian police officers hold an activist of the Ukrainian women movement Femen

5/15 Kiev, Ukraine

A woman distributes food on Independence Square in central Kiev

Dimitar Dilkoff/AFP/Getty Images

6/15 Lubimovka, Ukraine

Ukrainian soldiers at the Belbek military base talk friends and family members through the gates of the base entrance in Lubimovka, Ukraine

Sean Gallup/Getty Images

7/15 Donetsk, Ukraine

Pro-Russian activists demonstrate in front of the regional administration in Donetsk. Russian military forces and planes were flowing into Crimea on March 3, in violation of bilateral accords, Ukrainian border guards said

Alexander Khudoteply/AFP/Getty Images

8/15 Donetsk, Ukraine

Riot policemen stand guard in front of the regional administration in Donetsk

Alexander Khudoteply/AFP/Getty Images

9/15 Perevalne

Pro-Russian activists stand guard in front of armed men in military fatigues blocking access to a Ukrainian border guards base not far from the village of Perevalne near Simferopol

Alexander Nemenov/AFP/Getty Images

10/15 Kirillovsky, Russia

Russia's President Vladimir Putin, accompanied by Russian Defence Minister Sergei Shoigu (front left), walks to watch military exercises upon his arrival at the Kirillovsky firing ground in the Leningrad region

RIA Novosti/Reuters

11/15 Sevastopol, Ukraine

A Russian Navy De-Gaussing Ship passes in Sevastopol harbour. The Russian Black Sea Fleet commander Aleksandr Vitko has issued an ultimatum to the Ukrainian military personnel in Crimea, according to reports

Filippo Monteforte/AFP/Getty Images

12/15 New York, USA

The UN Security Council chamber during a meeting on the situation in the Ukraine at the UN headquarters in New York City

Jason Szenes/EPA

13/15 Bakhchisaray, Ukraine

Armed men in military fatigues block access to Ukrainian military barracks in the small Crimean city of Bakhchisaray

Genya Savilov/AFP/Getty Images

14/15 Sevastopol, Ukraine

A Ukrainian soldier speaks to his daughter through a gate as he waits inside the Sevastopol tactical military brigade base near Belbek in Sevastopol

Filippo Monteforte/AFP/Getty Images

15/15 Odessa, Ukraine

A Pro-Russian activist waves a chain after an unsuccessful attempt by the demonstrators to storm a regional state administration building in the Black Sea city of Odessa

Alexey Kravtsov/AFP/Getty Images
In truth the West has very few sticks with which to beat Moscow: the UK Government's position – seen through a photographed briefing paper on Monday – makes clear that Mr Cameron is hoping others pick up the mantle. But allies in the EU are just as concerned about the supply of cheap energy from Russian gas fields as they are with the future of Crimea, and the US administration under Barack Obama has proven itself over six years to be doveish to the point of being seen as weak in the face of aggression.
Despite the tensions, the Russian military went ahead with the test-firing of a Topol intercontinental ballistic missile. The missile hit a range in Kazakhstan. The US said it had been notified of the test before the crisis began.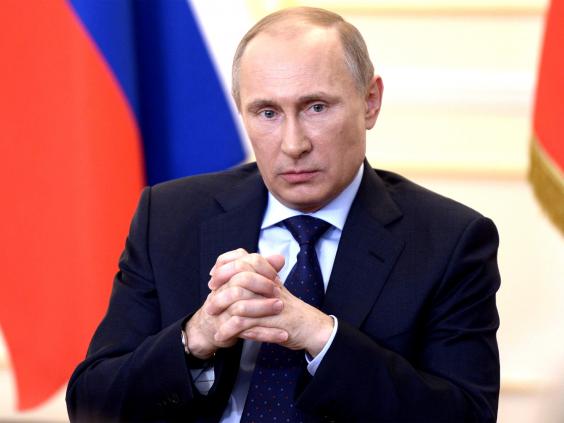 Moscow has no interest in armed conflict – a point underscored by Mr Putin – and its financiers will take as real the threat posed to the Russian economy by investors being spooked. But nor does it want to lose face by appearing to cave in to Western demands. All of which means the crisis in Crimea – in which nobody appears to have the upper hand – is far from being resolved.