The Russian President Vladimir Putin has signed a decree honouring more than 300 journalists for their "objective coverage" of the events leading to the seizure of Crimea from Ukraine.
The annexation of the southern region has been widely condemned as illegal by the West, with the Prime Minister David Cameron describing the move as "in flagrant breach of international law".
But Mr Putin has since secretly awarded prestigious "Order of Service to the Fatherland" medals to pro-Kremlin journalists in what is being considered as an escalation of Russia's propaganda war over the Ukraine crisis.
Mr Putin's spokesman Dmitry Peskov told The Moscow Times: "I can confirm that such a decree was signed, but we usually do not publish them. Now, since this information has become public, we do not plan to add any details about it."
The awards have been received by some executives of Russia's major state-owned television channels and Margarita Simonyan, editor of the pro-Kremlin English-language channel Russia Today (RT), talk-show host Arkady Mamontov and the head of the Federal Mass Media Inspection Service, Aleksander Zharov, whose organisation reportedly blocked access to several popular opposition blogs.
In pictures: Crisis in Ukraine
In pictures: Crisis in Ukraine
1/11 Demonstrations in Crimea

Crimean Tatars drag away a police officer in front of a local government building in Simferopol

AP

2/11 Demonstrations in Crimea

Pro-Russian activists pray outside the Crimean Parliament building in Simferopol

EPA

3/11 Demonstrations in Crimea

Crimean Tatars hold flags during rallies near the Crimean parliament building in Simferopol

Reuters

4/11 Demonstrations in Kiev

Young girls chant the song 'Glory to Ukraine' at Independence Square in central Kiev

AFP/Getty

5/11 Demonstrations in Crimea

A man receives medical treatment after he was injured in clashes during rallies near the Crimean parliament building

Reuters

6/11 Demonstrations in Crimea

Pro-Ukrainian activists hold placards reading "Crimea +Ukraine is love" during a rally in front of the Crimean parliament in Semfiropol

AFP

7/11 Demonstrations in Kiev

Protestors capture a military armoured vehicle in central Kiev

AFP/Getty

8/11 Demonstrations in Kiev

An old man stands with an Ukrainian flag on Kiev's Independence Square

AFP/Getty

9/11 Demonstrations in Kiev

A man lays flowers at one of the barricades heading to Kiev's Independence Square

AP

10/11 Demonstrations in Kiev

Flowers cover the ground and barricades where protesters were killed in a recent clash with riot police in Kiev's Independence Square

AP

11/11 Demonstrations in Kiev

A self-defense unit patrolling the city centre in Kiev, Ukraine

AP
In comparison, no journalists from the independent television channel Dozhd or the radio station Ekho Moskvy, which are more critical of the Kremlin's policies, received the award.
In March, Liz Wahl, the American news anchor for RT resigned live on air in response to the station's "whitewashed" coverage of events in Ukraine.
Abby Martin, a journalist also working for the network, also made headlines when she went off script to denounce Russia's military presence in Crimea.
Her remarks led to the station releasing a statement saying they would be sending her to Crimea "to give her an opportunity to make up her own mind from the epicentre of the story".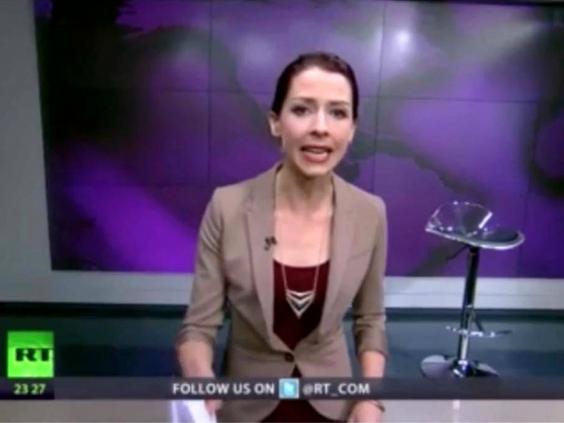 However, Russian media deny they are part of a propaganda campaign and accuse Western journalists of bias, a charge that has found fertile ground in eastern Ukraine where some reporters have already been taken hostage or beaten.
Russia's well-organised and well-financed state media have portrayed events in a style reminiscent of the Soviet era, peppering their reports with the message that Ukrainians, as during World War Two, may be cooperating with fascists.
Several Russian newspapers used the same photo on Monday on their front page, showing a man with flames licking up his sleeve as he throws a Molotov Cocktail into the burning trade union building in the Ukrainian city of Odessa, where dozens of pro-Russian separatists died in violent clashes on the streets.
Blaming Friday's trouble on far-right Ukrainian groups, the popular Komsomolskaya Pravda ran a banner headline declaring: "Dirty scumbags!"
Some Russian media also likened the blaze to a World War Two Nazi massacre when all the residents of a Belarussian village were burnt alive.
Other allegations by officials that only drunks and drug addicts follow the pro-Russians have also fallen flat, leaving it to Ukraine's bloggers to vent the widespread frustration with not only the pro-Russians but with their new leaders as well.
"At the time of war, everyone lies," said a post on the 'Odessa on fire' website, in a bid to defuse debate over who was responsible for the more than 40 deaths on Friday.
But while much of the Ukrainian blogosphere undermines their leaders, Russian media coverage is helping to boost support for Mr Putin, whose ratings last week hit 82 percent - the highest since 2010.
Reuse content