Scarred by decades of political corruption and many months of war, the rebel-held town of Alchevsk in eastern Ukraine has few attractions. Its biggest draw is undoubtedly Commander Aleksey Mozgovoi, the enigmatic leader of the rebel "Ghost" battalion, who has taken up residence in the former security services building on Lenin Street.
An apparent Renaissance man with a reputation for poetry, and ferocity, Mr Mozgovoi is no stranger to controversy. He organised the infamous "people's courts", which claimed to have issued death sentences to alleged rapists in October last year.
With a son in tow, Andrei, a Gazprom worker from Russia's Krasnodar region, waits patiently for an audience with Mr Mozgovoi, whose office windows are protected by sandbags.
Andrei fought as a rebel volunteer throughout the winter. He says that he – like many others – was attracted to Mr Mozgovoi's battalion by a desire to correct a historical injustice, and to protect "the Slavic people" from being routinely humiliated. Andrei is not the only Russian in the region.
Two Russian officers are said to have been captured by Ukrainian forces in the town of Schastya, about 25 miles to the north-east of Alchevsk. A video of the interrogation of one of the men, identified as Aleksandr Aleksandrov, was released by Ukrainian security services on Monday. The man is seen to admit to being a sergeant from a special forces unit in Tolyatti, southern Russia. He says he was operating as part of a 14-man group, that there were six to eight such groups operating out of Luhansk, in eastern Ukraine, rotating every four or five days.
A member of the Ukrainian Aidar volunteer battalion, who had witnessed the capture of the soldiers, told The Independent that a battle had broken out at the edge of Schastya. The clash left one Ukrainian paratrooper dead, and the two enemy reconnaissance officers seriously injured. They were caught behind Ukrainian lines.
"One had a cracked hip, so he had no choice but to start speaking," the officer said. Local rebel forces have denied that the two men were Russian soldiers, publishing documents apparently showing that the men were locals and members of the "Luhansk People's Militia".
Dmitry Peskov, a spokesman for President Vladimir Putin, has also dismissed the reports as being "no matter" for the Russian government.
But Ukrainians claim that Russians fighting in eastern Ukraine are assigned rebel aliases, and have previously produced dual documents found on Russian soldiers. They are the "green men" that mysteriously appeared before the annexing of Crimea last year.
Ukraine crisis: A timeline of the conflict
Ukraine crisis: A timeline of the conflict
1/22 30 November 2013

Public support grows for the "Euromaidan" anti-government protesters in Kiev demonstrating against Yanukovych's refusal to sign the EU Association Agreement as images of them injured by police crackdown spread.

EPA

2/22 20 February 2014

Kiev sees its worst day of violence for almost 70 years as at least 88 people are killed in 48 hours, with uniformed snipers shooting at protesters from rooftops.

AFP/Getty Images

3/22 22 February 2014

Yanukovych flees the country after protest leaders and politicians agree to form a new government and hold elections. The imprisoned former Prime Minister, Yulia Tymoshenko, is freed from prison and protesters take control of Presidential administration buildings, including Mr Yanukovych's residence.

Genya Savilov/AFP/Getty Imageses

4/22 27 February 2014

Pro-Russian militias seize government buildings in Crimea and the new Ukrainian government vows to prevent the country breaking up as the Crimean Parliament sets a referendum on secession from Ukraine in May.

Sean Gallup/Getty Images

5/22 16 March 2014

Crimea votes overwhelmingly to secede from Ukraine and join Russia in a ballot condemned by the US and Europe as illegal. Russian troops had moved into the peninsula weeks before after pro-Russian separatists occupied buildings.

EPA

6/22 6 April 2014

Pro-Russian rebels seize government buildings in the eastern cities of Donetsk, Luhansk and Kharkiv, calling for a referendum on independence and claiming independent republic. Ukraine authorities regain control of Kharkiv buildings on 8 April after launching an "anti-terror operation" but the rest remain out of their control.

EPA/PHOTOMIG

7/22 7 June 2014

Petro Poroshenko is sworn in as Ukraine's president, calling on separatists to lay down their arms and end the fighting and later orders the creation of humanitarian corridors, since violated, to allow civilians to flee war zones.

Getty Images

8/22 27 June 2014

The EU signs an association agreement with Ukraine, along with Georgia and Moldova, eight months after protests over the abandonment of the deal sparked the crisis.

LOUISA GOULIAMAKI/AFP/Getty Images

9/22 17 July 2014

Malaysian Airlines flight MH17 is shot down over eastern Ukraine, killing all 298 people on board. Ukrainian intelligence officials claim it was hit by rebels using a Buk surface-to-air launcher in an apparent accident.

10/22 22 August 2014

A Russian aid convoy of more than 100 lorries enters eastern Ukraine and makes drop in rebel-controlled Luhansk without Government permission, sparking allegations of a "direct violation of international law".

Reuters/Alexander Demianchuk

11/22 29 August 2014

Nato releases satellite images appearing to show Russian soldiers, artillery and armoured vehicles engaged in military operations in eastern Ukraine.

Nato

12/22 8 September 2014

Russia warns that it could block flights through its airspace if the EU goes ahead with new sanctions over the ongoing crisis and conflict

EPA

13/22 17 September 2014

Despite the cease-fire and a law passed by the Ukrainian parliament on Tuesday granting greater autonomy to rebel-held parts of the east, civilian casualties continued to rise, adding to the estimated 3,000 people killed

Reuters

14/22 16 November 2014

The fragile ceasefire gives way to an increased wave of military activity as artillery fire continues to rock the eastern Ukraine's pro-Russian rebel bastion of Donetsk

Getty

15/22 26 December 2014

A new round of ceasefire talks, scheduled on neutral ground in the Belariusian capital Minsk, are called off

AFP/Getty

16/22 12 January 2015

Soldiers in Debaltseve were forced to prepare heavy defences around the city; despite a brief respite to the fighting in eastern Ukraine, hostilities in Donetsk resumed at a level not seen since September 2014

AFP/Getty

17/22 21 January 2015

13 people are killed during shelling of bus in the rebel-held city of Donetsk

Reuters

18/22 24 January 2015

Ten people were killed after pro-Russian separatists bombarded the east Ukrainian port city of Mariupol

AP

19/22 2 February 2015

There was a dangerous shift in tempo as rebels bolstered troop numbers against government forces

AFP/Getty

20/22 11 February 2015

European leaders meet in Minsk and agree on a ceasefire in eastern Ukraine beginning on February 14. From left to right: Belarus President Alexander Lukashenko, Russian President Vladimir Putin, German Chancellor Angela Merkel, France's President Francois Hollande and Ukrainian President Petro Poroshenko.

MAXIM MALINOVSKY | AFP | Getty Images

21/22 13 February 2015

Pro-Russian rebels in the city of Gorlivka, in the Donetsk region, fire missiles at Ukrainian forces in Debaltseve. Fighting continued in Debaltseve for a number of days after the Minsk ceasefire began.

ANDREY BORODULIN | AFP | Getty Images

22/22 18 February 2015

Ukrainian soldiers repair the bullet-shattered windshield of their truck as their withdraw from the strategic town of Debaltseve. Following intense shelling from pro-Russian rebels, Ukrainian forces began to leave the town in the early hours of February 18.

Brendan Hoffman | Getty Images
The detention of suspected Russian soldiers in Ukraine again raises questions as to the durability of a ceasefire that has been largely holding across much of the region – to the relief of many civilians and business owners. The Trilateral Contact Group, set up to facilitate dialogue between the parties to the conflict, has reported an increase in ceasefire violations across the region – up to 80 from approximately 40 earlier in the month. Nearly half have been recorded in the seaside village of Shirokine, near Mariupol, though areas around Donetsk airport and Horlivka show signs of becoming similar hotspots.
Colonel Aleksandr Kucherenko, a Russian spokesman for the contact group, told The Independent that evidence points to an escalation: "When the ceasefire monitors are patrolling, both sides try not to fire, and we have communication systems in place to stop the shelling soon after it starts, but those systems were not working well last week."
Rebel leaders have offered mixed messages over the last few weeks about the ceasefires agreed in Minsk. In Alchevsk, Mr Mozgovoi warns: "Escalation and more deaths are inevitable. There is no sense for us to lay down our arms while there is a government in Kiev that is against the Ukrainian people."
Mr Mozgovoi likens the Minsk process to unsuccessful secret negotiations between Kiev and Luhansk separatists last April, which saw Yulia Tymoshenko brokering a deal with the then leader of the Luhansk movement, Valery Bolotov. Mr Mozgovoi was cut out of those negotiations.
"We weren't negotiating with the right people then, and we're not negotiating with the right people now," he says. "There is no way that we can reach an agreement with the current Kiev government."
Known for his uncompromising toughness, Mr Mozgovoi is keen to present himself as the conscience of the separatist movement in the region. He identifies himself in total opposition to the interests of fellow separatist leaders in Luhansk and claims that "conscience" is what drives him.
"If we are to live by our conscience, everything will work out for us," he says. He takes a long pause, before continuing. "But, oh, how hard it is to live by conscience."
Mr Mozgovoi's independent approach has not been received well by everyone. Some, indeed, question whether he will be able to survive for long in the wild frontier lands of the "Luhansk People's Republic".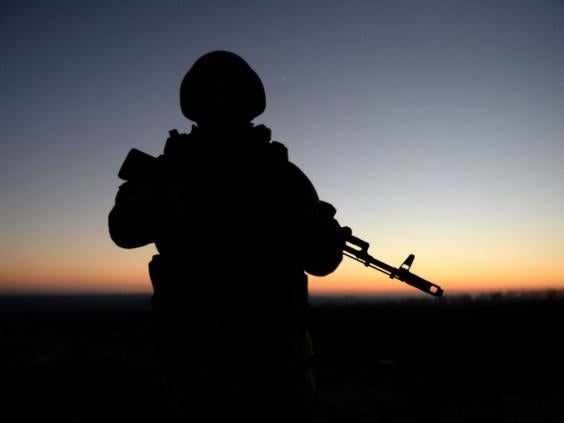 Over the past six months, several of the most unwieldy rebel leaders have been removed – and many assume Mr Mozgovoi is next on the list. It is well known that Mr Mozgovoi is on difficult terms with the Kremlin-annointed leader of the Luhansk republic, Igor Plotnitsky.
Mr Mozgovoi, with steely gaze, tells The Independent that he has considered such an eventuality: "They wouldn't risk making anybody a hero, but let's just say we're prepared for such a turn of events."